Have you ever come across a great-looking site and wanted to find our which WordPress theme it was using?
Readers often ask us to help them find the name of a theme they love on someone else's website. They can then use exactly the same theme on their own WordPress website.
In this article, we'll show you how to find which WordPress theme a site is using.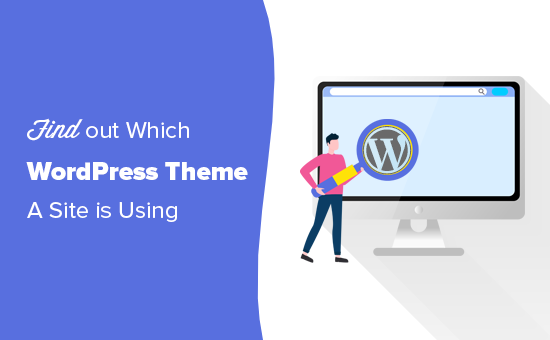 When you're making a WordPress website, choosing a theme is one of the biggest decisions you'll need to make.
There's a lot to think about when selecting the perfect WordPress theme for your site. If you come across a site with a layout and features you love, then this could be a great shortcut to finding the right theme for you.
Some websites use custom themes, which you probably won't be able to use yourself. However, in many cases you'll find the site is using one of the best free WordPress themes or a popular premium theme.
If this is the case, then you can easily find out the name of the theme and then download or buy it yourself. With that in mind, let's see how to find which theme a site is using. Simply use the quick links below to jump straight to the method you want to use.
Video Tutorial
If you prefer written instructions, just keep reading.
Method 1. Use WPBeginner's WordPress Theme Detector Tool (Easy)
The easiest way to detect the name of a WordPress theme is by using our free WordPress theme detector tool.
Simply paste or type in the website's URL and then click the 'Analyze Website' button.
Our theme detector will then look through the website's code and display the name of its WordPress theme.
For example, if a website is using the popular Divi theme, then our theme detector will show something like this: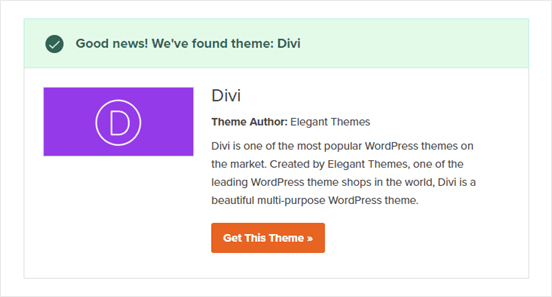 If it's a less popular theme then our tool may show you the theme's name without an image or a 'Get This Theme' button.
If this happens, then we recommend pasting the theme's name into a search engine like Google, as you may still be able to find a download link.
Method 2. Use IsItWP to Detect the Site's WordPress Theme (And Plugins)
Another easy way to detect a site's WordPress theme is with the free IsItWP tool. IsItWP tells you the theme, plus some extra information including what plugins the site is using.
Just open up the IsItWP website and enter the URL of the site you want to check.
IsItWP will first check that the website is using WordPress.
If it is, then IsItWP will try to detect its WordPress theme and show you the results.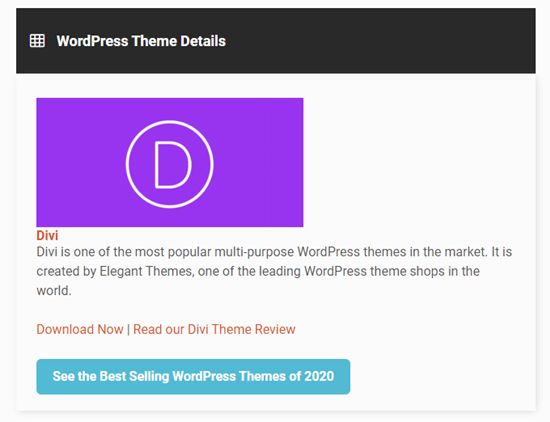 It'll also try to detect the WordPress hosting provider and plugins used by the website.
IsItWP will include download links to these plugins, plus any reviews so you can decide whether the plugin is right for you.
IsItWP may not be able to give you details about a custom WordPress theme or a child theme.
This means you may sometimes get a result like this:

IsItWP will still show the name of the theme, so you can search for it online to see whether it's available to download or buy.
Method 3. Manually Detect WordPress Theme Used by a Website (Advanced)
Some website owners may change their WordPress theme's name.
Similar to removing the powered by WordPress footer, this can make it more difficult for hackers to learn about the website, and possibly find ways to break into it.
However, it can also stop tools like our WordPress theme detector or IsItWP from detecting which WordPress theme that site is using.
Thankfully, if these tools can't get the information about your favorite website, then you can look into the website's code. This should give you some clues about what theme the website is using, even if they've changed the name or created a child theme.
Let's get started.
Every WordPress theme has a style.css file. This file contains a theme header which tells WordPress the name of the theme, the theme author, version, and more. It also contains the CSS styles used by the theme.
To find this file, you can use your browser's inspect tool. The steps will vary depending on the browser you're using, but on Chrome you can simply right-click anywhere on the website that you want to examine.
Then, select 'View Page Source' from the menu.
This will open the page's source code in a new browser tab. Now you just need to find a line that looks something like this:

<link rel='stylesheet' id='themename_style-css'  href='http://example.com/wp-content/themes/theme-name/style.css?ver=1.1.47' type='text/css' media='all' />

There will normally be several style.css files included in the page source, so look for the one that has /wp-content/themes in the URL. In the example above, that's http://example.com/wp-content/themes/theme-name/style.css?ver=1.1.47.
To open the style.css file, simply copy the URL and paste it into a new tab. This will show all the code inside the style.css file.
At the top of the file, you will see the theme header block which contains information about the theme used by the WordPress blog. Typically, it will look something like this:

Theme Name:     Theme Name
Theme URI:      https://example.com
Author:         ThemeAuthorName
Author URI:     https://example.com
Description:    My Theme is a flexible WordPress theme designed for portfolio websites
Version:        1.1.47
License:        GNU General Public License v2 or later
License URI:    http://www.gnu.org/licenses/gpl-2.0.html
Text Domain:    hestia
Tags: blog, custom-logo, portfolio, e-commerce, rtl-language-support, post-formats, grid-layout, one-column, two-columns, custom-background, custom-colors, custom-header, custom-menu, featured-image-header, featured-images, flexible-header, full-width-template, sticky-post, theme-options, threaded-comments, translation-ready

You may even be able to find the Theme's URL or Theme Author's URL, which can help you learn more about the website's theme.
Finding The Parent Theme
Many people use WordPress child themes to customize their websites. In that case, their theme header will contain information about the parent theme they're using.

*
Theme Name:   My Child Theme
Description:  Just a child theme
Author:       Peter Smith
Author URL:   Write here the author's blog or website url
Template:     hestia
Version:      1.0
License:      GNU General Public License v2 or later
License URI:  http://www.gnu.org/licenses/gpl-2.0.html
Text Domain:  my-child-theme
*/

In the above example, there's an extra 'Template' line in the theme header block. This template is the parent theme used by this website.
We hope this article helped you learn how to find which WordPress theme a site is using. You may also want to see comparison of the best WordPress page builder plugins to create custom layouts, and our step by step guide on how to create an email newsletter to get more visitors to your website.
If you liked this article, then please subscribe to our YouTube Channel for WordPress video tutorials. You can also find us on Twitter and Facebook.