Are you looking for social media icons for your WordPress website?
While plenty of WordPress plugins allow you to add social media icons in WordPress, some users may want to manually add custom icon images and link them to their social media profiles.
In this article, we will show you some of the best free social media icon sets for WordPress users.
Why Use Social Media Icon Sets for WordPress?
Finding the right icon that matches your WordPress website's theme and style can be challenging.
Though you can easily add social share buttons in WordPress with a plugin, they may not be exactly what you need for your site.
By choosing your own social media icons, you can customize their color, size, shape, and orientation according to your needs. This way, you can make sure that everything on your site is consistent with your brand design.
That being said, let's take a look at some of the best free social media icon sets you can use for your WordPress website.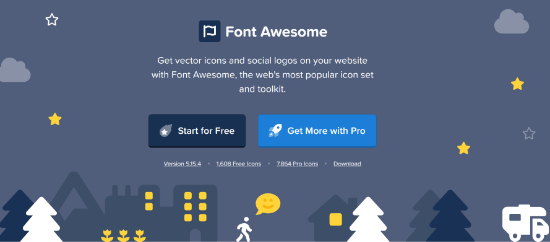 Font Awesome is one of the best open-source icon sets that you can use with WordPress. It comes with a library of over 1,600 free icons.
You can choose icons from over 50 different categories, which makes Font Awesome a great choice for social images and other uses, like adding feature boxes with icons. Plus, it's very easy to edit the size, color, and alignment of your icons.
You can manually add Font Awesome to your WordPress theme, or you can use a plugin. We recommend that you use the Better Font Awesome plugin to integrate Font Awesome with your WordPress site without editing code.
The social media plugin comes with shortcodes, HTML, and TinyMCE options to easily add icons anywhere on your WordPress site.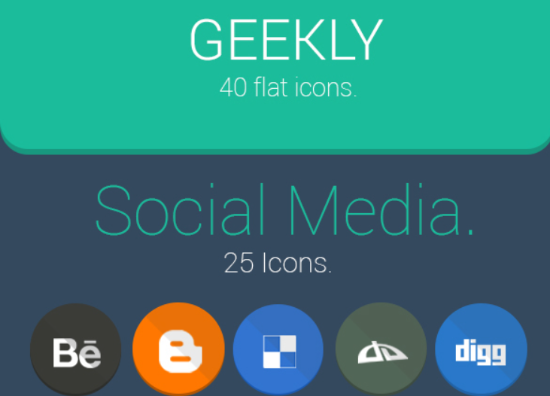 Geekly icon set comes with 40 beautiful icons, including 25 social media icons. Besides social media, you also get general icons that you can use on your website.
Each icon comes in 512px dimensions, and you can customize them in any photo editing tool like Photoshop.
Social Media Flat Icons is a beautiful set that contains 40 social media icons.
Each icon is available in four sizes: 32×32 px, 64×64 px, 128×128 px, and 256×256 px. There is a long shadow added to each icon so that they're more eye-catching and stand out from the screen.
Circle Flat Icons Retina-Ready offers a beautiful social media icon set by Land of Web that would look good with any design.
You can choose from 24 high-quality icons for different social media platforms, including Facebook, Twitter, Pinterest, Dribble, Behance, and much more.
All icons are in PNG format and are available in 256x256px, 128x128px, 64x64px, and 32x32px sizes. This offers you the flexibility to select icons size that meets your needs.
20 Social Media Icons is a simple icon set is created by Dawid Dapszus. It contains 20 icons for the most popular social media websites. The design would work well with a minimalist theme.
You select an icon for your Facebook page, Twitter, LinkedIn, Pinterest, YouTube, and more. All icons in the set are 80x80px and are in PNG format.
Simple Flat Social Media Icons is an icon set that comes with PNG file formats.
It contains 20 icons of some of the most popular social media platforms. Each icon file is 114x114px in dimensions, but you can easily resize them using a photo editing tool.
24 Free Flat Social Icons is a totally free social icons set by Mohammed Alyousfi. Each social icon has 4 different styles to choose from, which offers a lot of flexibility.
The set comes with 24 icons, and each icon is in 7 different sizes ranging from 512px to 16px. The package also includes source files in AI and EPS file formats.
This way, you can customize the icons that you need for your website and use social media to boost email subscribers, followers, and grow your traffic.
Social Media Icon set by Luke Taylor is a free icon pack, and it comes in two variations for dark and light backgrounds.
The simple style makes them ideal to use with any color scheme.
The package contains 89 social media icons in both variations. Other than popular social media platforms, you also get icons for PayPal, Amazon, Apple, Android, Google Play, eBay, and more.
Free Social Media Icon Set by Hugo is another set of social media sharing icons for your WordPress website. The style looks similar to a call to action button, rather than a typical icon.
The package contains 8 icons in a PSD file. The icons are designed explicitly for sharing content on your different social platforms. You can easily pair them with your social feeds to help increase your followers.
On the downside, the icon set is limited to 8 icons compared to other larger sets on our list.

Social Icons Hand Drawn is a unique set of social icons that you can use on your WordPress website. They provide a different style compared to other conventional icons and would work well combined with more artistic themes.
In the set, you'll get 31 icons for some of the most popular social websites. Each icon is on PNG format and comes in four different sizes including 24x24px, 32x32px, 48x48px, and 64x64px.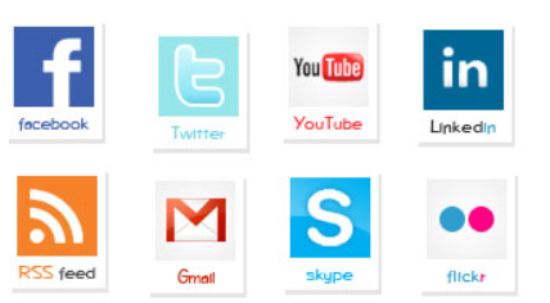 Free Polaroid Social Media Icon Pack offers icons that have a polaroid gloss finish. They're designed to give a look and feel of using a polaroid image as social icons, and would fit with a photography WordPress theme.
The pack contains 16 icons for different social media sites and other services. Some of the popular platforms include Facebook, LinkedIn, YouTube, Twitter, and Reddit.
Social Glow Icon Set offers 16 icons of different social platforms and websites. Each attention-grabbing icon has a glow finish and is available in PNG format.
You also get to choose from 3 different icon sizes including 16x16px, 32x32px, and 64x64px.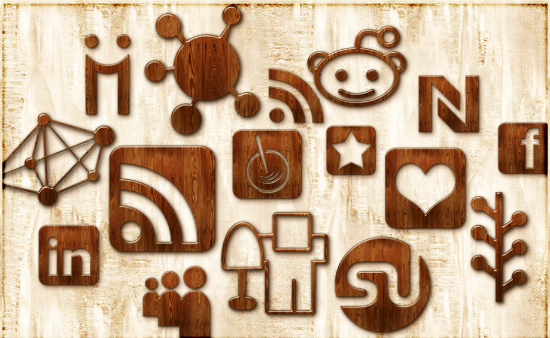 Wood Social Networking Icons is a comprehensive collection of 108 high resolution social icons that you can use on your WordPress blog, eCommerce store, membership site, or any type of website.
The icon pack includes PNG format images for some of the most popular social platforms. All the icons have a wood finish, giving them a different look than the standard social icons.
SocioLEGO Lego Social Icon Set offers 11 different icons to use on your website. What sets this social icon pack apart from others is that all the icons are shaped like a lego block.
These icons make a great addition to sites that offer educational content to children or gaming websites.
In the pack, you get to choose from four different icon sizes including 256x256px, 128x128px, 64x64px, and 32x32px.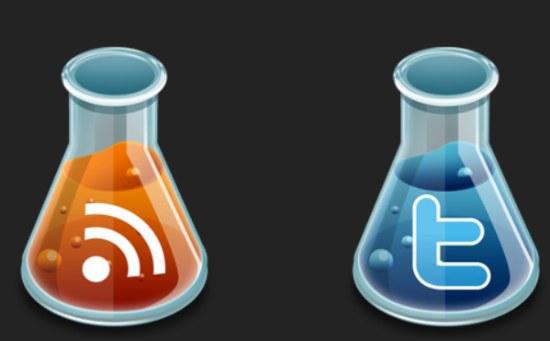 Experimental Social Icons are another free social icon set on our list. All the icons on the pack are shown in a beaker, a cylindrical laboratory experiment equipment.
These icons can be helpful for websites using education themes or that show scientific experiments, research, and other educational content.
The only downside to using this social icon set is that you only get 6 icons to choose from. However, each icon comes in 2 different sizes, and each image is in PNG format.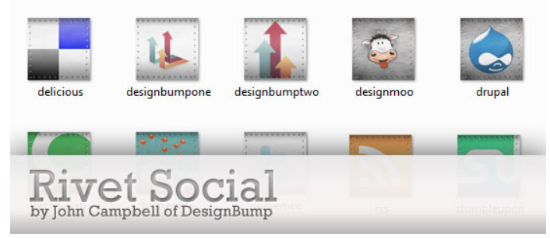 Rivet Social Icon Set contains 14 free social media networking icons. All the icons have a steel finish, which makes them look like they're printed on a metal sheet.
They provide a different look, and you can use them with any WordPress theme. In the icon pack, you get PNG image format and 64x65px image size.
We hope this article helped you find the best free social media icon set to use on your WordPress site. You may also want to check out our guide on how to choose the best design software and best WooCommerce plugins.
If you liked this article, then please subscribe to our YouTube Channel for WordPress video tutorials. You can also find us on Twitter and Facebook.