Do you want to use WordPress to manage your files and documents?
Some website owners have spreadsheets, images, and other documents they need to collaborate on with a team. With WordPress you can manage all of these and more, right from your admin panel.
In this article, we'll show you how you can use WordPress as a document management system for file management, workflow, and file hosting.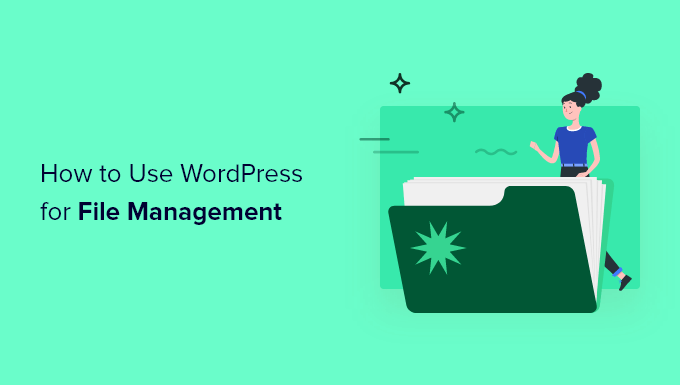 Why Use WordPress to Manage Documents and Files?
By using WordPress to manage your documents and files, you can turn your WordPress website into a complete collaboration platform and improve productivity.
It's easy for things to fall through the cracks when you're using multiple tools to manage workflows, store documents, collaborate and edit, and more.
Instead, you can do all of this from your WordPress admin dashboard. This will help you save time, keep track of projects, and never lose important documents or files.
With that said, let's show you how to use WordPress to manage your documents and files easily.
Setting Up Your WordPress Document Management System
The easiest way to set up a document management system in WordPress is by using the WP Document Revisions plugin. It lets you collaboratively edit files, store documents, track progress, and more.
First thing you need to do is install and activate the plugin. For more details, see our step by step guide on how to install a WordPress plugin.
Once the plugin is installed, you'll have a new menu option called 'Documents'. To view your document library, go to Documents » All Documents. Then, click the 'Add Document' button to add a new document.
Next, you need to give your document a title.
To upload the file to your WordPress site, click the 'Upload New Version' button.

This brings up the same popup for adding media files to WordPress.
You can drag and drop the file, or click the 'Select File' button to upload a file from your computer.

Once you add the file, it will automatically upload.
Next, you can change your permission settings, workflow state, document owner, and add a document image in the right hand column.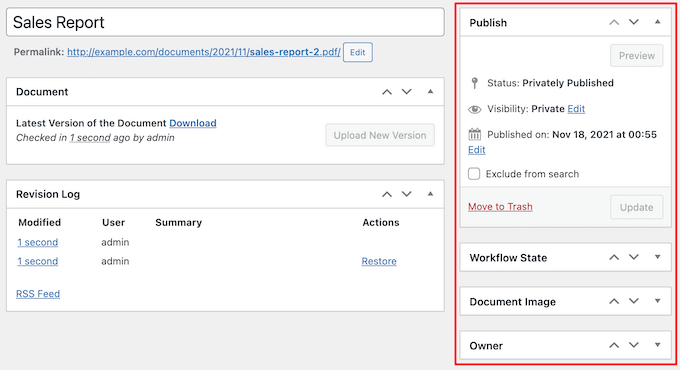 The default setting is for your document to be published privately. This makes it so that logged-in users can access it, but it won't be visible to your visitors.
You can change this by clicking the 'Edit' link in the visibility section, selecting the 'Public', or 'Password protected' options, then clicking 'OK.
Next, you can change the 'Workflow State' setting.
Simply select which phase of production the document is in from the 'Current state' drop down.

Then, you can add an image in the 'Document Image' box.
The process is similar to adding a featured image to WordPress posts and pages.
After that, you can change the owner of the document to another member of your team.
In the 'Owner' meta box, you can choose a new team member from the 'Document owner' drop down.

Once you're finished customizing your document, make sure to click the 'Update' button to save your settings.
Managing Document Revisions and Workflow States in WordPress
Another great feature that makes this plugin a great collaboration tool is the revision log and version control features.
When you open up a document, you'll see the 'Document' meta box.
Here it shows the latest version of the document and when it was last opened.
Below that, you'll find the 'Revision Summary' meta box.
Here, you can add notes about any changes made to the newest version of a document.
Then, there's the 'Revision Log' meta box, which shows all of the changes that have been made to the document across different versions.
You'll see when it was modified, who made changes, and you can even restore a previous version by clicking the 'Restore' link.

Customizing and Creating Your Own Workflow States
Workflow states are different process terms for your documents, similar to how your blog posts can be saved as a draft or published live.
To change these, go to Documents » Workflow States in your WordPress admin panel.
Then, you can hover over an existing workflow state and click the 'Edit' button.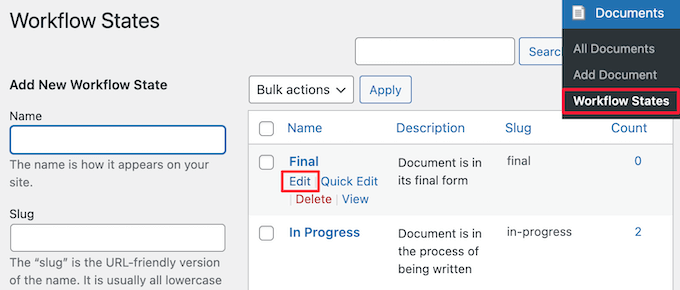 This brings up a screen where you can change the name, slug, and description of the workflow state.
Once you're done making changes, click the 'Update' button.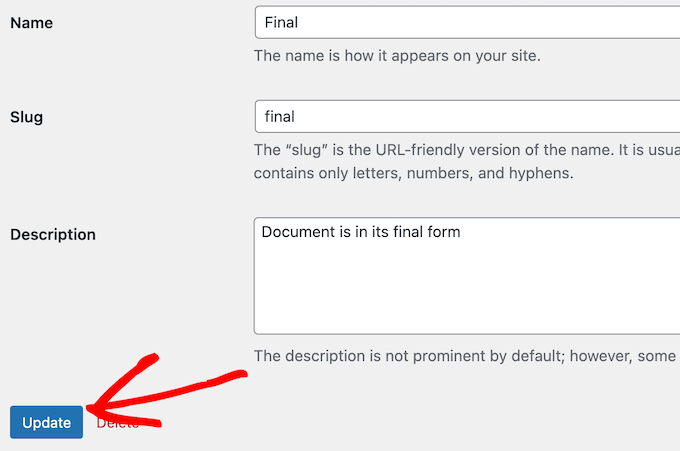 You can also add new workflow states to suit your document workflow better.
Simply add a new name, slug, and description, then click the 'Add New Workflow State' button.
Managing User Roles and Document Access in WordPress
This plugin takes advantage of your existing WordPress user roles. Each user will have different document editing capabilities similar to user roles for your WordPress blog.
Here are the different user roles and actions they can take with your documents.
Contributors. Can create new documents, and download existing documents, but they can't upload new files. They can't view privately published documents created by other users.
Authors. Can create and upload new documents. They can also download publicly published documents and edit their own documents.
Editors. Can work on all documents, delete documents, and manage workflows. They can't add new users to the system.
Administrators. Can perform all tasks and add new users to the document management system.
To learn more, see our beginner's guide to WordPress user roles and permissions.
We hope this article helped you learn how to use WordPress for document management or file management. You may also want to see our guide on how to create a free business email address and our picks on the best live chat software for small businesses.
If you liked this article, then please subscribe to our YouTube Channel for WordPress video tutorials. You can also find us on Twitter and Facebook.