Are you looking for an easy way to bulk delete spam comments in WordPress?
Comment spam is a huge problem, and deleting unwanted messages a few at a time can be very time-consuming.
In this article, we'll show you how to quickly batch delete spam comments on your WordPress website.
Why You Need to Deal with Comment Spam in WordPress
Comment spam is a problem faced by many WordPress websites. Akismet, the popular spam filtering service for WordPress, blocks about 7.5 million spam comments every hour.
You can combat spam using our list of 12 vital tips and tools to combat comment spam in WordPress. But while you can minimize the number of spam comments you receive, you will never avoid them completely.
You could use the WordPress bulk actions feature to delete multiple spam comments at once. But unfortunately, this only works with comments on the current page, not all of the spam comments on your website.

If your spam folder has hundreds or thousands of comments, then deleting spam this way will be time-consuming. Luckily, there is a plugin that can help.
But take care. Bulk deleting many comments at one time is risky because there is always a chance you may accidentally click the wrong checkbox. We recommend that you backup your WordPress website first.
With that being said, let's look at how to quickly batch delete spam comments in WordPress.
Batch Deleting Spam Comments in WordPress
The first thing you need to do is install and activate the WP Bulk Delete plugin. Learn more from our step by step guide on how to install a WordPress plugin.
Upon activation, you should visit the WP Bulk Delete » Delete Comments page of your WordPress dashboard. Here you can delete comments by status, author, post, date and time.
Next to the Comment Status label, you should click the Spam Comments checkbox. This option will let you batch delete every spam comment on your WordPress website.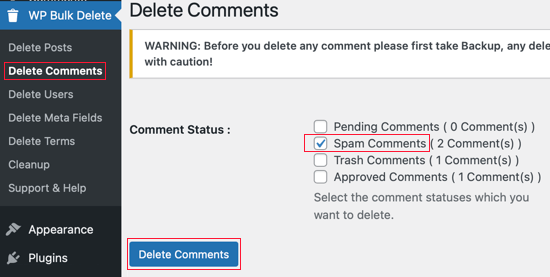 Then you need to scroll to the bottom of the page and click the Delete Comments button. Congratulations, you have completely deleted all spam comments from your website.
We hope this tutorial helped you learn how to quickly batch delete spam comments in WordPress.
You may also want to learn how to move your WordPress site from HTTP to HTTPS, or check out list of must have plugins to grow your site.
If you liked this article, then please subscribe to our YouTube Channel for WordPress video tutorials. You can also find us on Twitter and Facebook.