Recently one of our users asked us for a way to create a job board site in WordPress without any PHP or HTML. As the saying goes, there's a plugin for that. In this article, we will show you how to easily create a job board in WordPress using WP Job Manager. You don't need to know any HTML or CSS, that's how easy this is.
Installing and Setting Up WP Job Manager
First thing you need to do is to install and activate the WP Job Manager plugin. WP Job Manager is designed to work with any WordPress theme and will fit right inside your theme.
After activating the plugin, you need to set up pages for different sections of your job board. This is not as hard as it sounds. All you need to do is create a new page and simply paste the appropriate shortcode in those pages.
Let's get started. The first page we're going to create will be for jobs. Create a new page and in the page title enter Jobs. In the content area, simply paste this shortcode:
[jobs]
This shortcode will display job listings on your site, and this is how your page will look once you have added a couple of job listings.
Next, you need to create another page and give it the title My Jobs. In the content area, simply paste this shortcode:
[job_dashboard]
This page will display jobs posted by a user on your site. The user can see the jobs on the front-end of your website by signing in to their account.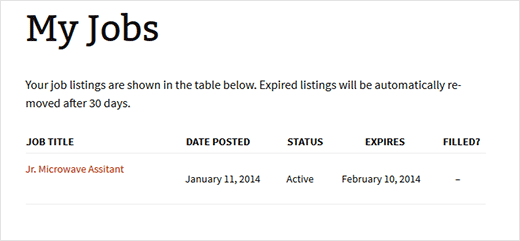 The last page you need to create is the Submit Jobs page. Enter this shortcode in the editor:
[submit_job_form]
This page will display a job listing submission form. If a user is not logged in, then they will be asked to sign in or register for a new account. Once logged in, they will be able to submit a new job listing using the form on this page.
Adding New Job Listings
Logged-in users can submit jobs directly from Submit Jobs page, but as an administrator, you can directly add jobs from the WordPress admin area. Go to the Job Listings » Add New area and provide a title, description, and the job type for the job listing you are adding. By default the plugin comes with five job types freelance, full time, internship, permanent, and temporary. However, you can add your own job types and even delete the existing ones.
After entering title, description and choosing a job type, you need to scroll down to Job Listing Data section. There you can provide more information about the job such as location, application email or url, company information and logo, job listing expiration date, etc.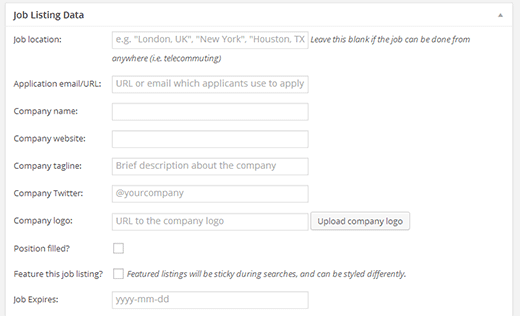 After filling the job listing data, you can preview the job by clicking on the preview button, add more details if you need, or simply click on Publish button to post the listing.
To manage existing job listings, you need to go to Job Listings » All Job Listings. There you will be able to see all the job listing posted on your job board. You can click on the pencil icon to edit a job listing, see the filled jobs, and delete existing job listings.
Fine Tuning Job Board Settings
To configure advance options for your job board, you need to go to Job Listings » Settings. On the Job Listings tab you can choose how many job listings to show on each page, the default is 10. You can check the box next to hide expired listings, if you wish to hide expired job listings from the board. Lastly, you can enable categories for job listings. If you enable job categories, then you will notice that a new menu item will appear under the main Job listings menu in your admin sidebar. As an administrator you will have to fill in the job categories, so the users posting the jobs can select an appropriate category.
On the Job Submissions tab you can configure the options for how job submissions will be handled on your job board. You can enable or disable account creation. By default job submission requires an account, but you can uncheck that if you want anyone to be able to submit jobs without creating account. However beware that this could make your job board target of spam submissions.
You can enable or disable admin approval for new jobs by checking the box next to New submissions require admin approval option. On the same page, you can also set number of days until a job listing expires, the default value is 30 days but you can set it to 0 if you do not want job listings to expire automatically.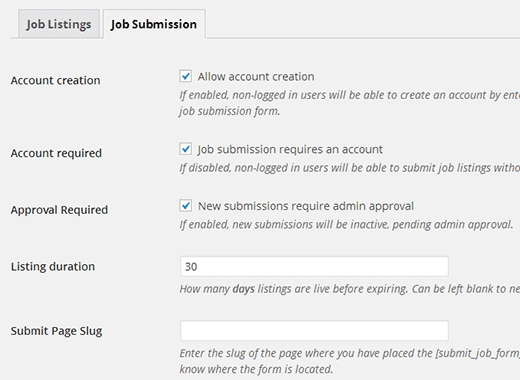 Adding Paid Job Listings
Several reputable sites like Smashing Magazine, ProBlogger, etc use their Job Boards as an extra revenue source.
If you want users to pay in order to submit a job listing, you can do so easily with WP Job Manager add-ons. To check the available add-ons, you need to go to Job Listings » Add-ons screen. These addons are available for a small price from the developer's website.
As you can see that WordPress can be extended far beyond a blog with the amazing themes and plugins available. Whether you want an online forum, a library management system, or an internal communication system, WordPress has an easy way to accomplish it.
We hope this article helped you add a job board to your WordPress site. For feedback and questions, please leave us a comment below or join us on Twitter.