Do you want to set the WordPress featured image automatically?
If you recently starting using thumbnails, then adding featured images to all your previous posts can take a lot of time and effort. You may even forget to add a featured image to your new posts.
In this article, we'll show you how to automatically use post attachments as featured images in WordPress.
Why Add Post Attachments as Featured Images?
An eye-catching featured image encourages visitors to check our more of your content, so they're an important way to get more user engagement and increase pageviews.
Featured images may also appear in search results and social media feeds. This means a great featured image can even increase your blog traffic.
However, if you recently switched to a WordPress theme that displays featured images, then adding thumbnails to all your previous posts can be a lot of work.
Thankfully, there is a way to automatically use an image from the post as the featured image. This is an easy way to update all your previous posts, and may even save you a little time and effort when publishing future posts.
With that being said, let's have a look at how to use post attachments as featured images in WordPress.
How to Add Post Attachment as Featured Image in WordPress
The easiest way to add featured images automatically, is by using Easy Add Thumbnail. This free plugin uses the post's first image as its thumbnail, unless you set a featured image manually.
First thing you need to do is install and activate Easy Add Thumbnail. For more details, see our step-by-step guide on how to install a WordPress plugin.
The plugin works out of the box and there are no settings for you to configure. Upon activation, Easy Add Thumbnail sets the featured image in two ways.
First, when you publish a new post the plugin will check for a featured image. If you didn't set the featured image manually, then Easy Add Thumbnail will use the post's first image as the featured image.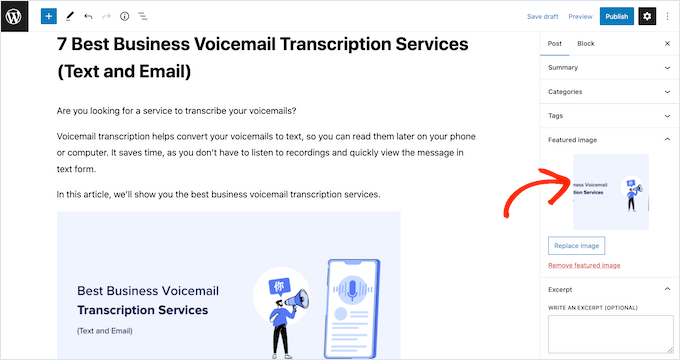 For older blogs, the plugin waits until someone visits that post for the first time. When that happens, Easy Add Thumbnail scans the post and sets the first image as the featured image.
Troubleshooting Adding Post Attachments as Featured Image
There may be some posts where Easy Add Thumbnail doesn't set a featured image.
This happens because the plugin can only use images that were uploaded to that particular post. Easy Add Thumbnail won't work if the first image already existed in the WordPress media library when you created the post.
It also won't show any external images as featured images, so you'll need to import any external images to your site.
Some of the featured images may also be the wrong size, or look too stretched or skewed on your WordPress website. If that happens, then you'll need to regenerate thumbnails to make sure the older images are the right size for your current theme.
We hope this tutorial helped you learn how to use post attachments as featured images in WordPress. You may also want to learn how to create automated workflows in WordPress or check out our list of the best SEO plugins and tools you should use.
If you liked this article, then please subscribe to our YouTube Channel for WordPress video tutorials. You can also find us on Twitter and Facebook.