In the annual State of the Word talk, WordPress co-founder Matt Mullenweg shared some very interesting data. Like for example, we learned that only 4% of newly created blogs on WordPress.com actually experienced continued use (see the difference between WordPress.com vs WordPress.org blogs). It was also revealed that nearly 31% of WordPress users access WordPress using iOS devices like iPhone, iPad, and iPod touch. Did you know that there is an official WordPress App available on the app store. For our beginner level users, we decided to show you how to use WordPress app on your iPhone and iPad devices.
Why Use WordPress App on iPhone or iPad?
There are great ideas for content everywhere and WordPress app for iOS allows you to run your site without losing mobility. Take some photos, record and upload a video, write quick posts while sitting in a train or bus, walking around, or hanging out with friends. You can take your WordPress site with you in your pocket.
WordPress app is designed to be mobile and touch friendly, so it is very easy to use. It has an intuitive user interface which makes using it a pleasure. Writing without a physical keyboard had been an issue for many bloggers. Combining iOS native touch keyboard with WordPress app's formatting buttons, you will find it simple and easy to write posts on your touch devices.
As your blog or site grows, you would want to stay in touch to see if there is a new comment that needs approval or a new order on your WordPress based eCommerce store. You can perform these tasks without sitting on your desk or using a PC.
It is true that you can open your WordPress admin area in a mobile browser, but the problem is that WordPress admin area does not have an optimal interface for smaller screens. On the other hand the WordPress app is made for iOS devices so the interface is designed to be more touch and small-screen friendly.
Note: WordPress App is available for Android, BlackBerry, and Windows Phones.
Setting up WordPress App on Your iPhone, iPad, or iPod Touch
WordPress App for iOS devices is available for free from itunes store. After installing the WordPress app, sign in using your WordPress site's username, password, and provide your website URL. The iOS App will connect to your WordPress website and retrieve your data.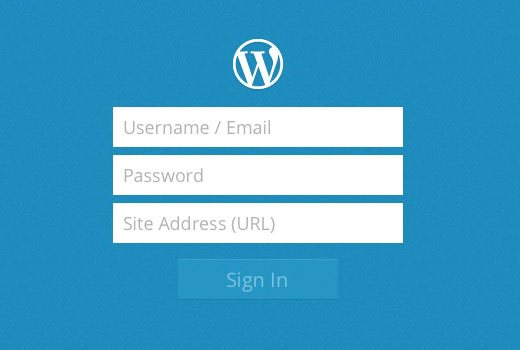 The WordPress App for iOS devices has a simple and intuitive user interface. There is a menu on the right from where you can jump to different sections of your website. You can write or edit posts and pages, manage comments, view site, or go to admin area in a browser.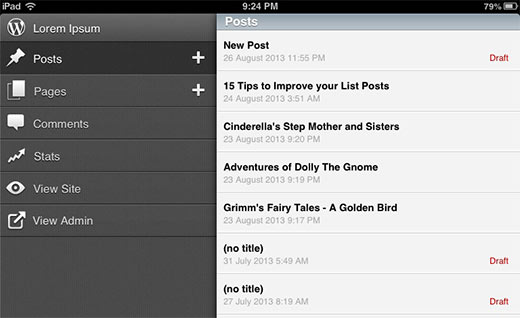 There are two buttons at the bottom of the menu, Settings and Photo.

The settings button will take you to configure different options for using WordPress on iPhone or iPad. You can also add multiple blogs and site from settings page and manage them from the single WordPress app on your device.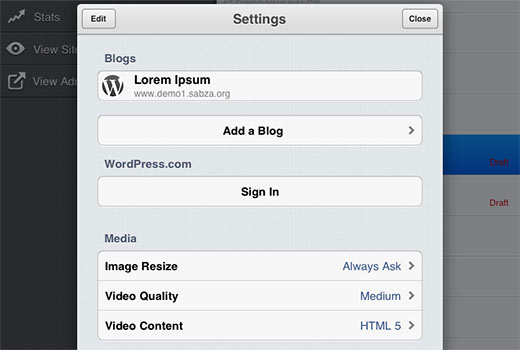 Many WordPress users who use WordPress app on their iPhone or iPad usually like to post content on the go and photos are a great part of that content. The conveniently placed photo button allows you to take a photo and upload images from your iPhone or iPad to your WordPress site with just a few taps.

This is a great solution for travel bloggers, and several of our users have utilized this feature on their vacations across Europe and other parts of the world.
Writing Posts in WordPress App
Writing post in the WordPress app is simple. Tap on the add icon next to posts and start writing. The post editor in WordPress app for iOS has a neat interface allowing you to easily type on your mobile device. Keyboard interface on the post edit area allows you to do some basic formatting and add links. You can also upload media and other files by taping on the attachment icon.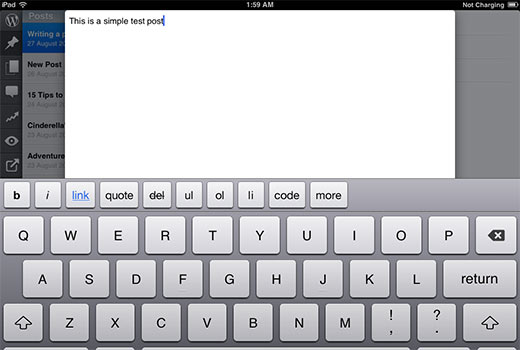 Each post you write or edit in WordPress app for iPhone or iPad, has a settings button at the bottom. There you can choose a post status, set visibility, add a featured image, etc.
Managing Comments
You can read, edit and approve comments right from the WordPress app. WPBeginner gets many comments each day, so we can truly appreciate this feature. It allows bloggers to moderate and approve comments on the go. So even when you are not at your desk, you can always be part of the discussion on your blog.
Over the years, the WordPress app for iOS has significantly improved. We hope that this article will encourage more users to try WordPress app on their iPhone and iPad.
Give it a try and let us know about your experience in the comments below. What you like or dislike about the WordPress app?