Do you want to disable XML-RPC on your WordPress site?
XML-RPC is a core WordPress API that allows users to connect to their WordPress website using third-party apps, tools, and services.
In this article, we'll show you how to easily disable XML-RPC in WordPress.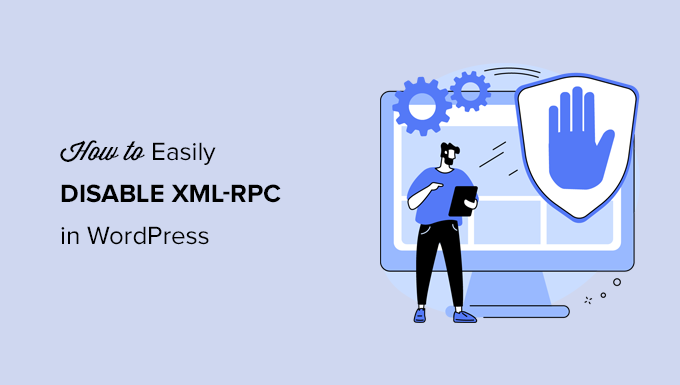 What is XML-RPC in WordPress?
XML-RPC is one of the core WordPress APIs that allows apps to connect and interact with a WordPress website using XML and HTTPs protocols.
In short, it is a system that allows you to post on your WordPress blog using the WordPress mobile apps or other remote blogging apps. It is also needed if you want to make connections to automation services such as IFTTT or Zapier.
Basically, if you want to access and publish your blog remotely, then you need XML-RPC enabled. The API is safe and enabled by default on all WordPress websites.
However, some WordPress security experts may advise you to disable it.
Disabling it will basically close one more door that a potential hacker may try to exploit to hack your website.
That being said, let's take a look at how to easily disable the XML-RPC API in WordPress.
Method 1. Disable XML-RPC in WordPress (with a Plugin
All you need to do is install and activate the Disable XML-RPC plugin. For more details, see our step-by-step guide on how to install a WordPress plugin.
The plugin works out of the box and there are no settings for you to configure.
Simply activating it will deactivate XML-RPC on your WordPress website.
Method 2. Disable XML-RPC in WordPress (with Code)
This method requires you to add some code to your WordPress website. If you haven't done this before then take a look at our guide on how to copy and paste custom code snippets in WordPress.
Basically, WordPress core provides a filter to manually add to your website's functions.php file to disable the XML-RPC API using the following code:

add_filter('xmlrpc_enabled', '__return_false');

However, we don't recommend directly editing your WordPress core files because it can break your site if not done correctly. We will be using WPCode to add this snippet because it's easiest and safest way to add code to your WordPress site.
First, you need to install the free WPCode plugin. For step-by-step instructions, check out our step-by-step guide on how to install a WordPress plugin.
Upon activation, go to Code Snippets » Add Snippet and search for "xml."
WPCode's snippet library contains a way to disable XML-RPC, so all you need to do is click 'Use snippet."
Next, just switch the 'Activate' toggle on.
Be sure to click the 'Update' button to enable the snippet on your site and disable XML-RPC API.
Method 3. How to Disable WordPress XML-RPC with .htaccess
If you want want to allow remote access for you and your team while restricting everyone else, you can do so by disabling all XML-RPC requests before they are even passed on to WordPress.
Note that this is a more complex process, and we only recommend it for advanced users because you will need to edit your site's .htaccess file.
The simplest and easiest way is to use All-in-One SEO Pro's built-in editor to add the code below. This can also be done by connecting to your site using an FTP client or through a file manager.
No matter the method, you just need to paste the following ito your .htaccess file:

# Block WordPress xmlrpc.php requests
<Files xmlrpc.php>
order deny,allow
 deny from all
allow from 123.123.123.123
</Files>

Note that you will need to know the IP address for anyone you want to allow remote access and replace 123.123.123.123 with it.
If you want to disable XML-RPC completely using .htaccess, simply remove allow from 123.123.123.123 from the file to completely block access.
Testing XML-RPC Functionality in WordPress
Next, you can test if you have successfully disabled the XML-RPC API on your WordPress website.
The simplest way to do that is by installing the WordPress Mobile App on your phone. It is available for iOS and Android.
After installing the app, open it on your phone, and then tap on the 'Enter your existing site address' button.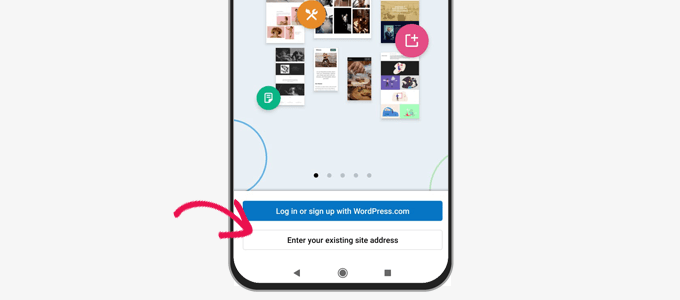 On the next screen, you'll be asked to provide your website address. Enter your website address and tap on the continue button.
After that, you will be asked to enter your login details. Here you need to provide the same username and password that you use to sign in on your website.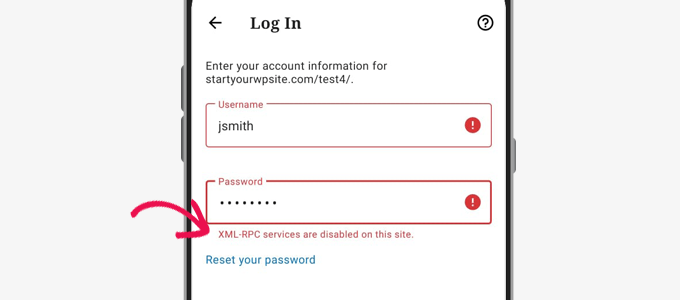 You should now see the error message that XML-RPC services are disabled on this site.
We hope this article helped you learn how to easily disable XML-RPC in WordPress. You may also want to see our list of the important things you need to do after installing WordPress.
If you liked this article, then please subscribe to our YouTube Channel for WordPress video tutorials. You can also find us on Twitter and Facebook.