Managing a multi-author blog can be difficult. We know this first hand from our experiences of running List25. Recently one of our readers asked if there was a quick and easy way to see content progress and give feedback. On our sites we have a comprehensive editorial workflow, but the user wanted something quick and easy. In this article, we will show you how to manage content progress on multi-author WordPress blogs.
Video Tutorial
If you don't like the video or need more instructions, then continue reading.
First thing you need to do is install and activate the Content Progress plugin. Once the plugin is activated, you can see it in action by going to Posts » All Posts.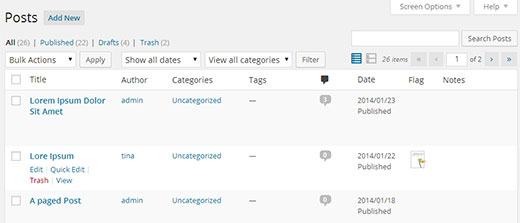 You will notice that there are two new columns on the Posts screen, Flag and Notes. Flag is an icon representing a post's progress status, and notes is the area where you can give feedback about the progress. The plugin may already show flag icons next to a few unfinished drafts.
If you want to edit a post's progress status, then you need to click on the Quick Edit link below a post. Under the Content Progress section, you can choose a flag for the post and add your notes.
You can also add a flag and notes to a post while editing it on the main post edit screen. Simply look for the Content Progress meta box and select the post status or add notes to it.
This plugin comes with a few settings that you can configure by going to Settings » Content Progress. By default the plugin enables Content Progress for posts, pages, and attachment post types. You can change that on the settings page by choosing the post types or custom post types where you want to enable the content progress support.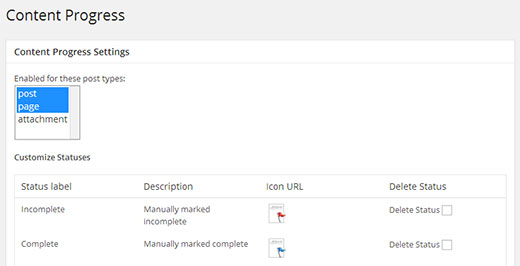 The plugin comes built-in with multiple flags that represent different post statuses such as complete, incomplete, and needs review. The settings area allows you to add custom flags to further optimize your workflow. Few example flags that we can think of are "Need Research", "Add Media" or "Needs Scheduling".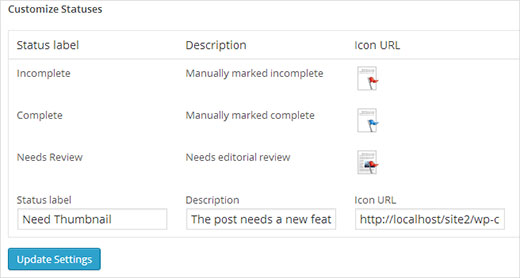 For example, let's say that you want to add a new flag for posts that need featured image. All you need to do is simply add a label for the status, add some description, and a URL to the flag icon to be displayed. The plugin comes with a few built-in icons that you can use by simply copying their URL. However if you want to use your own icons, then you can upload those from Media » Add New. After uploading your custom icon, you need to copy the file location and paste it in the icon URL area.
You can create as many custom statuses as you want, but don't go too crazy. You want your authors to instantly recognize each flag icon.
We hope this article helped you manage the content progress on your multi-author WordPress blog. How do you optimize your editorial workflow? Share your tips with us by leaving a comment below.