Do you want to add WordPress widgets in your blog posts and landing pages?
Widgets make it easy for users to add different functionality to their posts and pages without having to write a single line of code. You can use the default widgets offered by WordPress or use the ones offered by different plugins.
In this article, we will show you how to add WordPress widgets to post and page content.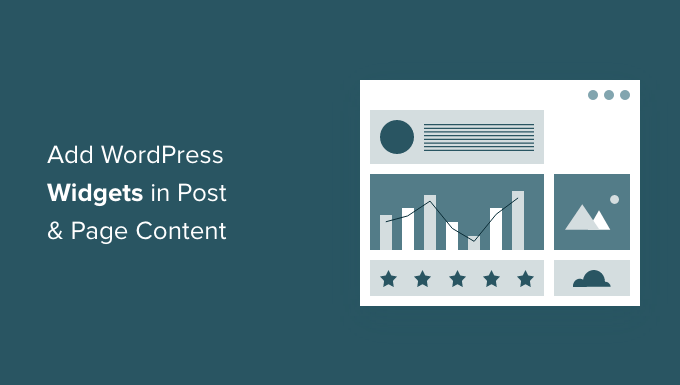 Why Add WordPress Widgets in Posts and Pages?
WordPress widgets are blocks of content that you typically add to your sidebars, headers, footers, and other areas. They offer a lot of flexibility to add different functionalities and features to your WordPress website layout.
For example, you can show your latest posts, add a contact form using a widget block, and more. The best part is that you don't have to edit code to add them.
Previously, WordPress widgets could only be added to widget areas like a sidebar, header, or footer. However, with the WordPress block editor, you can now easily add widgets to your blog posts and pages.
By default, WordPress offers widgets for archives, calendar, categories, custom HTML, shortcodes, latest comments, latest posts, RSS, search feature, social icons, and more. Many WordPress plugins and themes also offer their own WordPress widgets.
That said, let's look at how you can add WordPress widgets in posts and pages.
Adding WordPress Widgets to Post and Page Content
First, you will need to edit an existing WordPress post/page or add a new one.
Once you're in the WordPress content editor, go ahead and click the '+' sign to add a widget block.
Next, scroll down to the widgets section and select the widget block that you want to add to the content.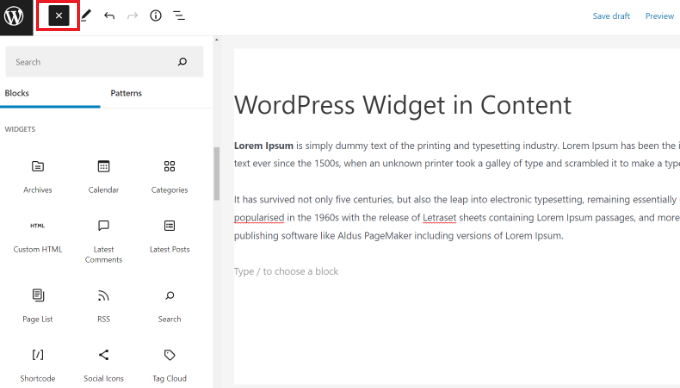 Let's say you want to show your latest WordPress blog posts within your content and increase engagement.
To do that, simply click on the 'Latest Posts' widgets block and your recent articles will appear in the content.
You'll see more settings in the panel on your right to edit and customize your widgets block.
Using widget blocks, you can also add shortcodes and custom HTML to your content without writing code. This makes it super easy to add advanced customization and gives you more control over how your site looks.
Similarly, you can also a widget block for any WordPress plugin you're using on your website.
For instance, if you're using WPForms, then you can use the WPForms block to add your form to the content.
When you add the WPForms block to your post and page content, simply select your form from the dropdown menu.
Once you're done, go ahead and publish your blog post or page.
We hope this article helped you learn how to add WordPress widgets in post and page content. You may also want to see our guide on how to get a free SSL certificate or our expert pick of the best AI chatbots for small business.
If you liked this article, then please subscribe to our YouTube Channel for WordPress video tutorials. You can also find us on Twitter and Facebook.