Do you want to add beautiful pricing tables to your WordPress site?
Pricing tables have a huge impact on how users make their buying decision. Adding beautiful pricing tables that are easy to scan helps users select the right product, and this helps you boost your conversions and increase sales.
In this article, we will show you how to easily add beautiful pricing tables in WordPress without writing any code.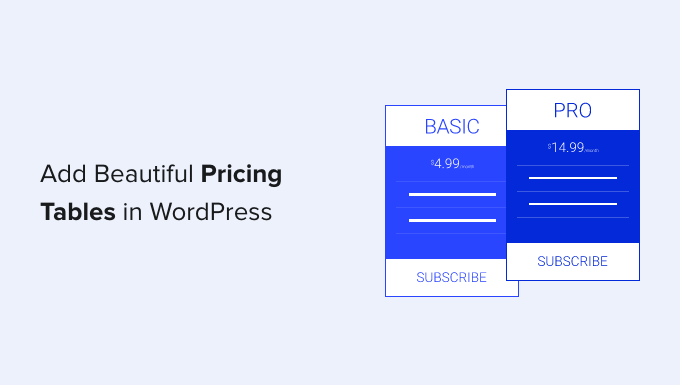 Why Add Pricing Tables Using a WordPress Plugin?
There are two ways to add new features to your WordPress website. You can program them manually, using code. Or you can use a WordPress plugin.
If you are familiar with HTML and CSS, then you may wish to create a pricing table using code. The programming and design skills required aren't particularly advanced, and you will have complete control over the design of the table.
However, writing and testing the code will take time. And you will also have to consider your users who use mobile devices or different web browsers. You may end up with an unattractive pricing table that doesn't look right to all of your users.
Using a WordPress plugin is quicker and easier, and it's the best solution if you don't have design or coding experience.
With that being said, let's have a look at how to add beautiful pricing tables in WordPress without writing any code. We'll cover two different WordPress plugins and you can choose the one that looks best to you.
Method 1: Add Beautiful Pricing Tables With Easy Pricing Tables
This method allows you to add pricing tables to an existing page or post. If you need to customize the rest of the page, you should use method 2 instead.
The first thing you need to do is install and activate the Easy Pricing Tables plugin. For more details, see our step by step guide on how to install a WordPress plugin.
For this tutorial, we'll use the free plugin. There's also a premium plugin that offers more features and starts at $29 for a single site license. You'll need the premium version if you wish to access additional templates, add images, or integrate the table with WooCommerce.
Creating the Pricing Table
Upon activation, you need to navigate to the Pricing Tables » Add New page to create your first pricing table. You'll see previews of the available layout templates to choose from.
You can choose a design by clicking on any template. After that, the template will open in the WordPress editor so you can customize it.
Customizing the Pricing Table
Customizing the pricing table is easy. You should start by giving the table a name. After that, you can click anywhere on the table to edit headings, subheadings, pricing, and features.
You can use the toolbar to add a new column, change the alignment of rows and columns, reorder the columns, and change their sizes.
Often in pricing tables, one plan is marked as 'featured' or 'most popular'. You can do this by selecting the column you want to highlight and then clicking the star icon on the toolbar.
You will find more options in the Pricing Table and Misc Settings panels on the left. This is where you can tweak the visual appearance of your pricing table.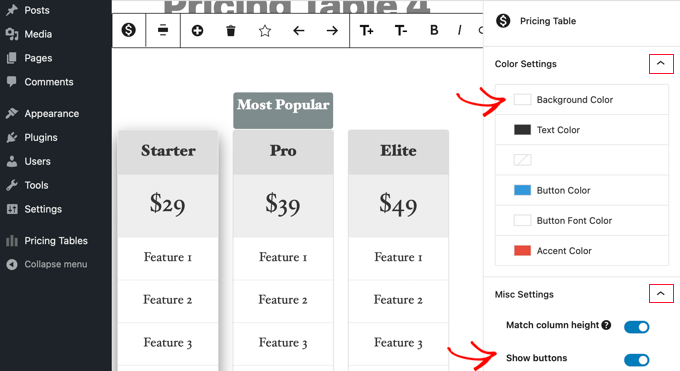 For example, you can change the accent color to highlight the best pricing plan, and show or hide the buttons at the bottom of the table.
You can also click on the buttons to edit their labels. Each button also has a URL, and after clicking on the button, you can add a URL by pasting it into the field on the right of the page.

Once you're happy with how your pricing table looks, you should click the 'Update' button in the top-right corner of your screen to save your changes.

Publishing the Pricing Table
Now you can add the pricing table to a post or page on your website. You can do that using a shortcode, or by adding the Easy Pricing Tables WordPress block.
For this tutorial, we'll use the block method. Simply create or edit a WordPress post or page. Then click the 'plus' (+) icon to add a new WordPress block.
You can create a brand new pricing table by adding the 'Pricing Table' block. But you need to add the pricing table you created earlier, so you'll need to type the name you gave it into the search field.
For this tutorial, we'll type 'pricing'. After that, click on the pricing table you want, and it will be added to the post or page.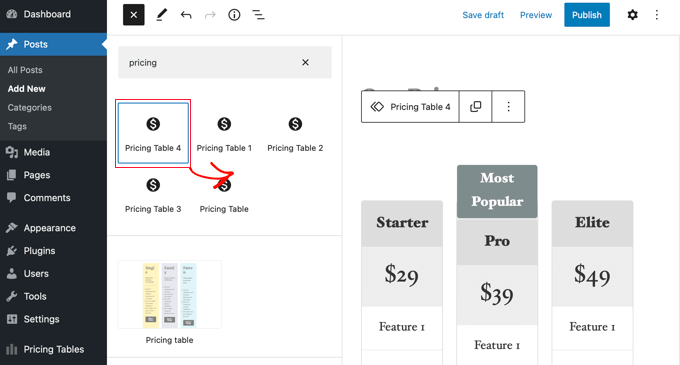 Once you're finished, make sure you click the 'Publish' or 'Update' button to push your changes live.
Now you can visit your website to see the final result.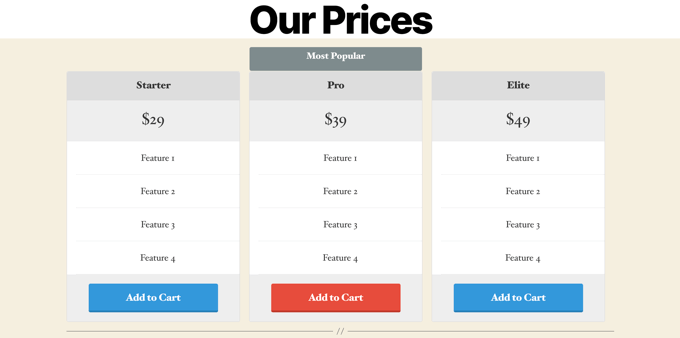 Method 2: Add Beautiful Pricing Tables With a Page Builder
This method is best if you want complete control over your pricing page design.
First, you need to install and activate the SeedProd plugin. For more details, see our step by step guide on how to install a WordPress plugin.
SeedProd is a drag and drop WordPress page builder for businesses, bloggers, and website owners, and the best choice for creating high-converting pricing pages. You'll need the Pro or Elite plan to access the pricing table block we use in this tutorial.
Upon activation, go to the SeedProd » Settings page to enter your plugin license key. You can find this information under your account on the SeedProd website.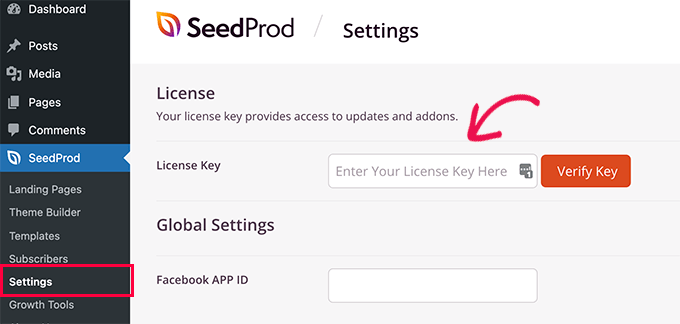 After entering your license key, we'll start by creating a new landing page, and then add a pricing table block.
Creating a New Landing Page
To create the landing page for your pricing table, you need to head to SeedProd » Landing Pages and then click the 'Create a New Landing Page' button.
On the next screen, you'll be asked to choose a landing page theme. SeedProd comes with dozens of beautiful landing page templates neatly organized for different campaign types.
Simply click to select a template that you want to use as a starting point.
You can learn how to customize the page and add new blocks in our guide on how to create a landing page with WordPress. When you're ready, we'll move on and add the pricing table.
Adding a Pricing Table
First, you need to add some columns so you have somewhere to place the pricing table blocks. You need to drag the 'Column' block onto the page, and then select enough columns to display your prices. For this tutorial, we'll select three columns.
After that, you need to locate the 'Pricing Table' block, and drag it onto the words 'Drag New Block Here' in each of the cells you just created.
For this tutorial, you'll need to drag the block onto the page three separate times, once for each column.
To edit a pricing table, simply click on it.
You can use the settings on the Content tab to edit the plan name and enter the name of your product or service. You can also change the price and currency, add the price that the item normally costs when not on sale, and more.
When you switch to the Advanced tab, you can customize the text font and size, button color and size, spacing, hover effects, and more.
For example, you can make one pricing tier stand out more than others, encouraging your users to choose that option.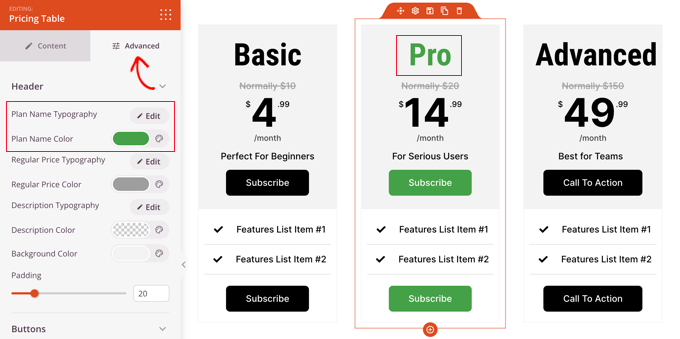 Publishing the Pricing Table
Once you are happy with your landing page and pricing tables, it's time to publish it.
Simply click the dropdown arrow on the 'Save' button and click 'Publish'.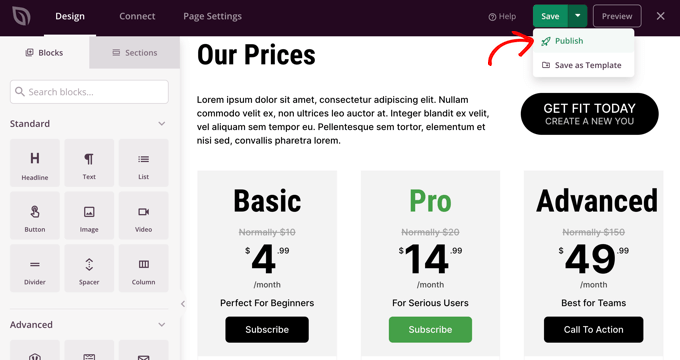 You will see a notification letting you know that your page has been published.
You can also click the 'See Live Page' button to see how your new WordPress pricing page looks.
We hope this tutorial helped you learn how to add beautiful pricing tables in WordPress, with no coding required. You may also want to learn how to create a WordPress membership site, or see our list of essential WordPress plugins for business websites.
If you liked this article, then please subscribe to our YouTube Channel for WordPress video tutorials. You can also find us on Twitter and Facebook.