Do you want to add a glossary or dictionary section in your WordPress site?
If a customer is unsure about a specialist term or abbreviation, a glossary can give them the information they need. In this way, you can help them better understand industry topics and present yourself as an expert in your field.
In this article, we will show you how to add a glossary or dictionary to your WordPress site.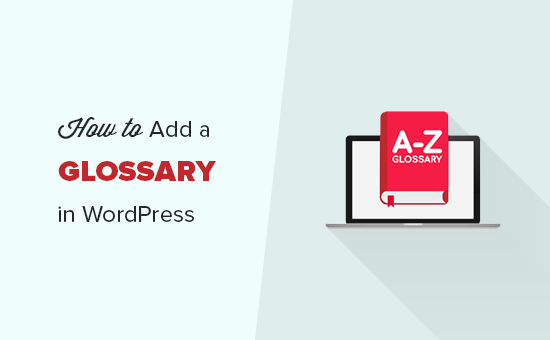 What is a Glossary or Dictionary?
A glossary or dictionary lists specialist terms in alphabetical order and then provides a definition. Similar to a physical dictionary, an online glossary can help visitors find the meaning of any term, phrase, or abbreviation they're unsure about.
This can help potential customers understand your blog posts, guides, tutorials, and other resources. This can keep them on your site for longer, which can increase pageviews and reduce bounce rate in WordPress.
By presenting yourself as an accessible and helpful industry expert, you can also encourage visitors to keep coming back. If you sell online products or services using a plugin such as WooCommerce, then this trust and respect can even help you get more sales.
To get an idea of how a glossary or dictionary looks, you can check out our WPBeginner WordPress Glossary.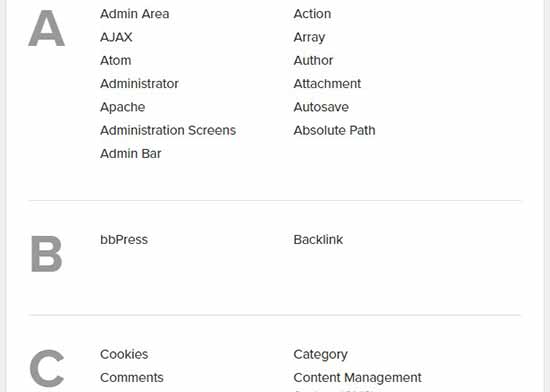 With that said, let's take a look on how to easily add a glossary or dictionary section on your WordPress site.
Video Tutorial
If you don't want to watch the video tutorial, then you can continue reading the text version.
Adding a Glossary or Dictionary on your WordPress Site
The easiest way to add a glossary or dictionary to your WordPress website is by using the CM Tooltip Glossary plugin. This plugin lets you organize all your specialist terms and abbreviations into a list, and then show each definition in a tooltip.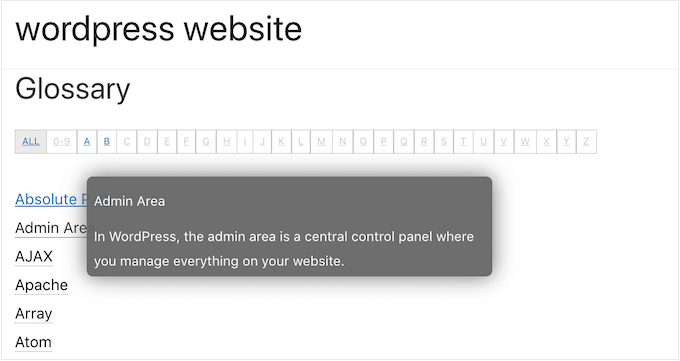 The first thing you need to do is to install and activate CM Tooltip Glossary. For more details, see our step-by-step guide on how to install a WordPress plugin.
Upon activation, you'll be asked to register the plugin by typing in your email address. If you don't want to join the CM Tooltip Glossary email list, then simply click on 'Skip.' You'll still be able to use all the plugin's features.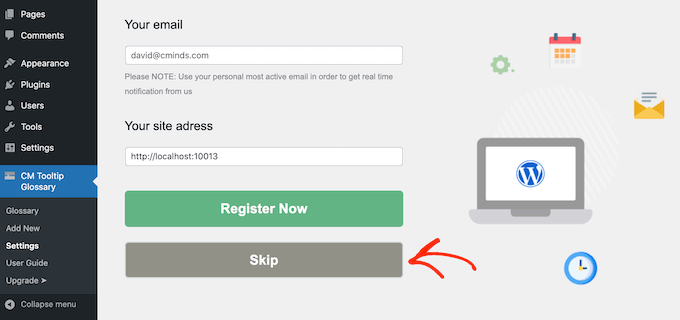 After that, click on the 'General' settings tab.
Here, you can add the glossary to any page by opening the 'Glossary Index Page ID' dropdown and choosing a page from the list.
If you prefer, then you can create a new page for your glossary by checking the box next to 'Generate page for Glossary Index.'
Then, find the 'Glossary Terms Permalink' field and type in the URL slug that you want to use for the new page.

If you don't add a URL, then the plugin will simply use /glossary.
By default, CM Tooltip Glossary will highlight glossary terms when they appear on your pages, posts, and in the glossary itself.
If you want to change these settings, then scroll to the 'Term Highlighting' section.
You can now delete any of the options in 'Highlight terms on given post types.' You can also type in any other areas where you want to highlight glossary terms, such as any custom post types you may be using.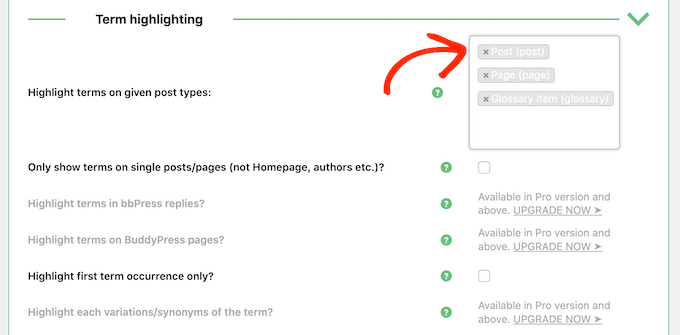 After that, you can choose whether to highlight a glossary term every single time it appears on a page, or only the first time it appears.
If it's a common word, then we recommend only highlighting the term when it first appears, to avoid distracting your readers.
However, if the word or definition is complicated then visitors may appreciate being able to access the glossary every time that word appears on your site.
To make this change, check or uncheck the box next to 'Highlight first term occurrence only.'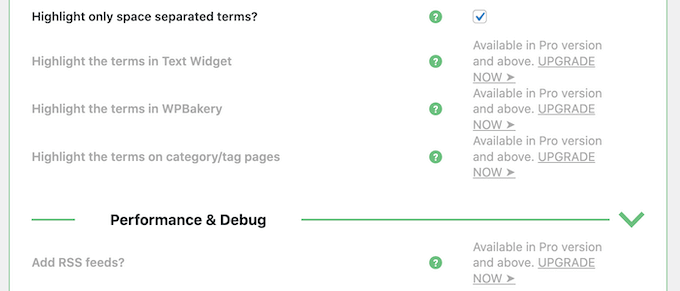 When you're happy with how the glossary is set up, scroll to the bottom of the screen and click on 'Save Changes.'
After that, click on the 'Glossary Index Page' tab and configure the glossary display settings. For example, you can use a tile layout for the glossary page and change the width of the tiles.
Most of these settings are straightforward. However, if you need more information about an option then simply hover your mouse over its '?' icon, to see what this specific option does.
Next, you can check the link settings for your glossary by selecting the 'Glossary Term' tab.
Here, you can change how the glossary links look by using different colors, underline effects, and hover states.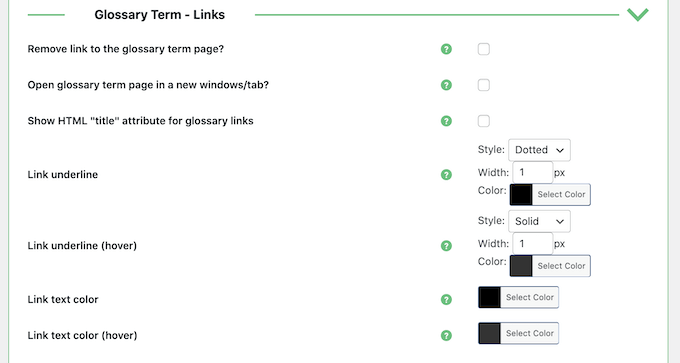 You also have the option to 'Open glossary term page in a new window/tab.' While we don't think it creates a good user experience, it may be a good choice if you want to show lots of information about your glossary terms.
Adding a New Glossary Term
When you're happy with how the glossary is set up, you're ready to start adding terms and definitions by going to CM Tooltip Glossary » Add New.
Adding a new glossary term is similar to writing a post. Simply type in a title, which will appear in the list on your glossary page.
Then, type a definition into the main text editor. This text will appear in the tooltip, or in a new tab if you selected 'Open glossary term page in a new window/tab'.

When you're ready, click on the 'Publish' button.
You can add as many glossary terms as you want, and the plugin will arrange them in alphabetical order automatically. After adding a few terms, you can visit your WordPress blog or website to see the glossary page in action.
Note: You'll find the glossary page at the 'Glossary Terms Permalink' URL, as defined in the plugin's settings.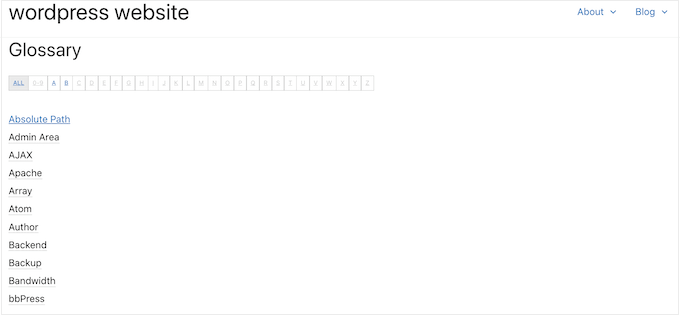 After creating a glossary, you'll want to help visitors find it. This may mean adding it to your website's navigation menu or the WordPress footer.
We hope this article helped you learn how to add a glossary or dictionary on your WordPress site. You may also want to see our ultimate guide to WordPress SEO, or see our expert pick of the best live chat software for small businesses.
If you liked this article, then please subscribe to our YouTube Channel for WordPress video tutorials. You can also find us on Twitter and Facebook.