Are you looking for the best WordPress plugins for podcasters? WordPress is a popular blogging platform choice among top podcasters due to its flexibility that comes with various podcasting plugins. In this article, we have hand-picked some of the best WordPress podcasting plugins.
How to Start Podcasting with WordPress?
As we mentioned earlier, WordPress is popular among top podcasters such as Tim Ferris, Lewis Howes, Michael Hyatt, etc. That's mainly because WordPress is easy to use and highly flexible with tons of great templates and thousands of WordPress plugins.
If you're looking to make your website and start a podcast, then first you will need to get a domain name and WordPress hosting.
We recommend using Bluehost because they are one of the largest hosting companies in the world and an official WordPress recommended hosting provider. On top of that, they're giving our users 60% off + a free domain.
Once you have signed up for hosting, the next step is to install WordPress. Follow the instructions in our how to start a WordPress blog and you will be up and running in no time.
Now comes the part where you will setup your podcast. To help you with this part, we have created a step by step guide on how to start your own podcast.
After that, take a look at our hand-picked list of the best WordPress plugins for Podcasters.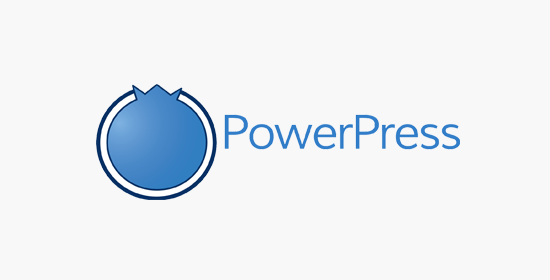 PowerPress is a powerful WordPress podcasting plugin that helps you manage your podcast files in WordPress.
It creates iTunes and Google Play supported RSS feeds for your podcast. It also comes with an easy interface where you can add all the information required to submit your podcast to iTunes.
Adding your podcast episodes to your WordPress site is easy with a beautiful HTML5 player. It also includes integrated subscribe tools to boost your podcast subscribers. Most importantly it comes with helpful community support from thousands of podcasters who already use it.
Best of all, it works with the best podcast audio file hosting service, Blubrry.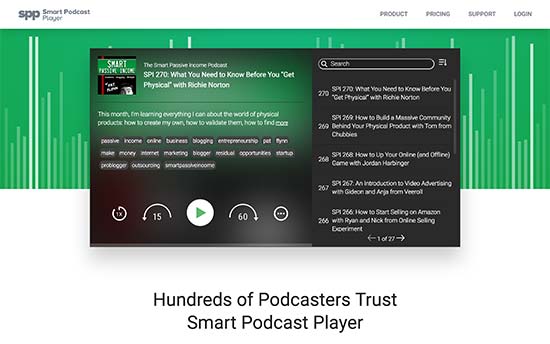 Smart Podcast Player offers a beautifully designed listening experience to your podcast listeners.
Unlike other podcast player plugins, it offers a better user experience with a beautifully designed HTML5 player. You can add a mega player that loops through all episodes, or you can add single episode player.
It looks and works great on all devices (mobile, tablet, and desktop). You can choose your own colors with light or dark theme. It has built-in social sharing features, download button, speed control, timestamps, and more.
A lot of beginners just want to start their podcast without purchasing dedicated podcast hosting or a media player. Seriously Simple Podcast player can help you do that. It allows you to manage and upload your podcast episodes directly to your WordPress site.
It generates your podcast feed which is compatible with iTunes, Google Play, and many other services. The plugin also comes with shortcodes and widgets to easily display podcast episodes throughout your website.

Podlove Podcast Publisher is created by Podlove, an online community of users who want to improve podcasting standards. The plugin aims at offering cutting edge solutions for podcasting issues that were not fixed by other available platforms.
Podlove Podcast Publisher makes it easier for you to manage your podcast from your WordPress site. It offers highly compatible podcast feeds with fine grain control over your feeds. It offers multi-format feeds, support for different audio and video codecs, an enhanced HTML5 player, chapters support, download stats, and flexible templates.
The best part is that you will be part of an active community. They have their own forums where you can ask questions and get help from developers and other users.
Simple Podcast Press allows you to beautifully display your podcast epsiodes in WordPress. It works with all popular podcast hosting services. You just need to add your podcast's iTunes feed URL and it automatically fetches the episodes and displays them in a beautiful HTML5 player.
It allows you to display single episodes with timestamps so you can allow users to jump to key topics in an episode. It also has built-in social sharing features including a click to tweet quote box.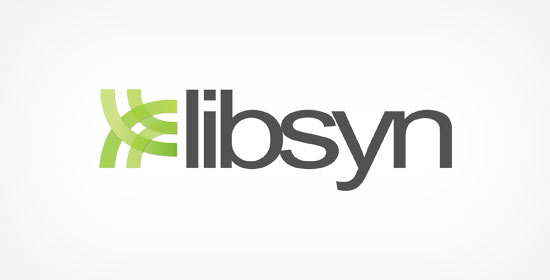 Libsyn is a popular podcast hosting service, and this plugin helps connect your WordPress site to your Libsyn account. It allows you to easily create episodes, save them as draft, and schedule them in WordPress.
You will be able to directly upload your podcast files to Libsyn from WordPress, which means your podcast media will not take up space on your WordPress hosting server. You can also add files from your WordPress media library.
All your media and podcast feed will remain on Libsyn servers. Even if your website goes down, your podcast subscribers will still be able to download episodes directly into their podcast apps and feed readers.
Featured Podcast Widget allows you to feature a podcast episode into your WordPress sidebar. It is an addon plugin for PowerPress, so you can only use it if you are using PowerPress by Blubrry.
Upon activation, you need to visit Appearance » Widgets page and add 'Featured Podcast' widget to your WordPress sidebar. You can display the latest episode, select a category, or manually enter the ID of episode you want to be displayed.
It will use the post's featured image and excerpt with the default PowerPress media player to play the episode.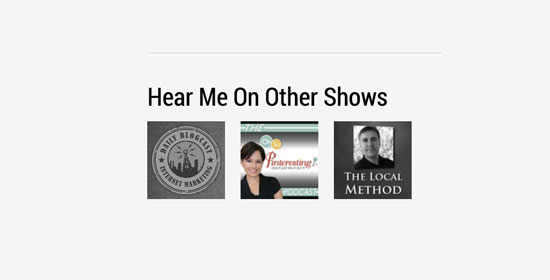 As Heard On allows you to display different podcasts where you've been interviewed. This helps you feature other podcasters on your site, leverage social proof, and get featured on more podcasts. The plugin makes it easy to add the podcasts you want to showcase. You can add podcast name, host name, thumbnail, episode URL, description, etc.
You will have to find album art for the podcasts you want to display and upload the images manually. After you've added a few podcasts, you can display them in a sidebar widget, blog post, or any page on your site.
Bonus Plugins
These plugins are not specific to podcasting, but they would be immensely helpful for any podcaster using WordPress.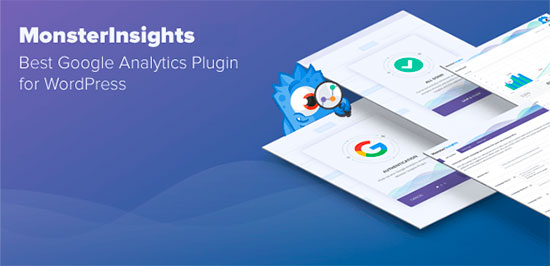 Want to know how people are discovering your podcast website? MonsterInsights is the best Google Analytics plugin for WordPress users. It helps you find out where your users are coming from, what they do, and how much time they are spending on your site.
MonsterInsights also comes with link tracking feature which can help you find out which episodes are downloaded the most. It also comes with an addon for Google Optimize which is a tool to help you conduct content experiments like A/B testing to figure out what works best for your website.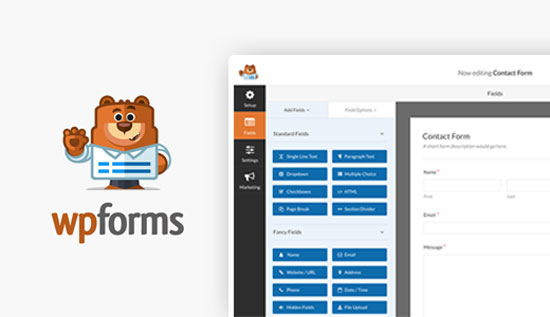 User interaction helps you convert more visitors and build a stronger community. WPForms is the best WordPress contact form builder plugin, which allows you to create beautiful forms for your website without writing any code.
You can use it to add a contact form, build surveys forms, accept payments, create email subscription forms, and more. Due to its ease of use and powerful features it is a must have for any podcaster's toolkit.
There's also a free version of WPForms available for WPBeginner users. Get WPForms Lite today.
That's all for now.
We hope this article helped you find the best WordPress plugins for podcasters. You may also want to see our ultimate WordPress security guide for beginners.
If you liked this article, then please subscribe to our YouTube Channel for WordPress video tutorials. You can also find us on Twitter and Facebook.