Comment spam can be a very annoying issue for WordPress beginners. There are may ways to combat comment spam, but if you do not have time to deal with the ever increasing number of spam comments, then there is always an option to block spam comments using CAPTCHA technique. In this article, we will show you how to block spam comments in WordPress with CAPTCHA. We will also discuss the Pros and Cons of using CAPTCHA on your WordPress site.
What is CAPTCHA
CAPTCHA is acronym for "Completely Automated Public Turing test to tell Computers and Humans Apart". It is a technique used to control spam comments submitted by automated bots. It present users with an image containing slightly distorted letters and digits. In order to submit a web form, users need to enter the letters and digits shown in the image to prove that they are human.
Pros of Using CAPTCHA
The most obvious benefit of using CAPTCHA for comments is that it cuts down spam because most spam comments are submitted by automated bots. CAPTCHA prevent bots from abusing your comment form. Combining CAPTCHA technique with Akismet can significantly reduce the number of spam comments on a WordPress site.
Cons of Using Captcha
CAPTCHA is not at all useful in stopping the manually submitted spam comments. A large number of spam comments these days are actually submitted by human users who are trying to add a link to dubious or irrelevant websites in their comments.
Another disadvantage of using CAPTCHA to control spam is that it adds one additional step for users who are commenting on your site. An average user finds it annoying and difficult to fill out CAPTCHA form and may feel less motivated to comment on your site.
If the disadvantages of using CAPTCHA on your comment form seems too much, then perhaps you would want to try blocking spam comments in WordPress using Honeypot.
Implementing CAPTCHA on Your WordPress Comments
There are several WordPress plugins that allow you to add CAPTCHA or reCaptcha challenge to your WordPress comment form. We have handpicked a few of them for you to try on your website.
WP-reCaptcha
First thing you need to do is install and activate the WP-reCaptcha plugin on your website. Upon activation, simply go to Settings » WP-reCAPTCHA to configure the plugin.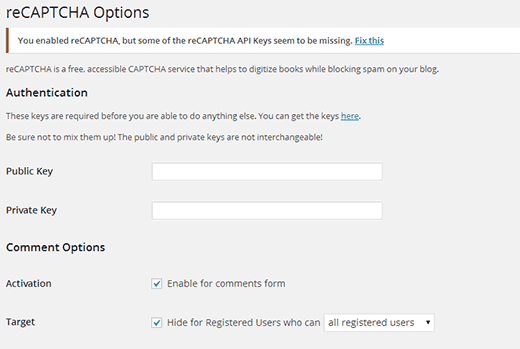 WP-reCAPTCHA requires reCAPTCHA API keys. To generate reCAPTCHA API keys, you need to visit the reCAPTCHA website and sign in using your Google Account. After the signup simply add your site, and it will generate the API Keys for you. You will need to copy and paste those keys into WP-reCAPTCHA Options page.
After entering API keys, you need to check the box next to 'Enable for comments form' to activate it for your comment form. WP-reCAPTCHA allows you to hide reCAPTCHA for registered users, choose a color theme, and if your site is open to user registration, then you can also add reCAPTCHA on your registration page. Once you are done with the options, you need to click on 'Save reCaptcha Settings' button to store your settings.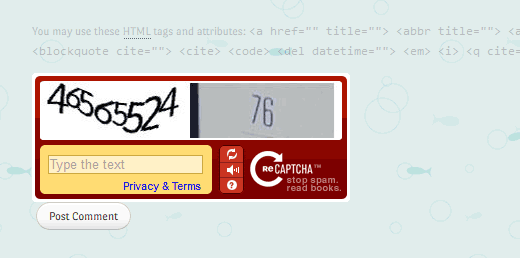 That's all, your comment form is now protected by a reCAPTCHA challenge.
Easy Captcha
If you would like more CAPTCHA options, then install and activate the Easy Captcha plugin. Upon installation, simply go to Settings » Easy Captcha to configure the plugin. It comes with the option to add a hidden Captcha, a simple CAPTCHA, or Google's recaptcha.
The hidden CAPTCHA is actually similar to honeypot technology. Your human users will not see anything different in their comment form. However, bots will be caught by the plugin.
Simple CAPTCHA adds the usual image based CAPTCHA, but this one is easier for your users to read and fill. Lastly, you can also use Google's reCAPTCHA as well.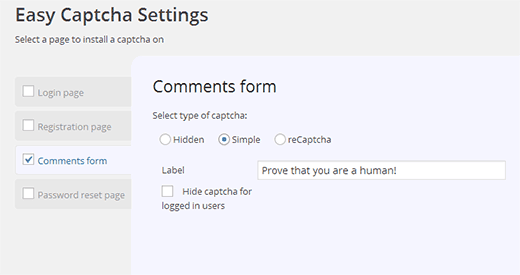 It also allows you to add CAPTCHA to not just comment form, but also to registration, login, and password reset pages. Once you have configured the plugin settings, save your changes and preview your comment form.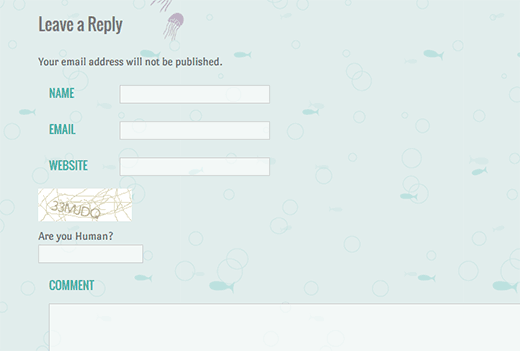 Securimage-WP
For more powerful options, try the Securimage-WP plugin. Upon installation simply go to Settings » Securimage-WP to configure the plugin.
Unlike previous plugins mentioned in this article, Securimage-WP has lots of options, which would probably look a bit overwhelming to a beginner level user.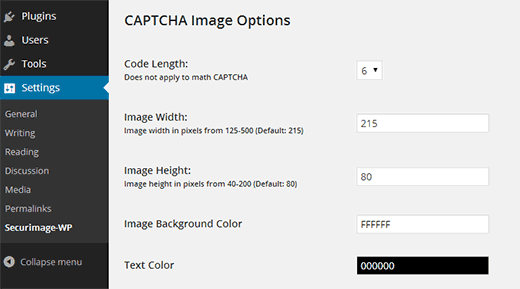 Securimage-WP does not use Google's reCAPTCHA. Instead, it generates your own captcha image using php GD image library. It also has the option to add a refresh button and to display audio captcha button. These options are really very helpful for users with special needs.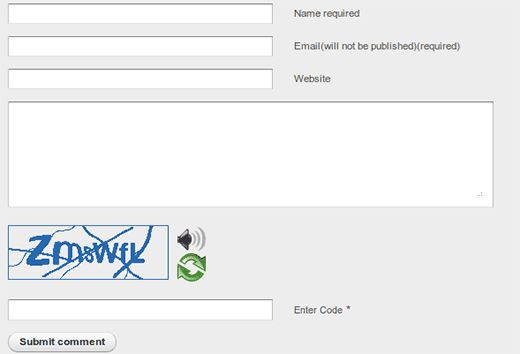 When using Securimage-WP don't forget to uncheck the box next to 'Show "Protected By" Link'. Otherwise it will show a link back to plugin's website.
We hope this article helped you block spam comments in WordPress with CAPTCHA. If you liked this article, then follow us on Twitter and Google+.