Do you want to tweet your newly published blog posts automatically?
Twitter is one of the best platforms to let your followers know whenever you publish a new post in WordPress. By tweeting new posts automatically, you can save time while growing your Twitter followers and website traffic.
In this article, we will show you how to automatically send a tweet when you publish a new post in WordPress.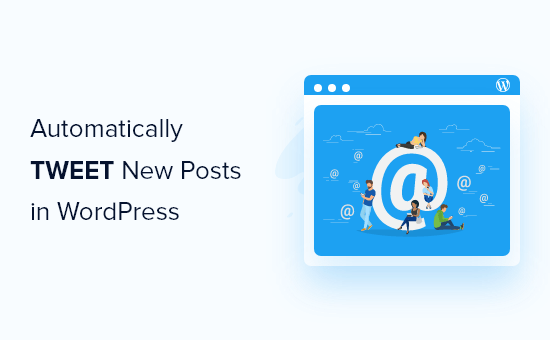 Why Automatically Tweet New Blog Posts on Twitter?
Twitter is a great place to engage with your audience and build a following. However, it can be time-consuming to manually send out tweets whenever you publish a new post on your WordPress blog.
That's where automatically sharing new blog posts on Twitter comes in handy. You can provide fresh content to your Twitter followers to keep them engaged.
That said, let's look at how you can automatically Tweet whenever a new post is published on your WordPress website.
Video Tutorial
If you'd prefer written instructions, just keep reading.
Automatically Share New WordPress Posts on Twitter Using Uncanny Automator
The easiest and most reliable way to automatically tweet new pots in WordPress is by using Uncanny Automator. It's the best WordPress automation plugin that helps you create automated workflows without having to write code.
Uncanny Automator seamlessly integrates with all the must have WordPress plugins and third-party tools.
Think of it like Zapier, but for WordPress websites.
For this guide, we'll be using the free version of Uncanny Automator, since it includes a Twitter integration. However, there's also an Uncanny Automator Pro version that unlocks more integrations including Google Sheets, Twilio, Slack, many and others.
Uncanny Automator Pro also comes with advanced features like delayed or scheduled actions, buttons that can trigger any automation, and much more.
For more information on how you can save time and money, see our guide on how to create automated workflows in WordPress.
To automatically tweet new WordPress posts, you need to install and activate the Uncanny Automator plugin. For more details, follow our tutorial on how to install a WordPress plugin.
Upon activation, you'll first need to connect your WordPress website with a free Uncanny Automator account, which will give you 1,000 credits to use with Twitter.
To make this connection, go to Automator » Settings. Then, click on 'Connect your site.'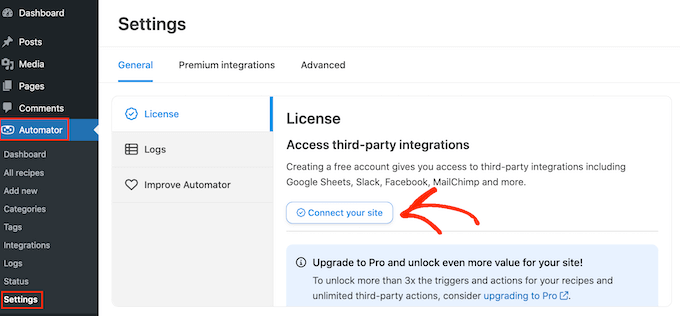 This opens a screen containing information on how to connect your WordPress blog to Uncanny Automator.
If you're happy to go ahead, then click on the 'Connect your free account' button.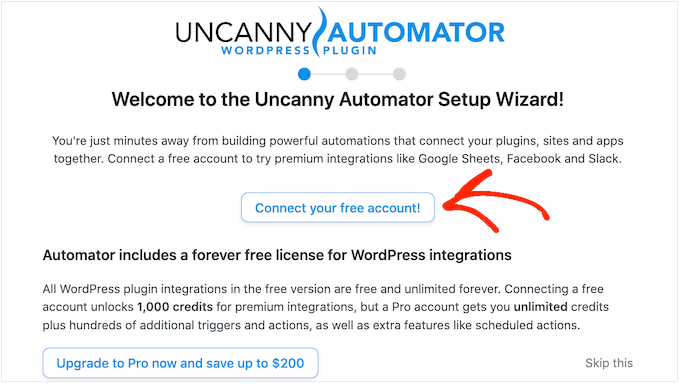 After a few moments, you should see a 'Setup complete' popup.
You can now click on the 'Return to dashboard' button.
Back in the WordPress dashboard, go to Automator » Settings.
You can then click on the 'Premium Integrations' tab.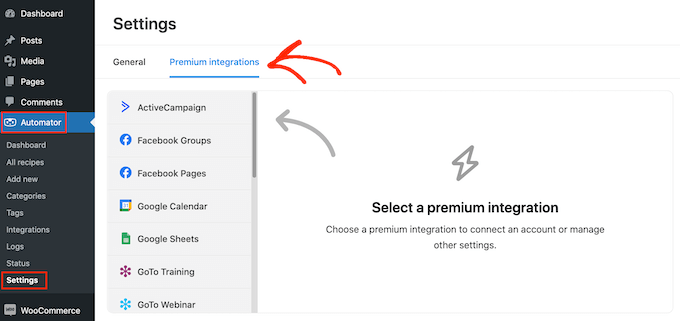 In the left-hand menu, select 'Twitter.'
Then, simply click on the 'Connect Twitter account' button.
This opens a popup where you can type in the username or email address that's linked to your Twitter account, and your Twitter password.
You can then click on the 'Authorize app' button.
You'll be redirected back to the Uncanny Automator settings page. Now, you're ready to create a recipe that will automatically send tweets when you publish a new blog post.
To start, simply head over to Automator » Add New. You'll be asked to select whether you want to create a recipe for logged in users, or everyone.
You can go ahead and select 'Logged-in users' and then click the 'Confirm' button.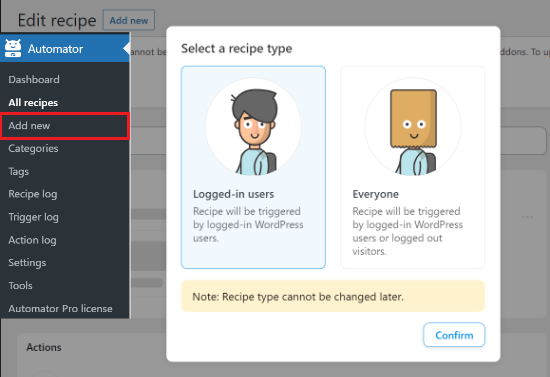 Next, you can give the recipe a name by typing into the 'Title' field. This is just for your reference so you can use anything you want.
In the 'Triggers' section, select 'WordPress.'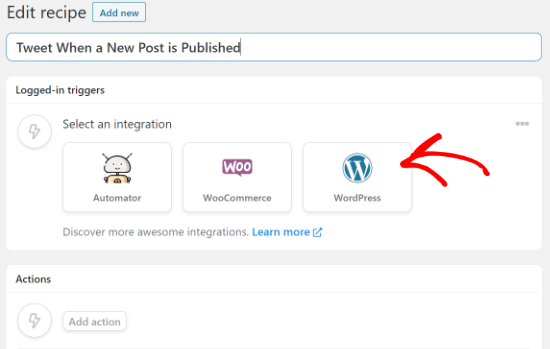 Now you can choose your trigger, which is anything that kickstarts the recipe.
In the dropdown, select 'A user publishes a type of post with a taxonomy term in a taxonomy'.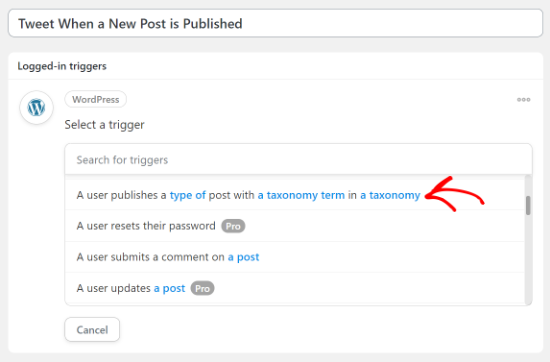 Now you can open the 'Post type' dropdown and choose what content you want to automatically share on Twitter.
For example, if you want to share all blog posts, then simply choose 'Post.' You can then decide if you're going to share posts from a particular category or tag by changing the 'Taxonomy' settings.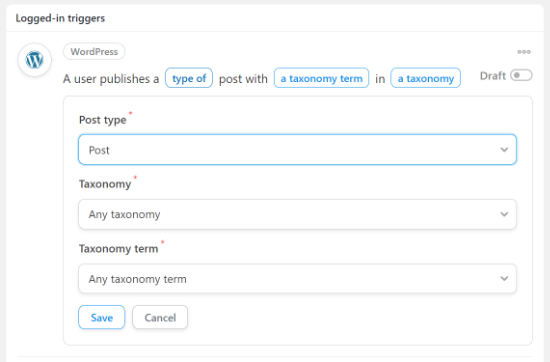 When you're done, click on the 'Save' button.
Next, you'll need to choose the action, which is something that Uncanny Automator will do when the recipe is triggered. In our case, that's sharing the new post on Twitter.
To start, click on the 'Add an action' button.
You can now see all of Uncanny Automator's integrations, for example there's a Twilio integration that lets you send SMS notifications from WooCommerce.
Simply go ahead and select 'Twitter' as your integration.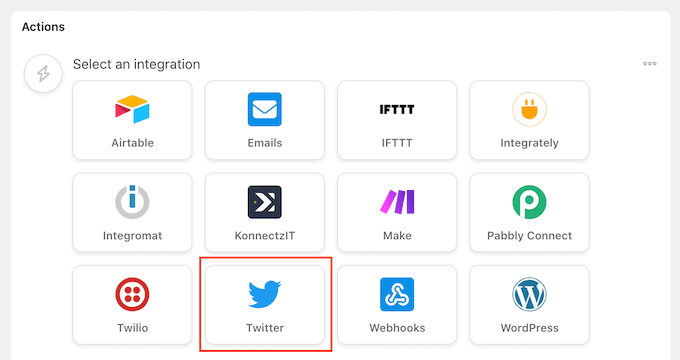 After that, select 'Post a status to Twitter.'
Uncanny Automator will now show settings you can use to create the Twitter status update.
You can type plain text into the 'Status' box, but you can also use tokens. Uncanny Automator will replace these placeholder tokens with unique text, such as the post's title.
To add a token to your Twitter status, simply click on the 'Asterix' and then search for the information you want to add, such as 'Post title' and 'Post URL.'
If you want to add the same image to every tweet, then you can simply paste that picture's URL to the 'Image URL' field. For example, you may want to add your website's custom logo to every tweet.
However, if you want to show the featured image for each individual blog post, then check out our guide on how to add Twitter cards in WordPress.
When you're happy with how the recipe is set up, don't forget to click the 'Save' button. After that, you're ready to publish the recipe.
In the 'Recipe' box, click the 'Draft' switch so that it shows 'Live' instead.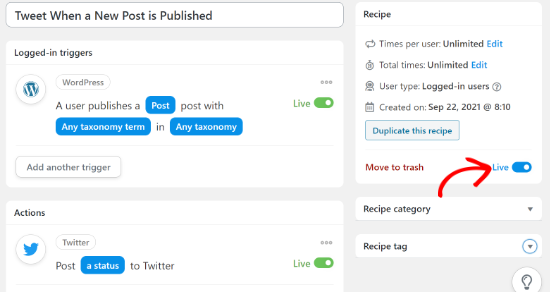 That's it. Now, Uncanny Automator will automatically tweet every time you publish a new blog post on your WordPress website.
We hope this article helped you send automatic tweets when you publish new posts in WordPress. You may also want to look at our tutorial on how to add web push notifications to your WordPress website and our expert pick of the best social media plugins.
If you liked this article, then please subscribe to our YouTube Channel for WordPress video tutorials. You can also find us on Twitter and Facebook.