Previously we showed you how to add a PayPal donate button in WordPress. Due to the increase in popularity of the Stripe platform, one of our users asked us how to add a Stripe donate button in WordPress without editing any theme files, or worrying about code. In this article, we will show you how to add a Stripe donate button in WordPress.
Video Tutorial
If you don't like the video or need more instructions, then continue reading.
First thing you need to do is install and activate the Stripe Donations plugin (See how to install plugins in WordPress). Upon activation, you need to go to Settings » Stripe Donations to enter your Stripe API Keys.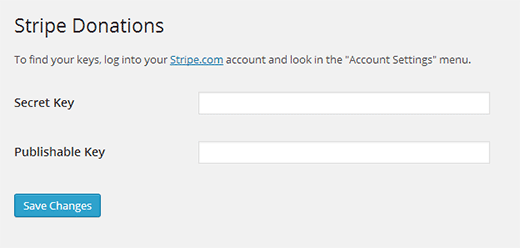 You can get your Stripe API keys by logging into your Stripe account. Once logged in, you need to click on Your Account button at the top right corner of the screen which will show you a drop-down. Simply select Account Settings from the menu. This will open your Stripe account settings in a popup with different tabs. You need to click on API Keys tab to continue.
On your API Settings screen, you will see two sets of API keys. The first one is for testing purposes and the second one is to be used on a live website. If you are currently developing your website, and it is not yet available to public then use the test keys. If you're ready to implement this on a live site, then use the live keys. You need to copy and paste your secret key and publishable key into the plugin's settings page on your WordPress site.
Stripe Donations plugin is now ready, and all you need to do is add this shortcode in a page, post, or widget where you want to display the Stripe Donations button:
[ssd]
By default the donate button will accept $10 donations. To change the amount of donation, you can modify the shortcode like this:
[ssd amount="20"]
That's all, you can preview your site, and you should be able to see a donate button there. When a user clicks on the donate button, a nice little popup will appear where they can enter their credit card information and the amount they want to donate.
We hope this article helped you add a Stripe donate button on your WordPress site. When it comes to accepting online payments, Stripe is becoming a popular alternate to PayPal. It is currently available in select countries, but offers a very easy way to accept payments.
Let us know what payment gateway do you prefer to use on your site by leaving a comment below.