Do you want to add security questions to your WordPress login screen?
Many financial institutions and large companies require you to add security questions to your account for identity verification. You can do the same thing to improve the security of your WordPress site.
In this article, we will show you how to add security questions to your WordPress login screen.
Why Add Security Questions in WordPress?
There are many ways to protect the WordPress admin area from unauthorized access. However, if you run a multi-user or WordPress membership site, then it's harder to balance security with user experience.
Adding security questions to your login screen can help. Before your users can log in to your WordPress website, they will be required to answer one or more questions that other users shouldn't know the answer to.
An alternative is two-factor authentication, or 2FA. This option is more secure but requires a little more effort to set up. You can learn more by reading our guide on how to add two-factor authentication in WordPress.
Having said that, let's see how you can easily add security questions to your WordPress login screen.
Adding Security Questions to Your Login Screen
First you need to install and activate the Two Factor Authentication plugin. For more details, see our step by step guide on how to install a WordPress plugin.
In this tutorial, we'll use the free version of the plugin. With the free version, you can set up security questions for up to three users, and they must have the administrator role.
If you want to use the plugin with more users, or users who are not administrators, then you'll need to purchase a license. The Premium Lite plan includes unlimited users for $99/year.
Upon activation, you need to visit the Multi-factor Authentication » Two Factor page to set up the plugin. Once there, you need to click the Configure button that you'll find at the bottom of the Security Questions section.
On the next page, you can select two questions from the drop down menus. You will have to type the third question yourself.
Once you have chosen the questions, you will need to type in your answers.
Make sure you click the Save button to store your settings.
The plugin will display a Success message that confirms your security questions have been configured. You can dismiss the message by clicking the 'Got it!' button.

Note that these questions and answers are for you alone. Other users on your WordPress website will need to visit this page and set up their own questions.
When you log in to your website, you will still see the standard WordPress login page. You'll need to enter your username and password as normal.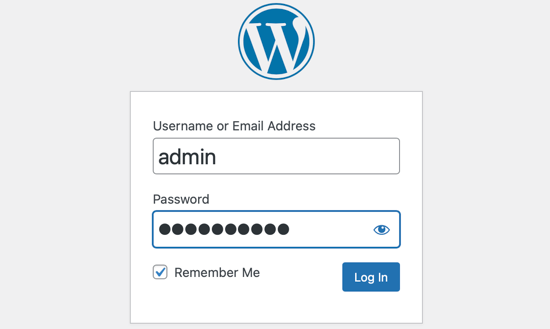 After clicking the Log In button, you'll be asked to validate your login by answering two questions. You will need to correctly type the answers to those questions and then click the Validate button.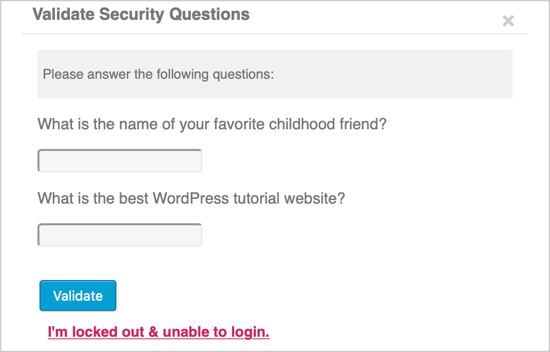 We hope this tutorial helped you learn how to add security questions to your WordPress login screen.
You may also want to learn how to get a free SSL certificate for your WordPress website, or check out list of the best WordPress hosting services.
If you liked this article, then please subscribe to our YouTube Channel for WordPress video tutorials. You can also find us on Twitter and Facebook.