WordPress has a great user management system that's why many use it to create multi-author websites and blogs. The reason why WordPress user management is so powerful is because it allows you to extend the functionality. Often we get emails from users asking us how does Site X have such a great user profile page or registration page. In most cases those sites are adding additional user profile fields to collect and display other user information such as their twitter, facebook, blog feed, etc. In this article, we will show how to add additional user profile fields in WordPress registration. By using this method, you can collect any additional information such as ask users if they want to signup to your newsletter while registering, ask them their twitter ID, their address, etc.
Video Tutorial
If you don't like the video or need more instructions, then continue reading.
First thing you need to do is to install and activate Cimy User Extra Fields plugin. Once the plugin is activated, go to Settings » Cimy User Extra Fields to configure plugin options.
At the bottom of the page you will find Add new field form. Cimy User Extra Fields allows you to add different types of fields. You can add text, textarea, checkbox, picture, picture url, and other input types. Using these fields you can add additional user registration and profile fields. Provide name, label, and description for the field.
Review the Rules column to configure rules for this particular field and finally press the Add field button.
Here is how it will appear on the default WordPress registration page: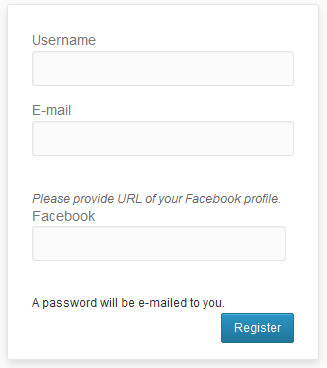 Registered users can see and update this additional field by editing their user profile in WordPress.
Cimy User Extra Fields plugin provides an alternate interface to manage the additional user profile fields. Go to Users » Users Extended to manage extended user profiles. An admin can update additional profile fields for single user as well as multiple users at once.
Cimy User Extra Fields plugin can also be used to change your default registration form. You can ask the users to provide additional details which are already part of the user profile system on WordPress, but are not shown on the registration page by default. Some of these fields are First and Last name, website URL, etc. To enable these existing fields on the registration page go to Setttings » Cimy User Extra Fields and scroll down to WordPress hidden fields section. You can even allow users to choose a password upon registration.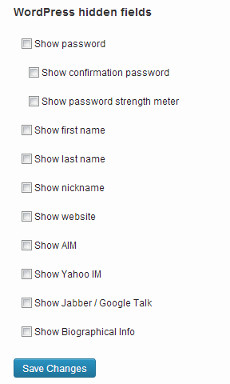 Using this plugin you can add additional user profile fields in WordPress registration which not only allows you to create powerful registration pages in WordPress, but it also gives you the ability to create detailed user profile pages. We hope that this article helps you extend user management in WordPress to improve your site. What kind of registration and user profile fields would you add on your site? Are you using this plugin or another plugin that does the same thing on your website? Let us know in the comments below.