Are you looking to increase your Google AdSense revenue?
Google AdSense is a great way to make money online from your WordPress website. You can skyrocket your AdSense revenue by placing ads in high converting areas, selecting the right theme, and choosing the best plugins.
In this article, we will share tips on how to optimize your AdSense revenue in WordPress.
What is AdSense and How does it Work?
Google AdSense is an advertising network run by Google that allows bloggers and website owners an opportunity to earn money by showing text, image, video, and other interactive advertisements on their websites. These ads are targeted by site content and audience.
AdSense ads are cost-per-click (CPC), meaning you get paid for every time an ad is clicked on your website. It's a great way to make money online for your WordPress blog.
The amount you receive per click varies based on the ad content and user demographic. For example, traffic from tier-1 countries (U.S, U.K, and Australia) usually gets a much higher CPC than traffic from tier-3 countries (Congo, Jamaica, and Sri Lanka).
Here are three factors that impact your overall AdSense revenue:
Ad Size
Ad Placement
Quality of Traffic
Let's take a look at which AdSense size and placements perform the best.
Best AdSense Ad Size and Placement
Google AdSense revenue depends on how your users interact with ads on your website, so the strategic placement of ads is crucial for increasing your AdSense revenue.
In our experience, the AdSense sizes that work best are:
336 x 280 (Large Rectangle)
300 x 250
728 x 90
160 x 600
Notice that these are fairly large ads and are more prominent by default. The areas where you would generally place them also have to be prominent.
The ideal ad placements are your site header, above the content, in-between content, and after post content.
Sidebar ads rarely have a good click-through rate (CTR) thus we tend to avoid them altogether.
The general rule of thumb is that you should place at least one ad unit above the fold of your WordPress website. Above the fold is the area visible to users when they land on your website without scrolling.
When setting up Google AdSense, there are few placement areas that you absolutely want to avoid at all costs because it can result in your account getting terminated.
Floating Scrolling Ads – Some publishers use floating sidebar widgets or floating footer bars to display ads that scroll with users. We've seen people getting their AdSense account banned for doing this, so we recommend against using this placement.
Popup Ads – We have also seen folks displaying their AdSense ads inside a lightbox popup. This is also against AdSense policies, and you should avoid this placement.
Ads above pagination – One of the best places to generate accidental clicks is above pagination. We received a warning from Google about this and made a quick change to prevent getting our account suspended.
Also whatever you do, do not click on your own ads. Because that's a sure-fire way to get your Google account banned.
Having that said, let's take a look at the best Google AdSense plugins for WordPress that can help you increase your AdSense revenue.
Managing and Inserting Adsense Ads in WordPress
The best way to manage ads in WordPress is by using an ad management plugin. These plugins allow you to insert and manage your ads from one spot without writing any code.
Here are some WordPress plugins to optimize your AdSense placements.
As the name suggests, Insert Post Ads is a free plugin that allows you to easily insert ads inside your WordPress blog posts.
The plugin allows you to place your ads in between your paragraphs which can significantly boost your revenue.
It is very easy to use and does not require any complicated settings. Simply create a new ad unit and paste the Adsense ad code.
You can also select where you want the ad to appear, such as after paragraph 1, and publish the ad unit. After specifying where to place the ads, the plugin will automatically start displaying the ad in your WordPress blog posts.
Check out our tutorial on how to insert ads within your post content in WordPress.
AdSanity is a premium WordPress plugin to properly manage ads on your WordPress site.
It works with all advertising platforms, including Google AdSense. You can easily create and insert ads on your WordPress site and manage your ad units from your WordPress admin area.
You can create ad groups and display ads on a rotating basis. You can also display ads using drag and drop WordPress widgets.
For more information, take a look at our tutorial on how to manage ads in WordPress with Adsanity plugin.
MonsterInsights is the best Analytics solution for WordPress and it helps you set up Google Analytics without editing code or hiring a developer.
With MonsterInsights Ads addon, you can set up AdSense tracking on your WordPress website in just a few clicks and see how people are interacting with your ads.
You'll get insights to increase your AdSense revenue and find out which ads get the most clicks. The plugin also helps find the best position for placing ads on your site and boosts the click-through rate (CTR).
Besides that, MonsterInsights helps set up advanced trackings like eCommerce tracking, conversion tracking and more.
It also brings the most important analytics stats inside your WordPress dashboard, so you can view how your site is performing at a glance and make data-driven decisions.
For more details, you can go through our detailed guide on how to track user engagement in WordPress with Google Analytics.
AdSense Optimized Themes for WordPress
While you can add Google AdSense to any WordPress theme, there are some themes that are more optimized for advertisement.
These themes either have special designated areas where you can place an ad code or have a layout that allows you to insert ads in optimized locations.
Here are some AdSense optimized WordPress themes that you can use.
ElegantThemes Divi is the best WordPress theme that's optimized for Google AdSense. It offers multiple templates and customization options to place your AdSense ads.
The best part about using Divi is that it offers a complete WordPress theme and visual builder. You can customize and edit your theme by adding and removing elements using the drag and drop builder.
With Divi, you get over 40 different elements to add to your theme and over 100 layouts. Besides that, there are multiple hover styles and effects, fonts and text styles, shape dividers, and more to customize your theme.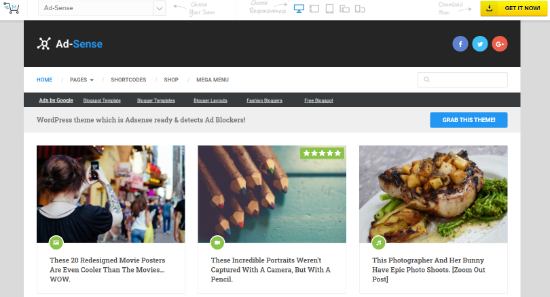 Ad-Sense is a theme that's designed and optimized for Google AdSense. It is one of the most ad-friendly themes in the market.
With Ad-Sense, you get different features like ad placement to place your ads in the navigation menu, header, site background, before and after content, and more.
The theme also lets you manage your ads, automatically detects ad blockers and locks content for ad block users. There are 8 different predefined layouts to choose from, and you can customize them according to your needs.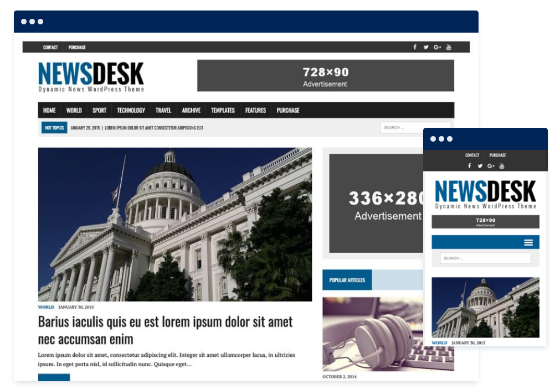 MH Newsdesk is a fully mobile-friendly WordPress theme for magazines and news websites.
The main feature of this theme is that it is a fully Adsense optimized theme for WordPress sites. The theme comes with widget-ready areas allowing you to place your ad widgets anywhere on your site.
The theme is SEO optimized and you won't have to worry about slow performance. It also comes with Google fonts, so you can easily change the font of your text and headings.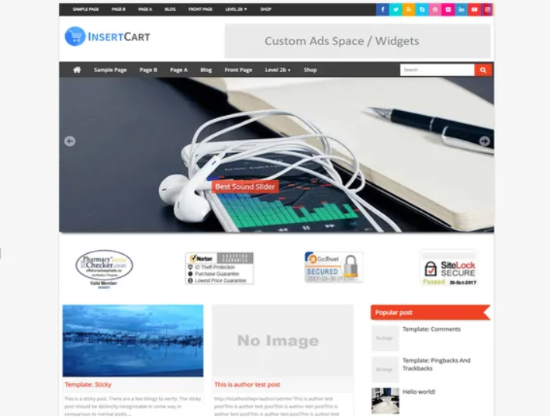 Digital is a free Adsense-friendly WordPress theme.
It is a multi-purpose theme with a fully responsive layout and it easily connects with Google AdSense. The Digital theme comes with full support for WooCommerce and an inbuilt slider.
The theme can be easily customized with a custom header, background, and color options. Plus, it's SEO optimized and ensures that it offers fast website loading speed.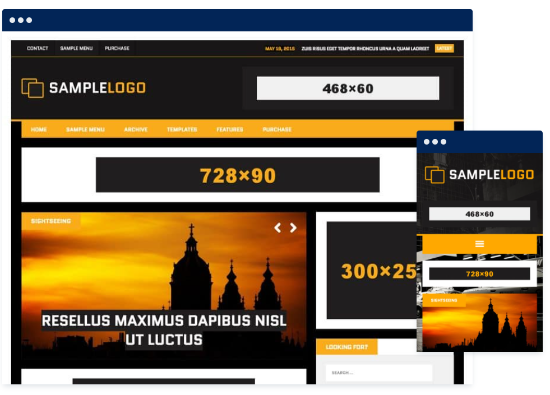 MH Squared is a premium WordPress theme optimized for Adsense.
It comes with ready-to-use ad placement areas. The theme layout is fully mobile-responsive and looks equally great on all screen sizes.
The MH Squared theme is perfect for anyone looking to start a magazine, online publication, or news website. It comes loaded with custom theme options, and it is highly optimized for performance.
ProMax is a beautifully designed free Adsense ready theme for WordPress.
It comes with ample spots to prominently display your Adsense ads above the fold area without compromising user experience.
The theme features custom background, header, and social menu. Plus, you can easily customize any element in the theme to match your business needs.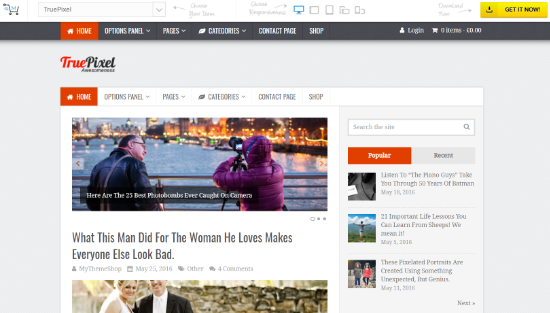 TruePixel is a multi-purpose fully responsive WordPress theme optimized for Adsense and SEO.
It comes loaded with custom options like parallax scrolling, multiple AdSense widgets, layout choices, color variations, a fixed menu, and a comprehensive theme options panel.
Besides that, the TruePixel theme is highly customizable as it offers over 590 font icons. It also works with WooCommerce online store out of the box.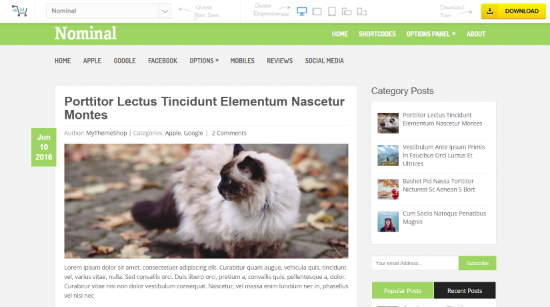 Nominal is a fully responsive AdSense-ready WordPress theme.
It features a soothing color and a mobile responsive layout. The theme comes with multiple AdSense areas where you can place your ad code to boost your earnings with a higher CTR.
The design features you get with the Nominal theme include an options panel, widgets, social media integration, Google Fonts, and much more.
We hope this article helped you learn how to optimize your AdSense revenue in WordPress and boost your earnings. You can also check out our guide on how to choose the best website builder and best web design software.
If you liked this article, then please subscribe to our YouTube Channel for WordPress video tutorials. You can also find us on Twitter and Facebook.