Do you want to detect AdBlock users in WordPress and show them targeted messages?
Adblock Plus is a popular software which blocks advertisements on the internet. It is available as an add-on for all top browsers, mobile apps, and even as a dedicated browser.
Now the problem is that most bloggers rely on the ad revenue to support their website. Software like AdBlock plus hurt their revenue potential and ultimately their plans to grow their business.
In this article, we will show you how to detect Adblock users in WordPress and share ways to bypass the Adblock software.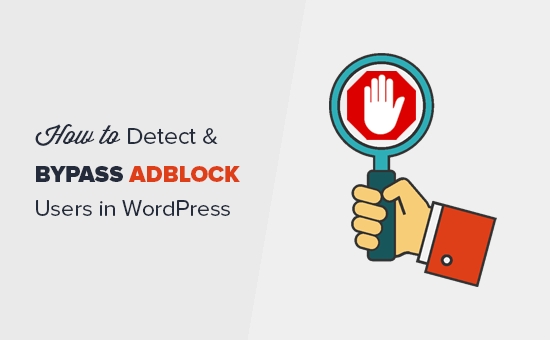 What is AdBlock and How it Hurts Website Owners?
Adblock Plus and other adblocking software allow users to automatically detect and block advertisement on websites.
While Adblock brings a cherished ad-free experience to users, it can hurt bloggers and website owners who rely solely on ad revenues.
Research published by Global Web Index shows that adblocker usage has increased over the past few years.
Nearly 47% of internet users have some kind of adblocking software installed on their devices.
Adblocking on mobile devices has increased many folds and is now higher than desktop computers.
Another research conducted by Ovum estimates that publishers will lose $32 Billion to Adblock software by the year 2020.
This is a serious problem affecting many websites particularly blogs that rely on advertisements as their primary source of revenue.
What should you do about Adblock as a publisher?
There are several measures that website owners have taken in this regard.
1. The Do-Nothing Approach
As the title says, you do nothing about the users with Adblock. You simply learn to live with the loss of revenue for the sake of happy users.
2. Passive Approach
You can nicely ask your users to whitelist your website with a promise of quality content and non-obtrusive ads. There is no way to know how effective such an appeal would be.
Another alternative is to create a membership website with paid subscription plans. You can promote paid plans as an ad-free experience with additional content and features.
Reddit is a great example of this approach with its ad-free Reddit Premium plan.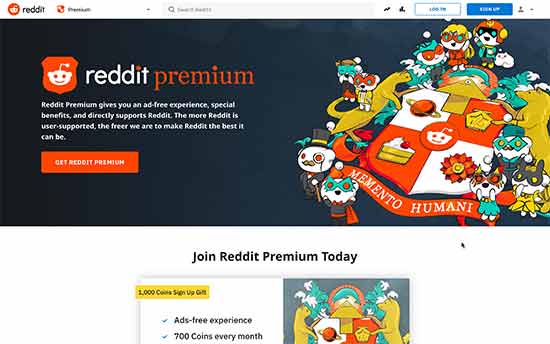 3. Aggressive Approach
In this approach, you simply block access to your website for all users with AdBlock enabled. If they want to view your content, then they must disable AdBlock.
This kind of anti Adblock approach is rather aggressive, and it will turn away users from your site. Studies show that 77% of Adblock users leave websites with Adblock walls.
It's best to use the passive approach that we mentioned above.
How to Detect AdBlock Users in WordPress
Before you can request users to whitelist and support your website, you need to be able to detect the AdBlock users. Fortunately, there are plenty of ways to do that in WordPress.
We will show you a few different methods, and you can choose the one that best suits you.
1. Detect and Target AdBlock Users with OptinMonster
OptinMonster is the best lead generation software in the market. It helps you convert website visitors into subscribers and customers.
OptinMonster comes with a built-in ad blocking detector which allows you to show targeted campaigns to users with ad-blocking software installed on their devices. This includes popular software like AdBlock, AdBlock Plus, and uBlock Origin.
First you will need to sign up for an OptinMonster account. You'll need at least their Growth plan to access the AdBlock targeting.
Once you have signed up, you can head over to your WordPress site to install and activate the OptinMonster plugin. For more details, see our step by step guide on how to install a WordPress plugin.
This plugin acts as a connector between your website and OptinMonster.
Upon activation, you need to click on the OptinMonster icon in your WordPress admin bar. You'll be asked to connect your OptinMonster account authorizing your website or entering an API key.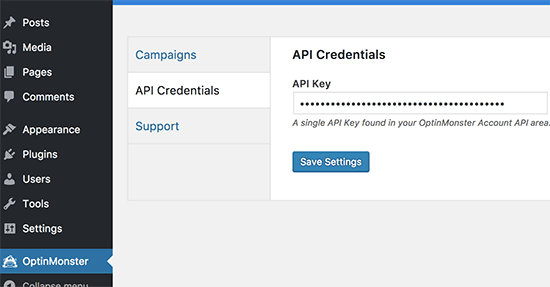 After authorizing OptinMonster, click on the 'Create new campaign' button at the top.
This will take you to the OptinMonster website.
First, you will need to choose a campaign type. If you want to take the passive approach, then you can use the lightbox popup campaign type. On the other hand, if you want to aggressively lockout AdBlock users, then you can use the Fullscreen campaign type.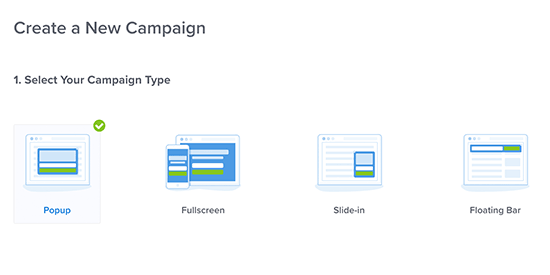 Next, you need to choose a template for your campaign. For this tutorial, we are using the 'Target' theme, but you can choose a different template if you want.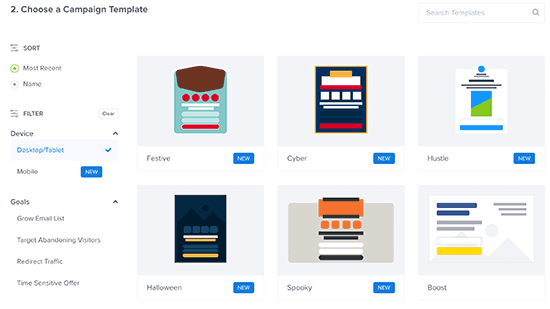 Now you will be asked to choose a title for your campaign. After that, you will be redirected to the OptinMonster's campaign designer.
From here, you need to change your optin view to the 'Yes/No' view by clicking on the buton at the top and then turning on 'Display Yes/No view'.
After that, you need to simply point on any element in the optin preview to edit it. You can click on the text to add your own copy.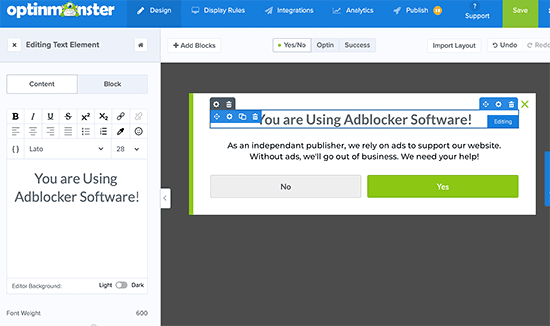 Next, you need to click on the yes and no buttons to edit their text. We have changed the yes button to 'I have disabled AdBlock' and the no button to 'I will think about it'.
After that, you need to click on the 'Display Rules' tab. Under the first rule, you need to select 'user has adblock enabled'.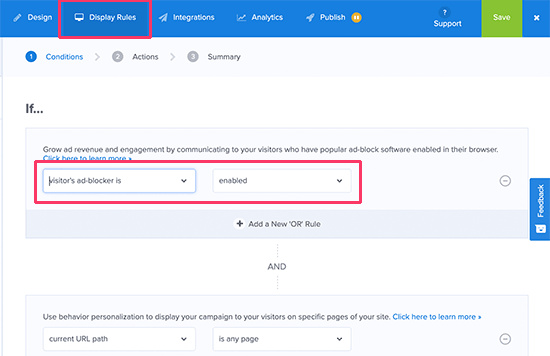 After that, make sure that the current URL path is set to every page. This will display the popup on all pages of your website.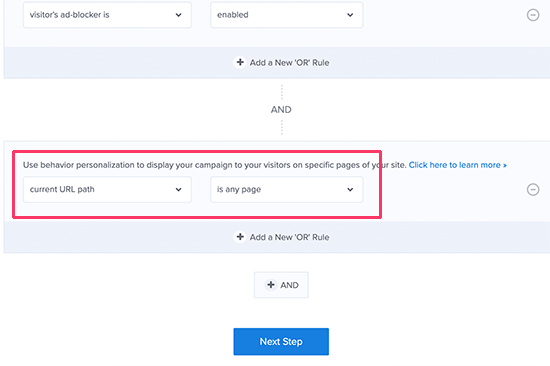 Click on the 'Next step' button to continue.
Now you'll be asked to select the default view. Make sure that it is set to Yes/No view and then click on the 'Next Step' button.
Your Adblock campaign is almost ready. Let's publish it to make it available on your website.
Switch to the 'Publish' tab in the builder and change the status option to live.
You can now save your campaign to store your changes.
Next, switch back to your WordPress admin area and click on the OptinMonster menu from the admin sidebar. You'll see your new Adblocker tracking popup under 'Campaigns' tab. If you don't see it, then click on the 'Refresh campaigns' button.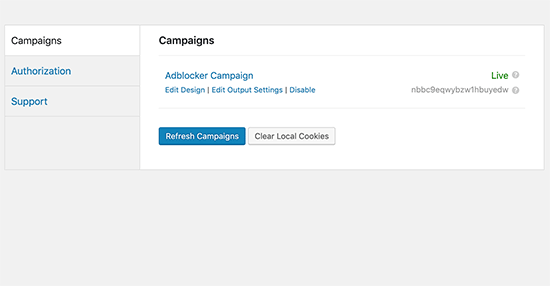 Make sure that the campaign status is set to live.
That's all, your Adblocker campaign is now live on your WordPress website.
You can test out your campaign by installing the AdBlock extension in your browser and visiting your website. You will see a popup asking users to support your website by disabling AdBlock.
For an aggressive approach, you may want to see this guide on how to lock out AdBlock users with OptinMonster's AdBlock targeting feature. This will allow you to block adblock users from viewing your content until they disable adblock software.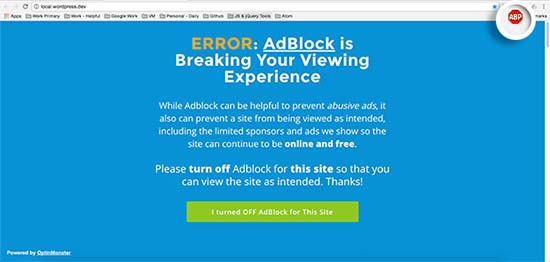 2. Target AdBlock Users with AdSanity Plugin
AdSanity is one of the best ad management plugins for WordPress. It has a paid 'Adblock Detection' add-on that allows you to detect users with ad blocking software and restrict their access to your website until they disable ad blocking.
First, you need to install and activate the AdSanity plugin. After that you need to install and activate their Ad Block Detection add-on. For more details, see our step by step guide on how to install a WordPress plugin.
Upon activation of both plugins, you need to visit AdSanity » Settings page and click on the Add-Ons tab.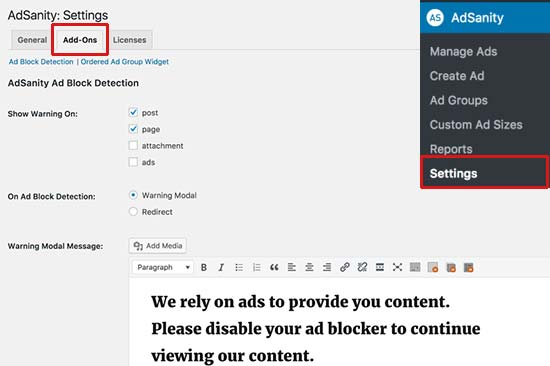 AdSanity allows you to detect AdBlock on posts and pages. You can show a warning popup to AdBlock users with your custom message, or you can redirect them to a custom page.
Both methods are aggressive and would require users to disable AdBlock to continue browsing your site.
3. Detect AdBlock Users with deAdblocker
If you are looking for a free option that allows you to detect AdBlock users, then you can try this method.
First, you will need to install and activate the deAdblocker plugin. For more details, see our step by step guide on how to install a WordPress plugin.
Note: this plugin shows an outdated notice in WordPress, but we tested it, and it works just fine with the latest version.
Upon activation, head over to Settings » deAdblocker page to configure plugin settings.
The plugin allows two methods to show a custom message to AdBlock users. You can either display a notification bar on the top of your website or show a lightbox popup.
Both options are dismissible, and users will be able to ignore the message to continue browsing your website.
Don't forget to save your settings. You can now visit your website with AdBlock extension installed in your browser to test the plugin.
Tips on Mitigating Adblock Losses
Internet users are finding more ways to block ads across the internet. Fighting ad blocking software can be tiresome and an unending struggle to recover lost revenue.
One thing to consider is changing the way you make money on your website. Finding new ways to monetize your content will give you the freedom to rely less on ads and build a sustainable business in the long run.
Diversify Your Revenue Streams
Publishers are finding new ways to combat ad blocking and protect their earnings. At the same time, ad blocking software are getting better every day.
Research shows that privacy, security, and bad user experience are the most common complaints among AdBlock users. Publishers can address these complaints by adapting different monetization methods that address those issues.
1. Affiliate marketing
Affiliate marketing is one of the most common ways to earn money from your content. You can recommend products and services to your users and earn commission when users make a purchase using your affiliate link.
There are plenty of plugins and tools for affiliate marketers that will help you get started.
For more details, see our beginner's guide to affiliate marketing.
2. Selling direct ads
If you are serving ads through a third-party advertising network like Google AdSense, then you have limited control on ads, privacy, and the CPC.
Selling ads directly to advertisers allows you to ensure privacy, limit tracking, and control what you get paid.
WordPress ad management plugins like AdSanity allow you to serve your own ads as well. You can use hosted images on your own websites for ads and easily bypass most adblocking software.
Tip: Don't wrap your ads around HTML elements with CSS classes like ads, advertisement, promo, etc. This is how AdBlocking software detect and block ads.
3. Sponsored Content
Allow advertisers to sponsor content on your website. You can write content about their product or service, and you can even include an affiliate link to get referral commission. You can also accept user-submitted posts directly on your website.
4. Premium Content
Another helpful strategy used by many online publications is premium content. You can adapt a pay per view model, membership plans, sell online courses, or simply restrict pages to paid users.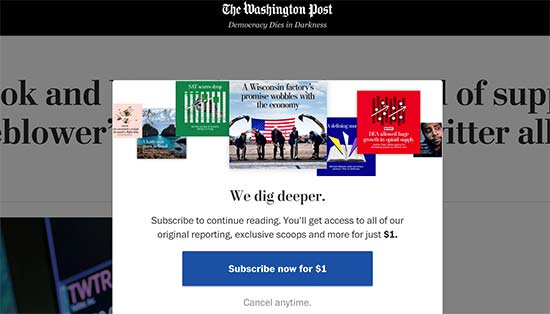 For more ways to diversify your website's revenue, take a look at our guide on different ways to make money online from your website and easy to start new online business ideas.
We hope this article helped you learn how to detect and bypass AdBlock in WordPress. You may also want to see our guide on how to create an email newsletter or 10 marketing data that you must track on every website.
If you liked this article, then please subscribe to our YouTube Channel for WordPress video tutorials. You can also find us on Twitter and Facebook.