Do you want to password protect a form on your WordPress website?
Normally, when you add a form to your website, it is visible to all users who can see that page. If you want to protect a WordPress form and limit its access to only certain people, then you may need to password protect that particular form.
In this article, we'll explain step by step how to easily password protect your WordPress forms.
Why Password Protect WordPress Forms?
There are lots of reasons why you might password protect forms on your WordPress website.
For instance:
You create and maintain websites for a number of clients. When they need support, they fill out a support request form. Non-clients shouldn't be able to request support using that form.
You have weekly appointments with clients over Zoom or Skype, which they can book through your website. Non-clients shouldn't be able to book an appointment.
You run an online photography club. Members can send in their best photos each month and you feature a selection on your website. Non-members shouldn't be able to send in photos.
In all these situations, you want to prevent non-clients or non-members from filling in your form. Otherwise, you need to carefully go through all the form entries to check whether they are valid submissions or not.
We are going to cover 2 ways to password protect your forms in WordPress.
Video Tutorial
If you'd prefer written instructions, just keep reading.
1. Password Protect a WordPress Form Using WPForms
WPForms is our #1 rated contact form plugin for WordPress. It allows you to create any kind of WordPress forms by using a simple drag and drop form builder.
It also comes with a form locker addon which allows you to add password protection to your WordPress forms when needed.
First,you need to install and activate the WPForms plugin. For more details, see our step by step guide on how to install a WordPress plugin.
Next, you need to set up your form. Just follow our instructions on how to create a contact form in WordPress for help with this.
Once you have your form ready, the next step is to install the Form Locker addon for WPForms. First, go to WPForms » Addons in your WordPress admin.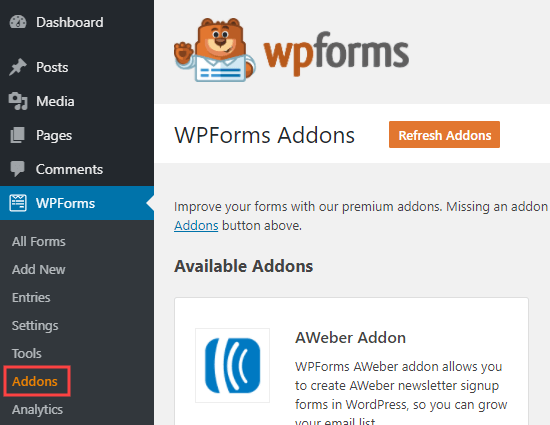 Here, you need to search for the 'Form Locker' addon. Just click on the 'Install Addon' button to install and activate it: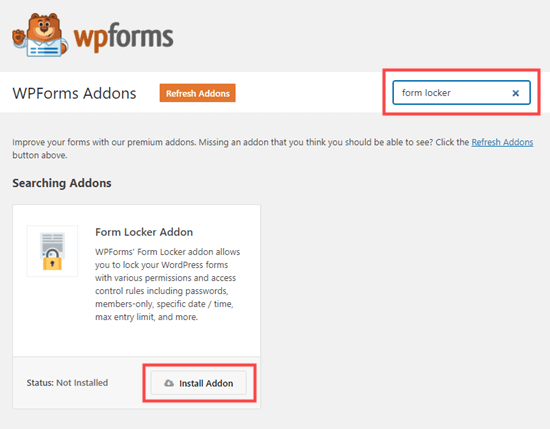 Now, go to WPForms » All Forms and find the form that you want to protect. Simply click on the form name to start editing it: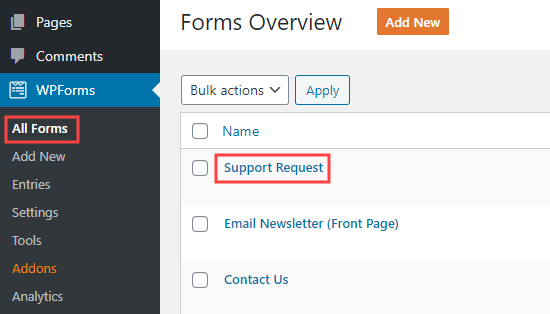 Next, go to Settings » Form Locker and you will see the Form Locker options. Go ahead and click on the 'Enable password protection' box:
You will now be able to enter a password. You may also enter a display message if you want to.
Don't forget to click the Save button at the top of the screen after setting your password:
Now, when someone visits a post or page with that form on, they will see the rest of the content but not the form itself.
When the user enters the password, the password box and message will disappear. They will see the page content and the form itself:
You could also use this method to password protect forms in widgetized areas such as your sidebar.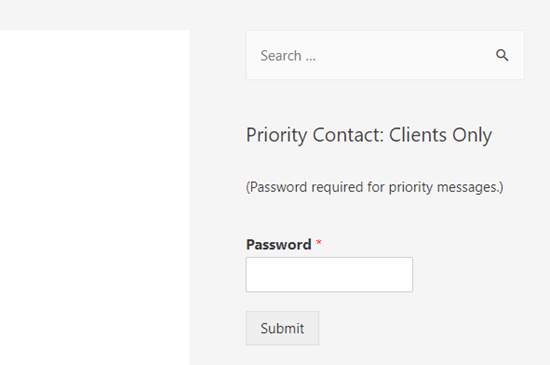 As you can see, outside of just password protection, the form locker also offers other advanced features like limiting total number of entries, restricting access to logged in users only, and even enabling form submissions for only certain dates.
However if you're looking for a free option to password protect your form, then see option #2.
2. Password Protect the Form's WordPress Page
What if you want to hide the whole page, not just the form itself? This is very easy to do in WordPress.
First, create or edit a page and add your form to it, as shown above:
Then, click on the 'Document' settings on the right hand side. Simply click on the 'Public' link here:
You will now see the 'Post Visibility' popup. Next, click the 'Password Protected' option and type in the password you want to use:
Now, when someone visits that page, they will need to enter a password to see any of the content:

We hope this article helped you learn how to password protect your WordPress forms. You may also want to see our guide on how to password protect a WordPress website, how to secure your contact forms, and how to improve overall WordPress security to keep your content safe and protected.
If you liked this article, then please subscribe to our YouTube Channel for WordPress video tutorials. You can also find us on Twitter and Facebook.