Do you want to learn how to paginate comments in WordPress?
Having a lot of comments means that your users are engaged with your content. However, showing all of these comments on a single page can slow your website down.
In this article, we'll show you how to speed up your post loading times by paginating comments in WordPress.
Why You Should Paginate Comments in WordPress
Have you noticed that your blog posts with a lot of comments load slower than other posts?
Showing a large number of comments on a single page will increase the server load, which may add to your average page load time.
Posts with a lot of comments may even exhaust the server's memory and cause your visitors to see the white screen of death.
This is a bad user experience, but it's also terrible for your WordPress SEO. Search engines like Google use WordPress speed and performance as a ranking factor, so all of those comments may be affecting where your content appears in the search engine results.
Comment pagination reduces server load by splitting comments into multiple pages. This can improve your page load speeds and the visitor experience.
Comment pagination can also maintain the keyword density of your articles. This is because comments add a lot of content to your posts, and they don't always include your target keyword. This will affect your keyword to content ratio.
At this ratio decreases, it's less likely that the search engines will index your post for the right keywords. With that in mind, let's see how you can easily paginate comments in WordPress.
Paginating WordPress Comments in Two Steps
The first thing you need to do is login to your WordPress admin area and go to the Settings » Discussions page.
Here, find 'Break comments into pages' and check the box next to it.
You can now type in the number of comments you want to show on each page.

You can also change whether the oldest or newest comment page will be displayed first, using the 'first/last page displayed by default' dropdown menu.
After that, you can change whether each page will show the oldest or newest comments first, using the 'Comments should be displayed with the….' dropdown menu.
When you're happy with how the pagination is setup, scroll to the bottom of the screen and click on 'Save Changes.'
Now if you visit a post that has lots of comments, you should see the pagination in action.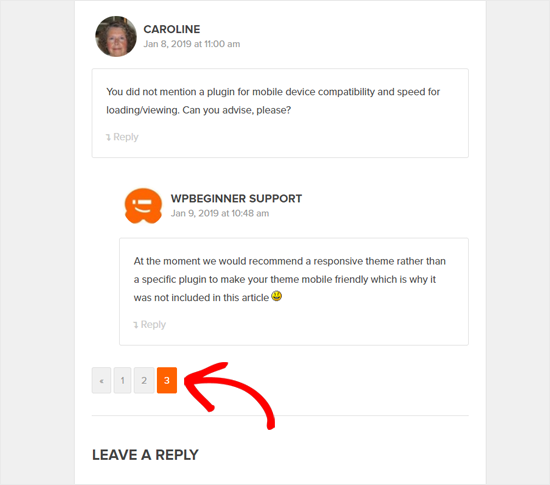 Just like comments, you can also paginate WordPress posts by splitting a long post into multiple pages.
Just be aware that comment pagination can negatively impact your SEO if it's not used correctly. The problem is that WordPress may generate URLs for each new page of comments, which the search engines see as spammy duplicate content.
The good news is that you can easily fix this problem using the AIOSEO plugin. It's the best WordPress SEO and it also points search engines to the canonical URL of your article, so you don't get hit with SEO penalties.
For help getting started with this powerful SEO tool, please see our guide on how to setup All in One SEO for WordPress correctly.
We hope that this tutorial helped you paginate comments in WordPress. You might also want to see our guide on how to combat comment spam in WordPress or see our list of proven ways to make money online blogging with WordPress.
If you liked this article, then please subscribe to our YouTube Channel for WordPress video tutorials. You can also find us on Twitter and Facebook.