Do you want to export a navigation menu from one WordPress site and import it into another?
The default WordPress import / export feature allows you to transfer menus as part of a full site transfer, but it doesn't let you export menus by themselves.
In this article, we'll show you how to easily import and export navigation menus in WordPress, without having to do a full site transfer.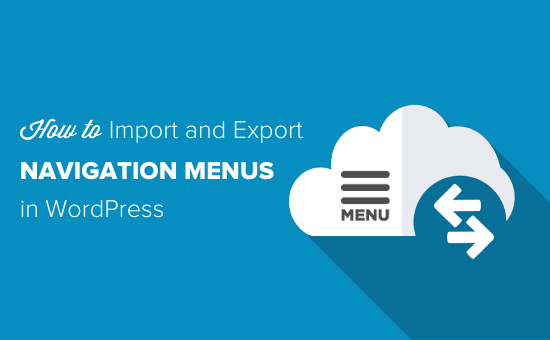 Why Import and Export Navigation Menus in WordPress?
Every WordPress website has built-in import and export features. You can find these by going to Tools » Import and Tools » Export in your WordPress dashboard.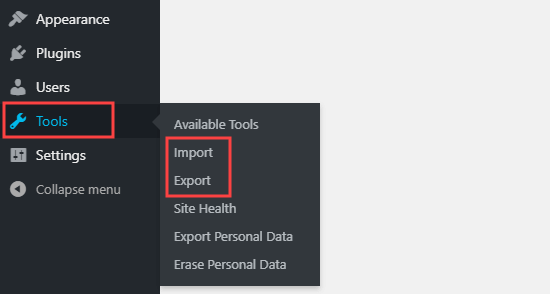 If you go to the Export page, then you'll see the default options.
Here, you can choose to export all content, or export only your posts, pages, or media.
If you select 'All content,' then WordPress will export all your page and posts, plus your comments, custom fields, terms, custom post types, and navigation menus.
However, sometimes you may only want to export the navigation menu. For example, you might be creating a sister website for a new product and want to keep the same design.
Importing your menus into the new website can help keep your branding consistent, but you typically won't need to copy all your other content to the new website.
You could always create an export using the built-in features and then delete the unwanted content from your new website. However, this would take a lot of time and effort.
Luckily, there's an easy plugin that extends the built-in WordPress features, so you can choose to export and import a navigation menu only.
With that in mind, let's see how you can copy a navigation menu to a new WordPress blog, without exporting the rest of your content.
How to Export and Import Navigation Menus in WordPress
Before going any further, make sure you're happy with the menu you plan to export. You can find your site's menu by going to Appearance » Menus in the WordPress dashboard.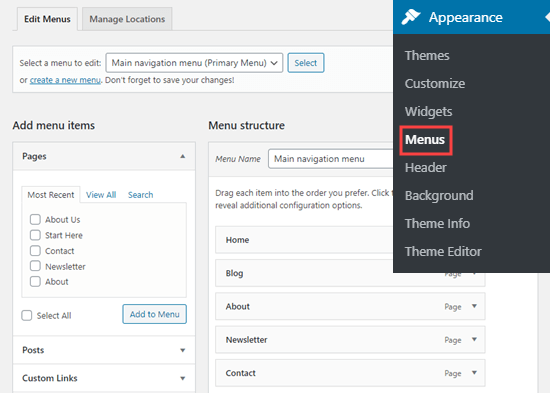 For more information on how to change the menu, please see our detailed guide on how to add a navigation menu in WordPress.
Next, you need to install and activate the WPS Menu Exporter plugin. For more details, see our step by step guide on how to install a WordPress plugin.
Upon activation, go to Tools » Export in your WordPress admin dashboard.
You'll see a new option to export navigation menu items. This will include the menu itself, plus all the pages that are linked from your menu.
If you link any pages in your menu, then those will be included in the export, along with any comments made on those posts.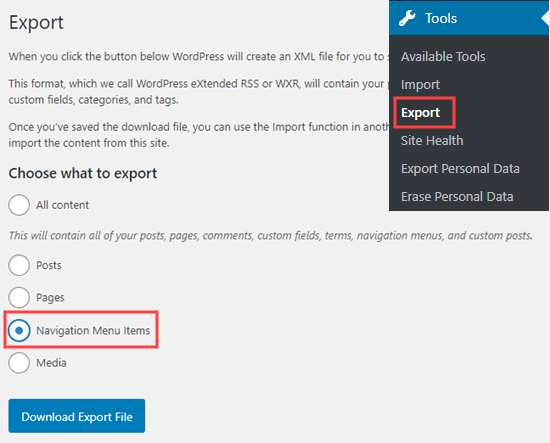 To go ahead, simply select the 'Navigation Menu Items' radio button and then click the 'Download Export File' button.
This downloads the navigation menu and all of its link pages. All of this content is stored in an .xml file with the name site.wordpress.yyyy-mm-dd, where "site" is the name of your website and "yyyy-mm-dd" is the date you created the download.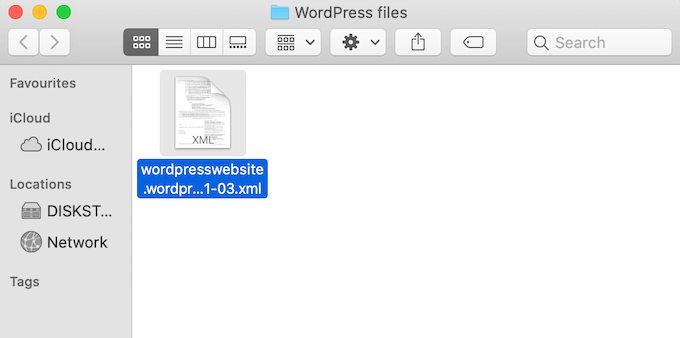 Importing Your WordPress Menu to Your New Site
Now, you can import the .xml file using WordPress's standard Import feature.
Important: Before you begin, check that the destination website doesn't have any pages with the same name as the new menu, not even in the trash. If you skip this step, then the import tool may be unable to import those pages correctly.
First, log in to the website where you want to import the navigation menu. Then, head over to Tools » Import.
Here, you'll need to install the WordPress importer so find the 'WordPress' heading and click on its 'Install Now' button.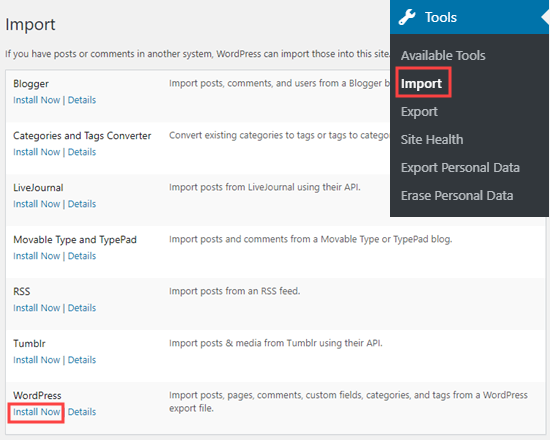 After installing the WordPress importer, you should see a new 'Run Importer' link.
You can go ahead and click on this link.
On the Import WordPress screen, click the 'Choose file' button and choose the .xml file you download earlier.
Then, go ahead and click the 'Upload file and import' button.
On the next screen, you'll be asked to assign the imported content to an author.
If you run a multi-author WordPress blog, then you can open the 'assign posts to an existing user' dropdown and choose an author from the list.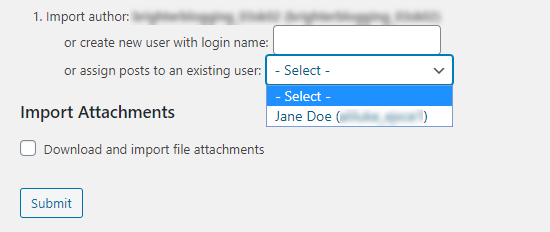 Another option is to create a new user for this content, by typing a login name into the 'create new user…' field.
If you're importing pages along with the menu, then you'll also want to check the 'Download and import file attachments' box so that any images are included in the import.
When you're happy with how the import is set up, click on the 'Submit' button.
After a few moments, you should see a message saying that the import was a success.
Viewing Your Imported Menu and Pages
To take a look at the imported menu, just go to Appearance » Menus. Here, you can make sure that everything is set up correctly.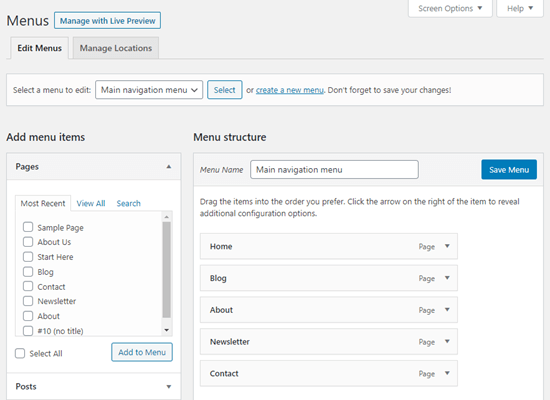 You can also click on the Pages tab in your WordPress dashboard to check that the new pages were imported along with the menu.
We hope this article helped you learn how to import and export navigation menus in WordPress. You might also like to see our guide on how to create a free business email address, or see our expert pick of the must have WordPress plugins for business websites.
If you liked this article, then please subscribe to our YouTube Channel for WordPress video tutorials. You can also find us on Twitter and Facebook.