Do you want to create a loyalty program in WooCommerce?
A loyalty program can keep customers coming back to your online store, and keep them away from your competitors. It can also be a great way to reward your best customers and make them feel appreciated.
In this guide, we'll show you how to create a loyalty program for your WooCommerce store.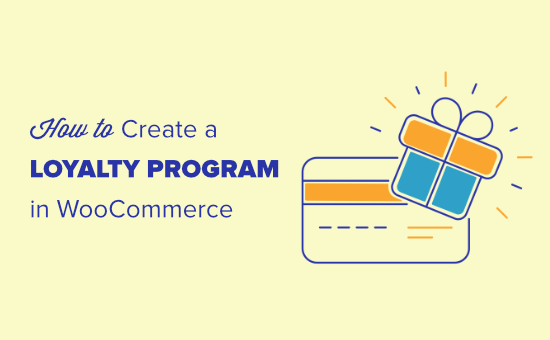 Why Create a Loyalty Program in WooCommerce?
Creating a loyalty program can be a great way to increase sales on your online store.
A loyalty program encourages customers to keep coming back to your site, which is the key to running a successful business over the long term. It can even boost average spend per customer by giving shoppers a reason to spend more.
You can use loyalty points to rewards customers for actions like creating an account, placing their first order, signing up to your email newsletter, or even for spending over a certain account.
You can even give a customer extra points for returning to an abandoned shopping cart and completing their purchase. In this way, a loyalty program can help you recover WooCommerce abandoned cart sales.
With that said, let's take a look at how to add a loyalty program in WooCommerce.
Setting Up Your WooCommerce Loyalty Program
For this tutorial, we'll be using Advanced Coupons which is the best WordPress coupons plugin.
First, you'll need to install and activate both the free Advanced Coupons plugin and the premium Advanced Coupons Loyalty Program addon. For more information, please see our step by step guide on how to install a WordPress plugin.
Note: You can purchase the Advanced Coupons and Loyalty Program plugins together by getting the 'All-In-One Bundle'.
After that, simply go to Coupons » Loyalty Program in your WordPress admin dashboard and click on the 'License' tab.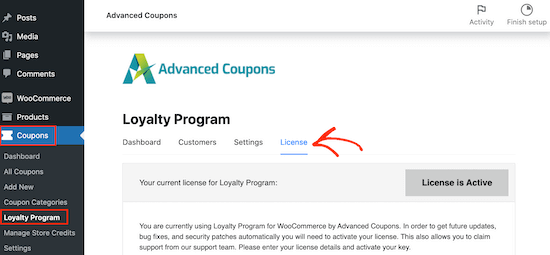 You can now enter your license key and the email address you used to purchase Advanced Coupons. You can find this information by logging into your account on the Advanced Coupons website.
After that, go ahead and click on the 'Settings' tab. This brings you to a screen where you can start to customize the loyalty program.
To start, let's reward members with points when they take certain actions on your website, like leaving a product review, posting a comment, or buying a product.
In the 'Price to points earned ratio,' we can see that by default the Loyalty Program plugin gives customers 1 point for every $1 spent.
You could change this, so members earn 2 points or 10 points per $1 spent if you want your WooCommerce loyalty program to look more impressive.
'Points to price redeemed ratio' is how many points it takes to earn a dollar as part of your loyalty program.
By default, customers earn $1 for every 10 points. That means the customer needs to redeem 10 points to get a $1 discount coupon. You can change these values to anything you want.
You can also change the name of your loyalty scheme's by typing into the 'Points name' field.
We've gone with 'Awesome Points' for our loyalty program, but you might want to use something more branded, like Starbucks does with their 'Stars'.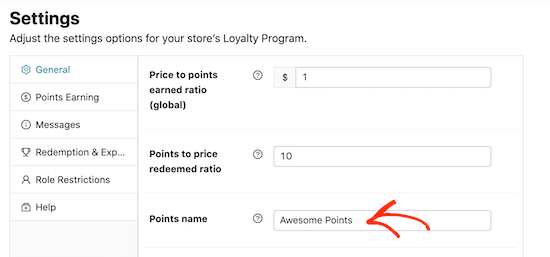 Next, you'll need to decide how your points are calculated. For instance, if a customer is using a coupon code, then you'll probably want to give them less points compared to a customer who didn't use a coupon code for their purchase.
To do this, click on the 'Points Earning' tab. Here, you can check the boxes to take any discounts, tax, shipping costs, and any fee amounts into account when awarding points.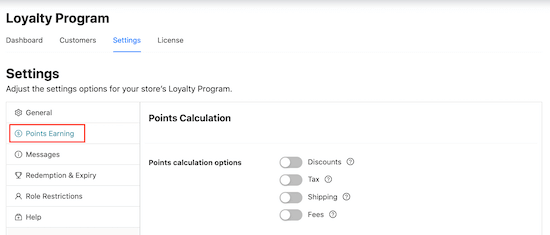 Here, you can also choose how visitors will earn points. For example, you might want to reward visitors for registering with your membership site, posting a review, or buying a product.
Simply scroll to the 'Post Amounts' section and then click the toggle for any action that will earn your customers points.
After activating a toggle, check whether there are any new settings to configure.
For example, you can type in how many points customers will get for registering as a new customer.

You can also encourage shoppers to spend more by awarding extra points for orders over a certain amount.
To do this, check the 'Spending over a certain amount' box and then type a value into the 'Spending over a threshold' field.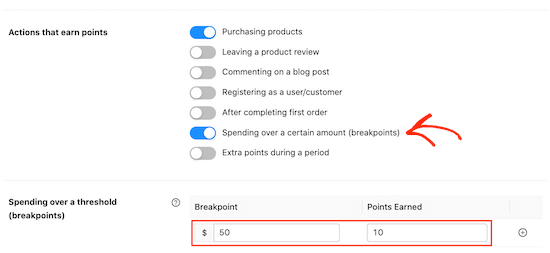 During busy shopping periods you may want to give customers an extra reason to buy from your store, for example during Black Friday or the holiday season.
You can give customers extra points during a specific period by checking the 'Extra Points To Earn During Period' box. Then, enter a date and time range into the 'Extra points to earn during period' section and type in how many points customers will earn.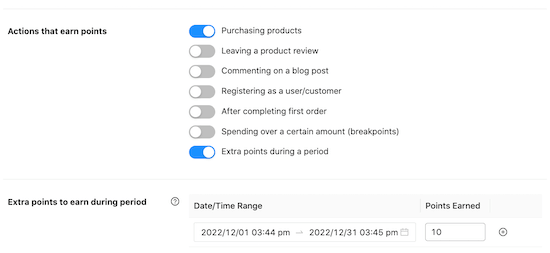 There are some more settings you may want to look at, but this is enough to create a loyalty program in WooCommerce. When you're happy with how you've set things up, scroll to the bottom of the page and click the 'Save changes' button.
Automatically Creating Accounts for Your Customers
Your customers will need to create an account in order to collect loyalty points.
Already, this encourages people to sign up to your online store. However, you can make it even easier for shoppers to register by creating an account automatically when they make a purchase.
To create an account for a new customer, go to WooCommerce » Settings. Then, click on the 'Accounts and Privacy' tab.

To start, you may want to uncheck 'Allow customers to place orders without an account', so that customers can't checkout as guests. This will encourage more people to register with your site, but it may increase your cart abandonment rates.
With that being said, it'a a good idea to set up WooCommerce conversion tracking and track visitors to your WordPress website. This will help you see whether this change is getting you more sales or hurting your conversion rates.
Next, check the 'Allow customers to log into an existing account during checkout' box.
Once you've done that, you'll want to make it as easy as possible for customers to create an account. With that in mind, we recommend checking all the boxes in the 'Account creation' section, as you can see in the following image.

Now, customers will get an email after they make a purchase with information about how to access their new account.
The WooCommerce Loyalty Program in Action
Your loyalty program is up and running! Now when a customer adds a product to their cart, they'll see how many points they'll get for the order.
Once a customer has earned loyalty points, they can turn them into coupons by going to My Account » My Reward Points.
To redeem points, the customer can simply type in the number of points they want to redeem. Your site will then show how much the coupons will be worth.
The customer can go ahead and click 'Redeem' to create the coupon.
In the following image, the customer has created a $5 off coupon by converting 500 of their points. They still have 550 points left to redeem.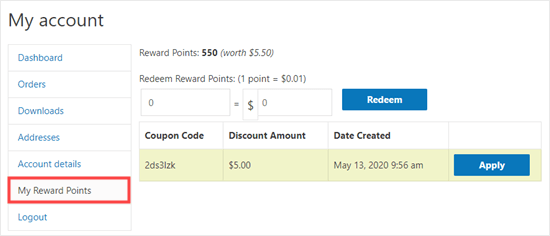 The customer can redeem this coupon on a future order as long as they meet any minimum threshold you've set for redeeming coupons.
We hope this tutorial helped you learn how to create a loyalty program in WooCommerce. You may also want to check out our guide on how to create a WooCommerce popup and the best virtual business phone number apps.
If you liked this article, then please subscribe to our YouTube Channel for WordPress video tutorials. You can also find us on Twitter and Facebook.