Are you looking for the best request a quote plugin for your WordPress website or WooCommerce store?
Some businesses may not be able to list prices on their website. A request a quote form allows your customers to ask for the quote by providing the information you need to determine the price.
In this article, we will share some of the best WordPress 'request a quote' plugins that you can use to make more sales through your website.
Why Use a Request a Quote Plugin for WordPress?
Some products and services can't be easily priced without some details from the customer.
For instance, if you provide a lawn care service, your price will vary depending on the size of the lawn, existing condition, and other factors. You might also offer optional extras, such as creating decorative borders.
Similarly, if you sell custom-made furniture in your online store, the prices will vary based on customers' requirements.
Some companies share their complex custom pricing in a table, which can confuse customers.
Others ask customers to email for a quote. But customers might not send all the information that's needed.
The best solution is to use the request a quote WordPress plugin. Depending on the plugin you choose, this might be able to provide an instant quote.
Alternatively, you can simply respond to the customer by email once you've received their request.
Note: This article is about price quotations for a product or service. To display or rotate interesting quotes on your site, see our guide on showing random quotes in your sidebar.
With that said, let's take a look at the best request a quote plugins for WordPress and WooCommerce.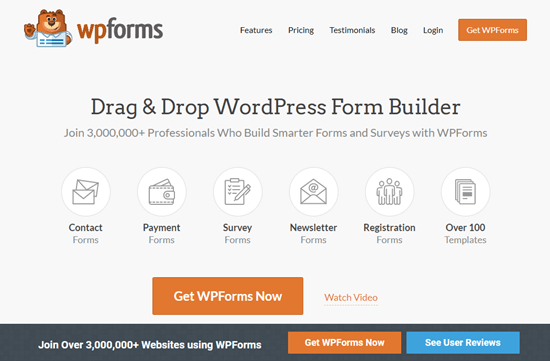 WPForms is the best contact form plugin for WordPress. It allows you to easily add any online form to your WordPress website using a simple drag-and-drop form builder.
It includes ready-to-use templates, including one for a Request a Quote form. You can use it as a starting point to quickly build your form and then customize it to match your specific requirements.
WPForms' Conditional Logic feature lets you show specific fields based on the information that the customer gives you. For instance, you could create a form that shows different options based on the service that your customer requests.
It also lets you create special Conversational Forms that take a 'one question at a time' approach. This can help reduce form abandonment rates by making your form feel easy and attractive to your customers.
You can create lots of other types of forms with WPForms, too. For instance, you can use it to run a survey on your website.
Price:
WPForms cost $39.60/year. This includes Conditional Logic. However, to get Conversational Forms, you need the Pro package for $159.60/year.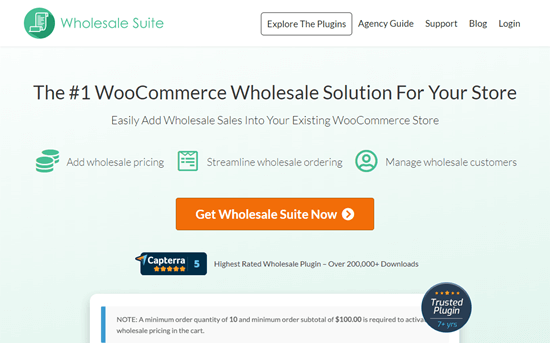 Wholesale Suite Order Form and Wholesale Prices Premium are great options for using WooCommerce on your website.
These plugins let you offer wholesale pricing, providing an instant quote so customers can buy straight away.
Wholesale Suite's plugins also integrate with several popular WordPress and WooCommerce plugins.
If you sell bulk products to wholesale customers, then these plugins make it much easier for them to order from your store.
With the Wholesale Suite Order Form, your products are all displayed in a searchable and sortable WooCommerce table. This means your whole product catalog can be seen on a single page.
You can offer discounted wholesale prices in your quote using the Wholesale Prices Premium plugin. The plugin also lets you set minimum purchase rules. You can discount by a percentage based on the product's category, too.
Price:
Each plugin costs $49.50/year for a single site license.
Formidable Forms is an advanced form plugin for WordPress. It has powerful features that can be used to create online calculators.
You can use Formidable Forms' Request a Quote form to make a form that automatically calculates a quote for the customer instantly. Because of Formidable Forms' flexibility, it's easy to add as many variables as you want.
The quote that Formidable Forms produces can then be emailed to your customer. It can even be included in a booking form, so your customer can book and pay for your service or product.
There are plenty of other forms you can create using Formidable Forms, too. For instance, you could use it to create a quiz for your WordPress site.
Formidable Forms also comes with visual design tools that let you make your request a quote form look great.
Price:
Formidable Forms costs $39.50/year.
YITH WooCommerce Request a Quote hides the price and/or the Add to Cart button for the products you select in WooCommerce. In place of these, it gives your customers the option to request a quote for the product.
Customers can choose from the options you set. You can even allow them to upload files. For instance, if you provide printing services, then you could ask the customer to upload their print-ready files when they request the quote.
The plugin also supports product variations, letting you add specific variations to the quote list.
When you are ready, it's quick and easy to respond to the customer with a quote. The customer will receive this in a nicely-formatted email.
The whole process can be managed through your WordPress dashboard. Here, you can see quote requests, pending quotes, payments, and more.
Price:
YITH WooCommerce Request a Quote costs $69.99/year. There's also a free version of the plugin with limited features.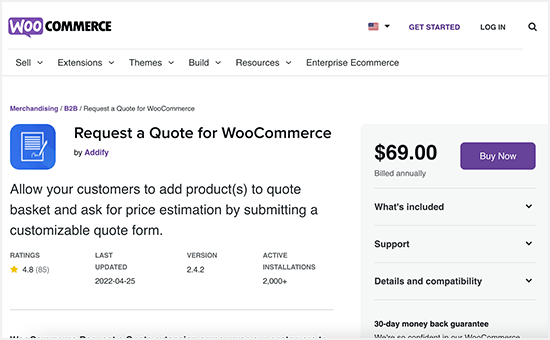 Request a Quote for WooCommerce is an official WooCommerce plugin. It lets your customer add products to a quote basket, just like they would normally add products to their cart.
You can customize the quote button text, the quote submission messages, and more. You can also automatically redirect the customer to a specified page on your site after they submit their request for a quote.
Request a Quote for WooCommerce is a great option if you have personalized products that could have a range of prices depending on what the customer wants.
You can also use this plugin to sell to wholesale, B2B, or retail customers.
Price:
Request a Quote for WooCommerce costs $69/year.
We hope this article helped you learn about the best request a quote plugins for WordPress. You may also want to see our comparison of the best live chat software and best business phone services to help you get even more sales from your website.
If you liked this article, then please subscribe to our YouTube Channel for WordPress video tutorials. You can also find us on Twitter and Facebook.