Yesterday, a pretty cool plugin was brought to our attention. Normally when communities want to hold chats, they use Twitter. For private chats, we know some folks use Skype, others use IRC. Well, Brad Williams and team WebDevStudios have started development on a new chat room plugin that lets you create chat rooms using the WordPress administrative interface for your users to participate in. Although this plugin is in its infancy, it has some great potential for sites with a lot of users.
Video Tutorial
If you don't like the video or need more instructions, then continue reading.
All you have to do is install and activate the Chat Room plugin. Upon activation, you will see a new menu option added called Chat Rooms. You can add chats just like you will add a page.
Only logged-in users can participate in chat. You will give the user the link to the chat room, which is just like a page.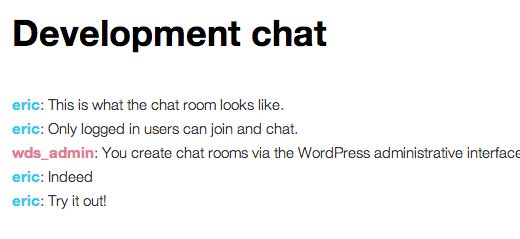 This plugin has only been out for a few days, so it is still very new. It is lacking some features that would make this plugin even cooler. A list of people in the chat room would be really great, so other users can see who is active in the chat. The chat should have the ability to italicize, bold, underline etc. Something like the comment form quicktags would be neat. Another feature someone suggested was the ability to add banned word list.
Do you think that you will use this plugin on your site? What are your thoughts?