Do you want to bulk upload WordPress media files using FTP?
By default, you can't upload media files to WordPress via FTP. This can be annoying for website owners who want to bulk upload lots of files, but are getting errors in the WordPress media library.
In this article, we will show you how to easily bulk upload WordPress media files using FTP.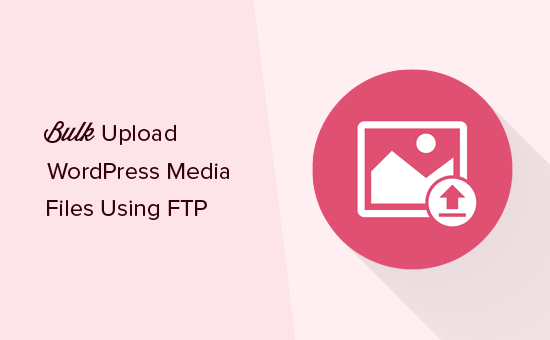 Why Bulk Upload WordPress Media Files Using FTP
Most of the time, you can bulk upload multiple files to your WordPress website using the media library.
Simply click on the 'Upload files' tab in the media library and then click on 'Select Files.'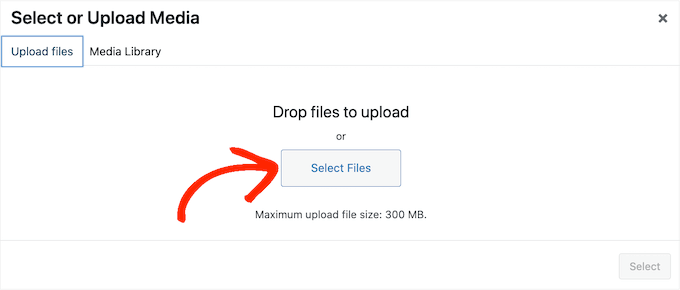 This opens a popup where you can select as many media files as you want, and then upload them to WordPress.
Another option is to go to Media » Add New in the WordPress dashboard. Here, you can either drag and drop files into the media library or click on 'Select Files' and then choose the photos, images, audio, or video files that you want to upload.

Most of the time, this is all you need to bulk upload files. However, sometimes you may get an error such as a maximum file upload size limit, or the files may take a long time to upload.
If this happens then you can always bulk upload media files using FTP. The problem is that WordPress doesn't recognize files uploaded via FTP, so these media files won't show up inside the WordPress dashboard.
Luckily, there's a way around that. Let's take a look at how to easily bulk upload WordPress media files using FTP, and how to make them available inside WordPress.
Bulk Uploading Media Files in WordPress via FTP
First, you need to connect to your WordPress site using an FTP client such as FileZilla . If you haven't done this before, then see our beginner's guide on how to upload files to your WordPress site via FTP.
After connecting to your website via FTP, go to /wp-content/uploads/ folder in your FTP client.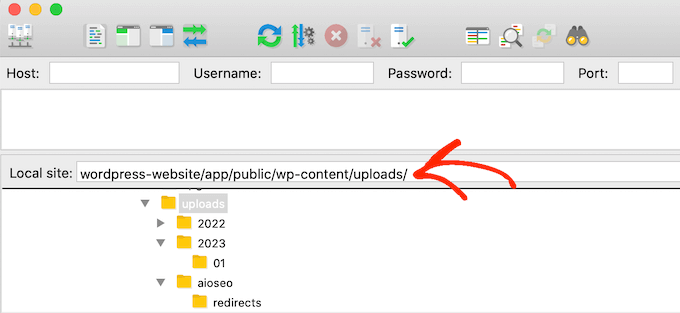 Inside the 'uploads' folder, you'll see different folders for the years and months. This is how WordPress stores media files by default, so you'll need to upload your media files to the current year and month folder.
If this folder doesn't exist, then you can create it. For example, you can open your WordPress blog's '2023' folder and then create a new '02' folder for the month of February.
You can now simply add all your media files to the folder. Just be aware that uploading those media files may take a while depending on the size of those files and your internet speed.
Once you've uploaded all your images, audio, video, or other media files to WordPress, you're ready to import them into the WordPress dashboard.
Making Your FTP Media Uploads Visible in WordPress
At this point you've successfully uploaded the media files to your website's server. However, WordPress doesn't automatically recogonize these files.
When you upload a file using the media library, WordPress saves the file information inside its database. It then uses this data to show the different files inside the WordPress dashboard.
When you upload files using FTP, WordPress doesn't store any information in its database, so these files won't appear inside the dashboard.
Let's fix this.
First thing you'll need to do is install and activate the Bulk Media Register plugin. For more details, see our step-by-step guide on how to install a WordPress plugin.
Upon activation, go to Bulk Media Register » Bulk Register. You can now open the first dropdown menu and choose the folder where you added the media files.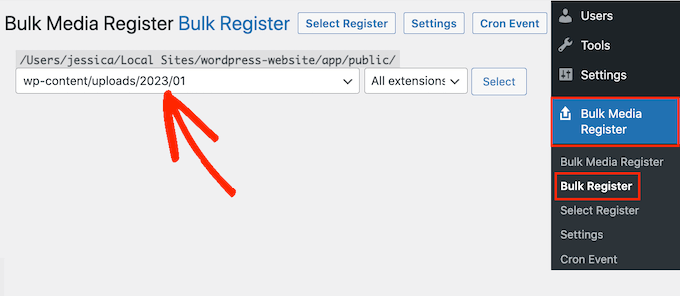 You can either leave the second dropdown menu set to 'All extensions' or choose a specific file extension.
For example, if you want to import PNG media files only, then you can open the dropdown menu and select 'PNG.'
With that done, click on 'Select Register.'
The plugin will now show any media files that match your search criteria. Simply check the box next to each file that you want to import.
After that, click on the 'Register' button. Bulk Media Register will then go ahead and import the selected files into your media library.
If you head over to Media » Library then you'll see all the files you uploaded using FTP.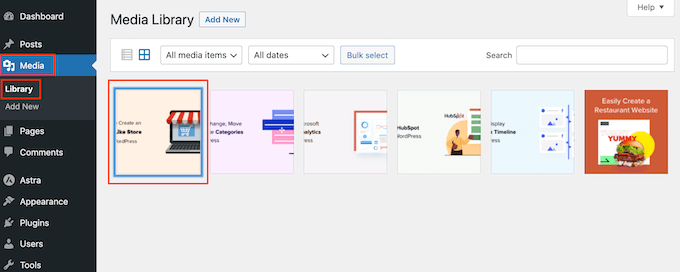 You can now go ahead and add these images, audio, and other media files to your WordPress posts and pages.
We hope this article helped you learn how to easily bulk upload WordPress media files using FTP. You may also want to see our guide on WordPress speed and performance, or our expert pick of must-have plugins for your site.
If you liked this article, then please subscribe to our YouTube Channel for WordPress video tutorials. You can also find us on Twitter and Facebook.