Do you want to add a subtitle for your WordPress posts and pages?
Subtitles can help hook your readers and encourage them to read the rest of your content. This can keep them on your site for longer, and increase your pageviews.
In this article, we'll show you how to add subtitles to your posts and pages, step by step.
Why Add Subtitles to Posts and Pages in WordPress?
Subtitles, or secondary titles, allow you to show more information about your blog posts, which encourages visitors to read more.
Many popular blogs use subtitles in this way, including Medium, Buzzfeed, Mashable, Brain Pickings, and many more.
Subtitles give you a chance to explain your title and tell readers what they'll get from reading your WordPress blog post.
They can also encourage visitors to stay on your site for longer and read more content, which can increase pageviews and reduce bounce rate. This sends positive signals to the search engines, so it may even improve your WordPress SEO.
With that said, let's show you how to easily add subtitles to your WordPress posts and pages.
How to Add Subtitles to WordPress Posts and Pages
The easiest way to add subtitles to your WordPress website is by using Secondary Titles. This plugins lets you easily add subtitles to your posts and pages, and then customize how those subtitles look.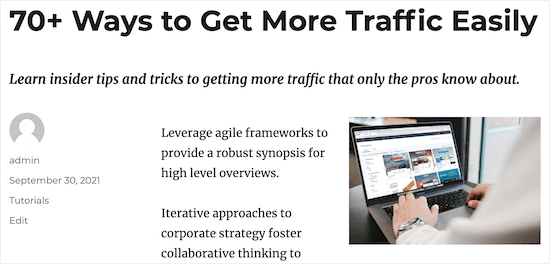 First thing you need to do is install and activate the plugin. For more details, see our beginner's guide on how to install a WordPress plugin.
Upon activation, head over to Settings » Secondary Title, where you can configure the plugin's settings.
Secondary Title can automatically show the subtitle for each page or post by merging it with the standard title. You can also show the subtitle for specific pages and posts manually.
Since it's the easiest option, let's start by looking at automatic placement. In the 'Auto show' section, simply select 'On.'
After that, you can change how the subtitle looks. By default, Secondary Title will show the main headline and subtitle separated by a colon, like this:
The Post Title: The Secondary Title
To change this, simply edit the HTML in the 'Title format' box. For example, you might make the subtitle smaller or change its color.
The 'Preview' will update automatically as you make changes, so you can try different settings to see what looks the best.
After that, you can control where the subtitles appear in the 'Display Rules' section.
First, we'll select 'On' in the 'Only show in main post' section, as this means the subtitles will only appear if they're in the main blog roll.

In the 'Post types' section, you can choose the post types where you want to show subtitles.
To display subtitles on both posts and pages, simply check both boxes.

Next, you can choose the post categories where you want to allow subtitles.
In the 'Categories' section, simply check or uncheck the different post categories.

You can also limit subtitles to specific posts, by typing their IDs into the 'Post ID' box.
To find this information, see our guide on how to find IDs in WordPress.
In the final 'Miscellaneous Settings' box, you can allow visitors to search for posts using their subtitles, and switch the column position in your WordPress admin panel.
The default settings should work well for most websites, but you can change these if you like.
After that, click the 'Save Changes' button to store your settings.
With that done, you're ready to create your first subtitle by opening a post or page.
Then, simply type your subtitle into the 'Secondary Title' box in the right hand menu. Then, click 'Update' or 'Publish' to make your changes live.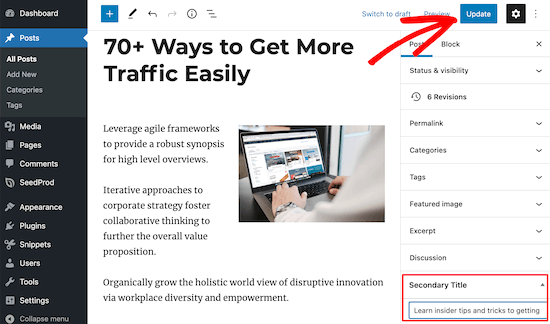 Now, visitors will see the subtitle when they view your post.
Manually Displaying Subtitles on WordPress Posts and Pages
You can also add subtitles to your posts and pages manually. This gives you more control over where your subtitles appear on the individual posts and pages.
To do this, simply select the 'Off' option in the 'Auto show' section.
Then, you can manually show secondary titles in your WordPress theme by adding code to your theme template files.
If you haven't added code before, then see our beginner's guide to pasting snippets from the web into WordPress.
Next, you'll need to find the right template file to add the code. For most themes this will be post.php, single.php, or index.php page templates.
To help you find the right file, please see our WordPress template hierarchy cheat sheet.
After finding the file, simply add the following template tag code snippet:

<?php echo get_secondary_title(); ?>

This code snippet adds the subtitle to your posts or pages wherever you'd like.
We hope this article helped you learn how to add subtitles to your posts and pages in WordPress. You may also want to see our guide on how to get a free email domain and our comparison of the best business phone services for small businesses.
If you liked this article, then please subscribe to our YouTube Channel for WordPress video tutorials. You can also find us on Twitter and Facebook.