Do you want to create a portfolio website with WordPress? Usually most users use a portfolio WordPress theme to showcase their creative work, but what if you wanted to add a portfolio section to your existing site? In this article, we will show you how to add a portfolio to your WordPress site without changing theme.
Since there are multiple WordPress portfolio plugins available, we will only focus on the two best options that allow you to easily create a portfolio of almost any kind.
Method 1: Adding Portfolio in WordPress using Envira Gallery
Creating a portfolio is not just about adding images of your projects with description. Your portfolio should be visually appealing and easy to navigate. This is where Envira Gallery comes in.
Envira Gallery is a responsive WordPress gallery plugin. It allows you to create beautiful image galleries and albums that look stunning on all devices and screen sizes.
Envira is a premium WordPress plugin, and you will need at least a silver licensing plan to get basic addons.
WPBeginner readers can get an exclusive 25% Off on their purchase using Envira Gallery Coupon.
First thing you need to do is install and activate the Envira Gallery plugin. Upon activation, you will need to enter your license key. You can obtain this key from your Envira Gallery account.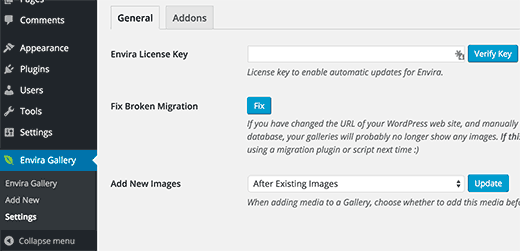 After verifying your license key, you need to visit Envira Gallery » Settings page and then click on the add-ons tab. Next, click on the Install button next to the Album and Standalone addons and then activate them.
Now you can go ahead and create a gallery of your portfolio items. You should treat each gallery as a collection or folder of similar portfolio items and name them accordingly.
Creating galleries is quite simple and you can find more details in our guide on how to create responsive image galleries in WordPress using Envira Gallery.
After creating a few galleries, you need to create your portfolio album. Simply visit Envira Gallery » Albums and click on the 'Add New' button.
Creating a new album is very much like creating a gallery. Instead of photos, you will be adding galleries that you created earlier. Simply drag and drop galleries into your album.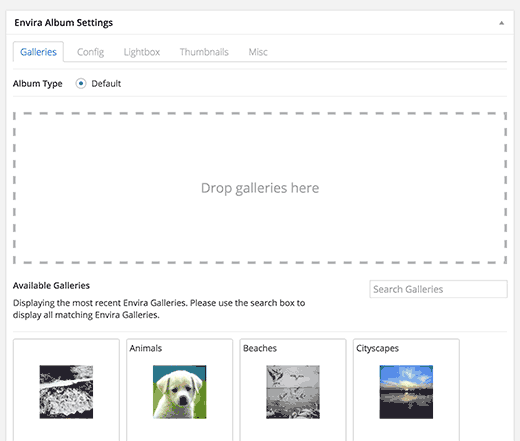 After adding your galleries to the album, you need to click on the config tab. This is where you will configure how your album will display the galleries.
Once you are done, simply click on the Publish button.
Your portfolio album is now ready to be used on any page or post.
Now you can create a new WordPress page or edit an existing one where you want to display your portfolio. On the post editor screen, click on the Add Album button.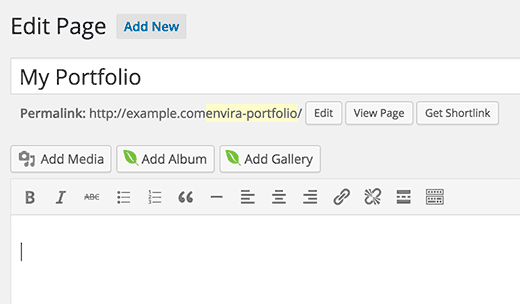 Select the album you created earlier from the pop-up and then click on Insert Album button.
That's all you have successfully created your portfolio in WordPress. You can now view your portfolio page in action.
You can always edit the album to configure the portfolio display settings, like adjusting the height or gallery columns.
Method 2: Adding Portfolio With Nimble Portfolio Plugin
The second option is to use a plugin called Nimble Portfolio.
First thing you need to do is install and activate the Nimble Portfolio plugin. Upon activation, the plugin will add a new new menu item labeled 'Nimble Portfolio' to your WordPress admin bar. You need to visit Nimble Portfolio » Add Portfolio Item to start building your portfolio.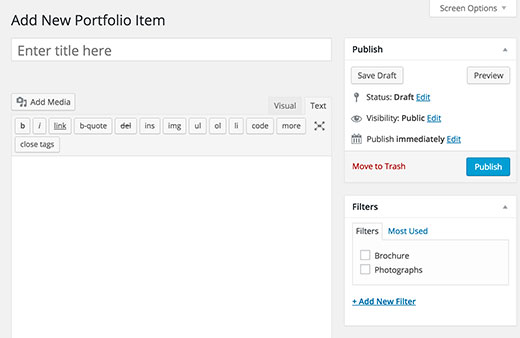 Start by providing a title and description for the portfolio item. Next, you need to add or select filters.
Filters are like categories that allow users to sort your portfolio items.
Below the post editor, you will see portfolio options. Here you can upload an image or enter a video URL. You can also enter complete URLs of a video from YouTube or Vimeo here.
This image or video will be shown to visitors in a popup when they click on a portfolio item.
Lastly, you need to upload a featured image. This featured image will be displayed on the portfolio grid.
Once you are done click on the publish button. Repeat the process to add other portfolio items.
After you have added a couple of portfolio items, it is time to display them on your website.
Simply create a new page and enter Portfolio as the title. In the post editor box, paste this shortcode:
[nimble-portfolio]
That's all, you have successfully added a portfolio section to your WordPress site. You can now view your site to see it in action.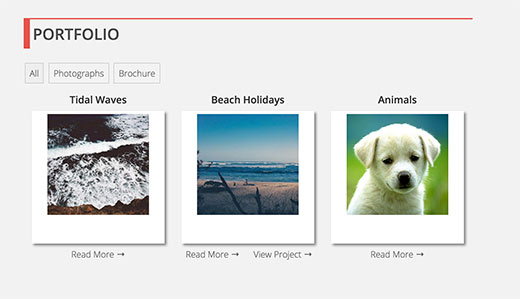 We hope this article helped you add a portfolio to your WordPress site. You may also want to see our tutorial on how to add rotating testimonials in WordPress.
If you liked this article, then please subscribe to our YouTube Channel for WordPress video tutorials. You can also find us on Twitter and Facebook.