The quickest way to start a free blog is by signing up to WordPress.com. Many new bloggers start that way. While it's a great place to start, WordPress.com has several limitations which become quickly evident as a blog grows. If you want to surpass these limitations, then you need to convert your WordPress.com blog to WordPress.org. In this article, we will show you 8 reasons to convert your WordPress.com blog to WordPress.org.
Video Tutorial
If you don't like the video or need more instructions, then continue reading.
1. Plugins
The real power of WordPress comes from plugins, which allows you to do almost anything you want with your website. There are currently more than 30,000 free plugins available on WordPress.org repository alone. Thousands of paid plugins are available from various other sources as well.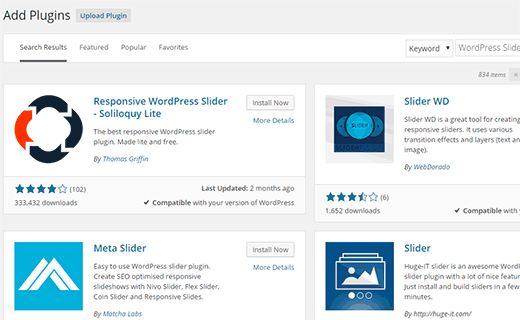 Plugins allow you to do anything you want such as build email list, create an eCommerce store, and more.
When we say anything, we mean anything. If you can think of some cool feature to add to your WordPress.org site, then there is a good chance that someone has already created a plugin to do just that.
Check out the list of awesome plugins we use on WPBeginner in our blueprint.
2. Themes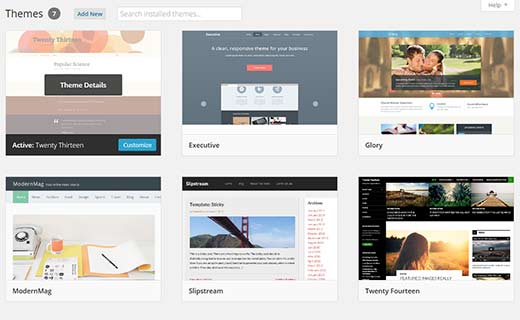 WordPress.com offers a limited set of themes for you to install. Some of them are premium themes with prices starting from $50. Nonetheless, there are only a couple hundred themes available for WordPress.com sites.
On the other hand, there are thousands of themes available for self hosted WordPress.org sites.
Some of our favorite WordPress theme shops are StudioPress, Elegant Themes, and ThemeLab.
3. Running Advertisements on Your Site
WordPress.com displays advertisement on free WordPress blogs which provides them revenue to pay for the free blogs. You don't have control on what kind of ads appear on your website.
You can pay upgrade to turn off ads, but that would cost you money.
You are not allowed to run advertisements on your free WordPress.com blogs using third party advertising programs like Google Adsense, BuySellAds, Lijit, Vibrant Media, etc.
You can add affiliate links, publish sponsored posts, or participate in an advertising program called WordAds. However, entry into WordAds program is limited to WordPress.com users with high traffic and appropriate content. There are even restrictions on what kind of affiliate links you can add.
On a self hosted WordPress site, you decide whether to run ads or not. You control what kind of ads would display on your website. You can add affiliate links to your blogs or join any advertising program you want and display ads on your website (See how to add Google Adsense to your WordPress site).
You may even manage your own ads using some of the best advertising plugins. Most importantly, you will be the one making money from those ads.
4. Your Own Brand
With a self hosted WordPress.org site, you get your own domain name. This domain name is your brand identity.
You surely don't want to share your brand with a web address like JohnSmith.wordpress.com when you can get a domain name of your own. We have a list of some awesome tools and tips to pick the best domain name for your blog.
With most WordPress hosting providers, you get your branded email address like you@yourdomain.com which looks really cool on your business cards.
WordPress.com allows you to get your own domain name for $13 per year. But this domain will still be hosted on WordPress.com servers. You don't get any email service for your domain name. If you want an email service for a domain you purchased from WordPress.com, then you will have to buy email service from one of the email service providers for extra money.
5. Monetization Options
Free blogs on WordPress.com come with no eCommerce solutions. If you want to add eCommerce features to a WordPress.com blog, then you would need to upgrade to WordPress.com Business plan which costs $299 per year and comes with only two choices shopify or Ecwid.
One great advantage of a self hosted WordPress.org site is that you can easily add a full fledged eComemrce solution like WooCommerce or Easy Digital Downloads to your website.
This allows you to sell things from your website, offer premium content, and grow your business. Even if you are just starting out as a small blog, you would still want to keep this option open.
6. Freedom to Move, Scale, Grow
WordPress.com allows to export your data any time you want and move to your own self hosted site. However, moving is a lot of hassle. Also with WordPress.com you are limited to only one hosting company. Their WordPress.com VIP program is a fantastic solution for larger websites, but it is also quite expensive.
A WordPress.org site is completely yours. You can backup an entire WordPress site with all your data and move to another hosting company any time you want. In case your website grows suddenly beyond your expectations, then you will have a huge variety of options in different price ranges to choose from.
From shared WordPress hosting services like BlueHost and Siteground to managed WordPress hosting solutions like Pagely and WPEngine, there are a lot of choices and options available for self hosted WordPress sites.
7. Building a Web Property
Building a website on your own domain name is a lot more practical and has greater potential if you want to attract future investment or want to sell your web property.
It is possible to transfer your WordPress.com blog to another user. However, as anyone dealing with selling and buying of web properties would tell you that there is very little potential for websites hosted on free subdomains.
If you will be giving some serious time and effort to build your blog, then a self hosted WordPress site has much greater potential than a site hosted as free WordPress.com blog.
8. Customize The Code
With a self hosted WordPress site, you can edit the code and customize anything you want. You can access the PHP files of your theme and plugins and make changes to them.
You can even create your own child theme and add code to your own site-specific plugin. See the beginner's guide to pasting snippets from the web in WordPress.
You are also free to modify the actual WordPress core files as well, however it is not recommended at all.
On the other hand, WordPress.com offers you the limited ability to add custom CSS to your themes. There is absolutely no way you can modify any PHP file to add your own custom code.
We hope this article provided you enough reasons to convert your WordPress.com blog to WordPress.org.
If you're ready to switch, then check out our guide on how to properly move your blog from WordPress.com to WordPress.org.
Don't want to do it yourself? You can take advantage of our free blog setup service.
If you liked this article, then please subscribe to our YouTube Channel for WordPress video tutorials. You can also find us on Twitter and Google+.