Do you want to create a customized login page for your WordPress site? It's usually a great addition for multi-user sites. In this article, we will show you how to customize WordPress login page without writing any HTML or CSS.
In the past, we have shown you how to change the WordPress logo on login page or even create a custom login page. But neither of those methods were as easy as using the built-in WordPress theme customizer until now.
This new method allows you to customize your login page by using the WordPress theme customizer (no codeing skills required).
Video Tutorial
If you don't like the video or need more instructions, then continue reading.
First thing you need to do is install and activate the Custom Login Page Customizer plugin. Upon activation, all you need to do is visit Appearance » Customize section in your WordPress admin. This will launch the built-in WordPress theme customizer.
In the customizer, you will notice the new 'Login Customizer' tab in the side pane. When you click on it, you will see the login customizer controls.
On the login customizer page, you can customize your login page just like you would customize your WordPress theme.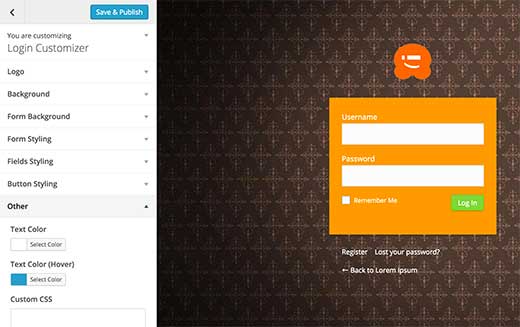 First you can upload your own logo to replace the default WordPress logo. Next, you can add a background image or choose a background color. You can also choose a different background image for login form container.
Most of the options in the customizer panel are self-explanatory. Simply go through all the options in the customizer to tweak the appearance of your login page.
Once you are done, simply click on Save and Publish button at the top.
That's all. We hope this article helped you customize your WordPress login page without writing any HTML and CSS. You may also want to checkout these WordPress login page designs for inspiration.
If you liked this article, then please subscribe to our YouTube Channel for WordPress video tutorials. You can also find us on Twitter and Google+.