Recently one of our users asked us for an easy way to add nofollow to their links in WordPress posts. Unfortunately while WordPress allows you to open a link in a new window by default, it does not allow you to easily add rel="nofollow". Up until now you either had the option to nofollow all external links automatically or manually add the nofollow tag to each link by editing HTML. In this article, we will show you how to add a nofollow checkbox to your insert link section in WordPress. This will allow you to easily nofollow links at the time of writing your post.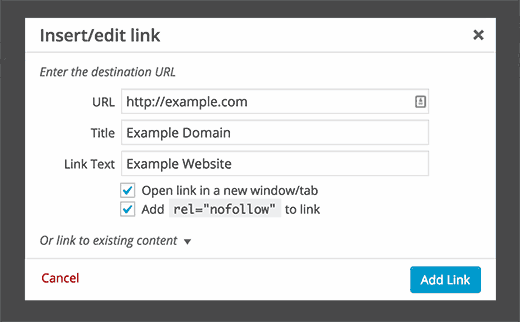 Why Add rel=Nofollow to External Links?
In terms of SEO, each time you link to any page whether its on your own site or an external site, you are transferring SEO points to that page. These SEO points are most commonly known as the link juice. This is why most SEO experts recommend you to link to your own older posts (make internal linking a habit).
Now if you write a post that has both internal links to your site and external links to other sites, then you probably want to get the maximum link juice to your internal posts. You can do this by adding a nofollow attribute to your external links. Nofollow attribute instruct search engines to not transfer any link juice from your site to the external site. This is how a rel=nofollow attribute is added to a link.
<a href="http://www.example.com" rel="nofollow">Example Link</a>
Now if you use Visual editor and add your links by clicking on the link button, then you would need to switch to Text editor to add this attribute to the external links. This could be very annoying if you have several external links in a post. Let's make that easy.
Adding a NoFollow Checkbox to Insert Link Popup
First thing you need to do is install and activate the Title and Nofollow For Links plugin. It works out of the box and there are no settings for you to configure.
Simply go to post edit screen, click on create link button, and you will see a nofollow checkbox just below the Open link in a new window/tab checkbox.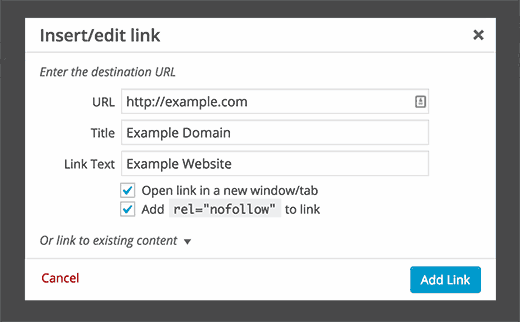 Now you can add rel=nofollow to any link when writing a post. Most bloggers do check the Open link in a new window/tab checkbox when adding an external link, so this checkbox is conveniently placed and makes it super easy for you to add rel=nofollow to external links.
We hope that this article helped you add rel nofollow to external links in your WordPress posts. If you have any questions or feedback, then please leave a comment below. Also don't forget to check out our YouTube channel for our WordPress video tutorials.