Do you want to move your site to a new web host? Or perhaps you want to create a staging version of your site where you can try out new plugins without affecting your live site.
You can move your site manually, but it is a technical process that's extremely time-consuming and prone to errors.
In this article, we'll share some of the best WordPress plugins to clone or duplicate a site to help you save time and hassle.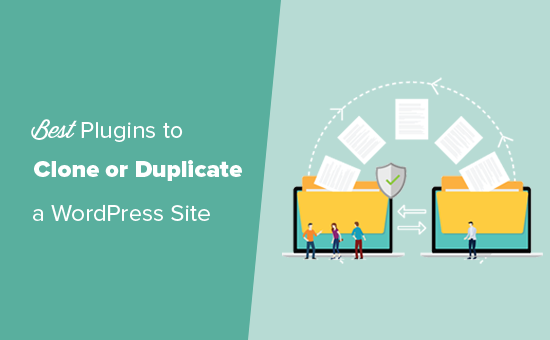 When Might You Want to Clone or Duplicate a Site?
There are plenty of situations where you might want to make a copy of your website. You may need to:
While you can clone, duplicate, and move a WordPress site manually, it's time-consuming.
This is why every smart, professional WordPress developer and power users utilize a cloning plugin to manage transfers and migrations effectively.
If you're on a managed WordPress hosting provider, most of them will have built-in features for easy staging, cloning, and site backups.
Here are some top WordPress hosting companies that have WordPress staging and cloning features: Bluehost, SiteGround, WP Engine, Liquid Web, Dreamhost, etc.
If you're not using managed WordPress hosting, you can simply use a WordPress plugin to clone or duplicate your site from our list below.
Tip: Just looking to create a backup? Many of these plugins will be overkill. Try our list of the best WordPress backup plugins instead.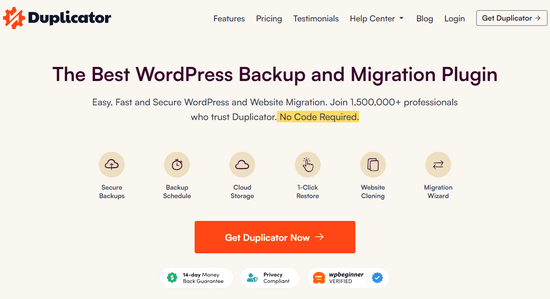 Duplicator Pro is our favorite WordPress cloning plugin. It's extremely popular, with over 15 million downloads. You can use it to back up your site, but it's also a very powerful plugin for cloning a site.
One of Duplicator's biggest advantages is that it allows you to move a site between domains or hosts with zero downtime. If you don't want to miss out on any traffic or customers, this could be an important consideration.
Duplicator works by bundling up everything from your site into a single "package" in a zip file. This package includes everything from your sites, including plugins, themes, content, database, and even WordPress files.
This means you can use the package to move everything to a new location. You don't need to install WordPress, as the Duplicator package will contain all the WordPress files.
You can use Duplicator Pro to create scheduled backups, migrate multisite networks, and much more.
We've got a full guide on how to clone a website using Duplicator. This takes you through the process step by step.
Price:
Duplicator Pro costs $49.50 per year, which lets you use it on up to 2 websites.
If you're on a tight budget, then the free version of Duplicator is also a great option. This does have some limits, though, and you can't use advanced features like the scheduled backups, multisite network support, etc..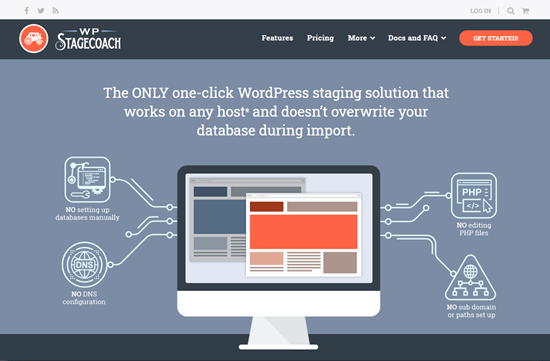 WP Stagecoach is a great plugin that lets you set up a WordPress staging site, especially if your WordPress hosting company doesn't offer this feature.
A staging site is a special testing version of your site where you can try out new plugins or code or simply perform updates that you don't want to do live.
With the WP Stagecoach plugin, you can create a short-term staging site. You can use this to test everything out and then push your changes to your live site when you're ready.
The plugin merges your database changes rather than overwriting the database. This means you won't lose anything that's happened on your live site in the time since you created the staging site.
It's a quick and easy plugin to use, with robust testing that means it should work with virtually any site. WP Stagecoach hosts your staging site on their servers, too, so you won't need to use your own web hosting space.
WP Stagecoach doesn't work with multisite networks, however. If you want to create a staging version of your multisite setup, you'll need to opt for a different plugin.
Price:
WP Stagecoach costs $99 per year. There's a 5-day free trial available, plus a full money-back guarantee if the plugin doesn't work for you.
UpdraftPlus Premium is a great plugin that lets you clone and migrates websites easily.
You might have heard of UpdraftPlus before. It's a fantastic WordPress backup plugin that we frequently recommend.
The premium version of UpdraftPlus includes the Migrator tool as well as UpdraftClone. You'll get all their other add-ons included too.
You can use Migrator to duplicate your website and move it to a new domain name or host. You'll need to install WordPress and UpdraftPlus on both your original and new sites to begin the process.
UpdraftPlus' Migrator lets you move a standalone WordPress site into a WordPress network.
The UpdraftClone add-on lets you create a temporary site where you can try out changes. It takes just a few clicks to set up the test site as it's hosted on UpdraftPlus's servers.
The drawback is that you'll need to buy tokens to create and maintain your staging sites. You get some of these free with UpdraftPlus Premium, but you'll probably want to buy more.
You'll also need to be careful about merging the changes back to your live site if there have been any changes to your live site since you cloned it.
Price:
You can get the Migrator add-on for $49. UpdraftClone itself is available with the free version of UpdraftPlus, but you'll need to pay for tokens. These cost $12 for 4. You can buy more at a time, or take out a monthly subscription, for a better deal.
We recommend buying the premium version of UpdraftPlus. It includes Migrator plus all the other UpdraftPlus add-ons. You'll also get 12 months of support. It costs $70/year.
On the Personal plan, you'll get 1 free token for use with UpdraftClone. If you buy a more expensive plan, you'll get more tokens included.
Migrate Guru is a free plugin that works with almost all popular WordPress hosting providers. It's designed to help you move your site from one host or server to another.
It comes from the people behind the popular BlogVault plugin, and it uses BlogVault's servers. This helps make it a quick and easy process. Once your migration is complete, Migrate Guru will remove the copy of your site from the BlogVault servers.
If you've got a fairly large website, Migrate Guru is a good option as it can move a 1 GB site in less than 30 minutes. It can be used on sites as large as 200 GB. You'll get real-time and email alerts about where your migration has got to.
This isn't suitable for developing a website on your localhost, though, as it doesn't support moving to/from your localhost and your live website.
With Migrate Guru, you're limited to 5 site migrations per month. You can move these five sites unlimited times, though. This is likely to be more than enough for most users, and developers can apply to have this cap changed.
Price:
Migrate Guru is completely free. There isn't a paid version or any paid extensions for the plugin.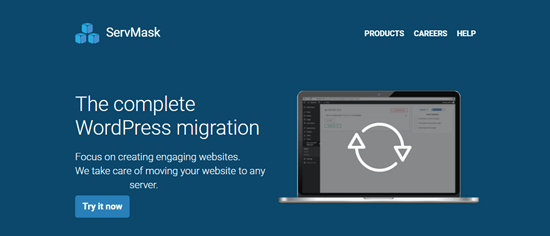 The All-in-One WP Migration plugin from ServMask is another straightforward way to clone your website and move it to a new server or domain name.
The plugin is compatible with many different hosting providers, as it doesn't have any dependencies. It also bypasses any file size limits that your web host may have by breaking your data into chunks for importing.
There are a few limitations to the plugin, though. The main one is that it only supports importing up to 512MB of data. This may not be enough if your website is fairly large.
You'll need to add the Unlimited extension to remove this limit. There are lots of other premium extensions available, too. These include a Multisite extension that lets you use the All-in-One WP Migration plugin with a multisite setup.
Price:
The basic All-in-One WP Migration plugin is free. You can buy paid extensions to add more functionality. The Unlimited extension, which many website owners will want, costs $69 for personal use and $69 + $29/month for business use.
Note that there's no money-back guarantee. Refunds are solely at the company's discretion.
XCloner is a simple, free WordPress plugin that lets you create backups of your site. It can create "differential backups" that only include files modified after a certain date.
You can set XCloner to create automated backups regularly. You can even use it to generate automatic backups before any automatic WordPress updates.
Once you've created a backup, you can use it to restore your website or in a new location. This lets you duplicate your website on a new host or a new domain.
It's completely free. However, it's a little more technical than some other plugins. You may want to pick a different plugin if you haven't got a reasonable amount of experience with WordPress.
Price:
XCloner is currently free. Their premium version at Watchful with updates, reporting, and support will cost $1.83 per site per month (pay as you go).
NS Cloner is specifically designed for WordPress multisite networks. It lets you take any existing site on your network and make a new, identical site with the same theme settings, plugins, and content.
It's a great plugin if you host and manage many client sites within a multisite environment. It also works well if you want to set up multiple test sites or produce sites for members of an organization.
Keep in mind that it only works with WordPress multisite. You'll need the NS Cloner pro version if you want to use it with single sites. The pro version lets you clone between single and multisite WordPress and vice versa.
With the pro version, you also get extra features, like the ability to clone all the site's users and their permissions.
Price:
NS Cloner is free. There's a pro version, too, that offers extra features and costs from $298.
Which is the Best WordPress Plugin to Clone or Duplicate a Site?
For most use cases, Duplicator Pro is the best WordPress plugin to clone or duplicate a website.
Whether you're looking to migrate a site, move a site to a local server, or anything else, Duplicator can do the job.
If your goal is to create a staging site, then we always recommend using the option that's built-in to your WordPress hosting provider. All good hosting providers like SiteGround, Bluehost, WP Engine, Liquid Web, etc offer this feature to their users.
However, if your host doesn't have the staging feature, you can use WP Stagecoach. It's easy to use, budget-friendly and has a free trial.
Finally, if you've got a multisite network of sites, then NS Cloner might be just what you need. It's specifically designed to copy sites within a multisite network, and the basic version is free.
We hope this article helped you learn about the best WordPress plugins to clone or duplicate a site. You may also want to check out our guides on the best email marketing services for small businesses and how to restore WordPress from backup.
If you liked this article, then please subscribe to our YouTube Channel for WordPress video tutorials. You can also find us on Twitter and Facebook.