Comments provide your website's visitors a platform to communicate with you and other readers. It allows them to add their input on the topic, ask questions, and provide feedback. They allows for community interaction around your content.
WordPress comes with a comment management system of its own. WordPress posts, pages, and other post types can accept comments. All WordPress themes come equipped with comment layout templates. However, it is up to you to engage users on your website and encourage them to leave comments.
The Comments Screen in WordPress
All comments on a WordPress website are displayed on the Comments page in your WordPress admin area. By default it displays all comments. Moving your mouse over to a comment will display the action links for it. Comments awaiting approval are highlighted with a light yellow background. You can switch view to see Pending, Approved, Spam and Trash views.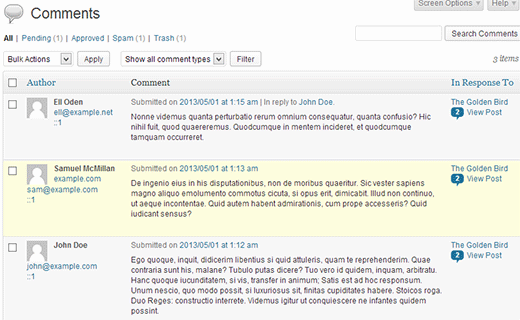 In the comment spam view, you can see comments marked by you as spam, or those caught by Akismet plugin as spam. If you see a comment that is not spam, then you can mark it as 'Not Spam' by taking your mouse over it.
The comment trash view has comments deleted by you. Any comment in trash can be restored by by clicking on 'Restore'. Comments in trash remain there for 30 days after this time WordPress deletes them permanently.
What is Discussion or Comments Settings Page
WordPress comments system comes with many default options which you can configure from Settings » Discussion page. The first section of these options is for default article settings. These settings apply to all your posts, pages, attachments and custom post types.

Checking "Attempt to notify any blogs linked to from the article" will send trackbacks to the articles you have linked in your post. This feature allows you to notify other blog owners that you have linked to their article. If the web page you have linked is using a pingback or trackback enabled system, then the owner of that website will see a notification informing them that you have linked to their post, with a link to your article. The website owner can decide to show this trackback in their website's comment section.
Just like the option above, you can also enable your WordPress site to accept pingbacks from other websites by checking "Allow link notifications from other blogs" . You will see pingbacks from other sites when they link you in your Comments screen. You will also see your own pingbacks when you link one of your own article in a new post.
It is not necessary for every WordPress website to have comments enabled. In fact you can disable them by unchecking the box next to "Allow people to post comments on new articles" option. Disabling comments will not delete older comments already published on your website. It will just stop accepting new comments. You can re-enable them any time you want too.
What is Comment Moderation
Comment Moderation is a feature of WordPress which allows users to approve or delete comments posted by visitors on their website. Comment moderation settings can be changed from Settings » Discussion screen.
To enable moderation, go to Settings » Discussion and check the option "An administrator must always approve the comment".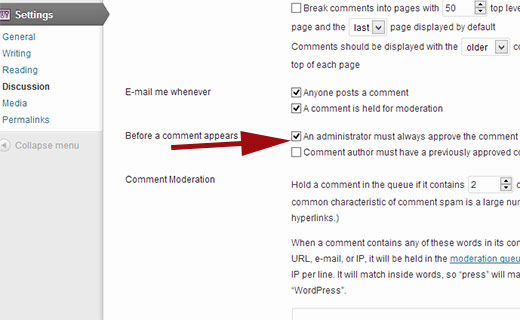 Comment moderation allows website owners to prevent potentially harmful, abusive, or spam content from getting published on their website. Using comment moderation with spam protection plugin such as Akismet can significantly reduce the chances of any spam comment getting published.
Allow Only Registered Users to Comment
It is also possible to open comments only to registered users on a website. To do that first you need to open your WordPress site for registration. Go to Settings » General and check the box next to "Any one can register". If you don't want new users to write posts on your site then make sure that you have Subscriber as the New user default role before you save changes.

After opening your website for registration go back to Settings » Discussion screen. Under 'Other comment settings' section check the box next to "Users must be registered and logged in to comment"

Recieve Email Notifications for Comments
From Settings » Discussion page you can also set the options to receive email notifications whenever someone leaves comment on your website, or a comment is waiting to be approved. Checking these options will also send you email notification when a website sends you trackback or pingback. However, you will not receive any email notifications for comments or trackbacks marked as spam and caught by Akismet plugin.

If you do not receive email notifications after enabling these checkboxes, then please check the email address in Settings » General page, to make sure it is correct. If the email address is correct then check your Spam folders. Sometimes web based email service providers, particularly Gmail mark messages spam if their systems suspect that the email may not have originated from the domain it claims to be originated from. However, once you mark the message as Not Spam in gmail, you will start receiving notifications in your inbox.
Enable or Disable Comments on a Single Post in WordPress
You can override the default comments settings for articles by enabling or disabling comments on a single post, page, or custom post type. In the post edit area for the article click on Screen Options and then check the Discussion.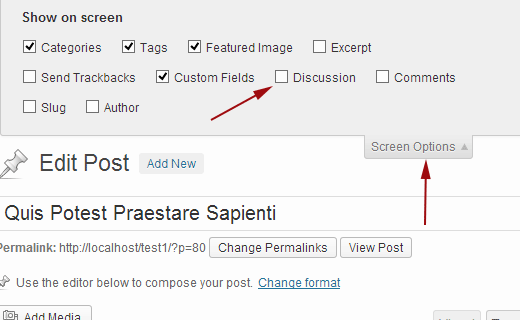 Scroll down and you will see Discussion metabox. Uncheck the boxes to disable comments and trackbacks, or check them to enable comments and trackbacks.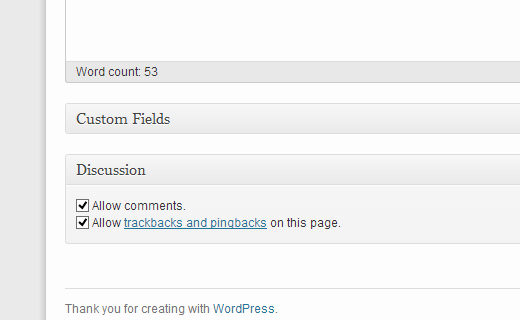 What is Avatar or Gravatar?
In online communities the word Avatar is used for a user's profile image. Gravatar is web based service that allows users to use the same avatar image on thousands of websites that use Gravatars. Gravatars.com is owned by automattic which is a company founded by WordPress co-founder Matt Mullenweg. When a user creates an account or leaves comment, WordPress looks up for a gravatar image matching their email address. If the user has a Gravatar account with an image then WordPress displays this image as their profile picture in comments. If a user's email address does not matches a gravatar account, then WordPress displays a default Avatar image.
The default Avatar image in WordPress is called Myster Man. This can be changed in Settings » Discussion under Avatar section.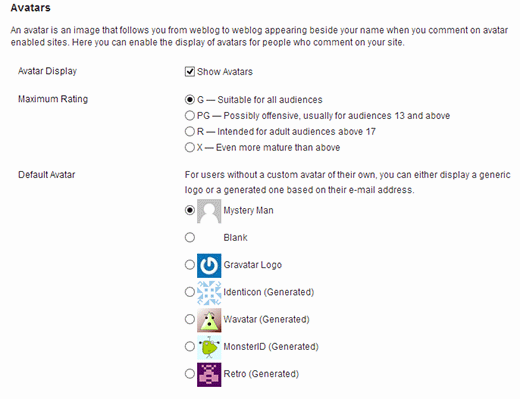 You can choose not to use Avatar images on your website by unchecking "Show Avatars" option. However, since most WordPress themes have templates designed to display gravatars it may not look good on the front end of your website.
You can choose a maximum rating for your Avatar image. The default option is G which is suitable for all audiences. However, if a user has an Avatar image that could possibly be offensive then Gravatar automatically displays the default gravatar image. You can also choose the default Avatar image from this page. There is mystery man image and a blank image. All other images are generated using algorithms that generate an image based on user's email address.
Additional Reading