Are you looking for the best invoicing plugins for WordPress? An invoicing plugin can make it easy to automatically generate invoices, collect orders, and manage your finances.
As a business owner, there's a lot to manage and manual invoices can take up a significant amount of your time. Your invoices may look different each time, which isn't very professional.
Using professional invoicing software allows you to automate all invoicing and payment processes, so you can focus on growing your business.
In this article, we will share some of the best WordPress invoices plugin for various needs.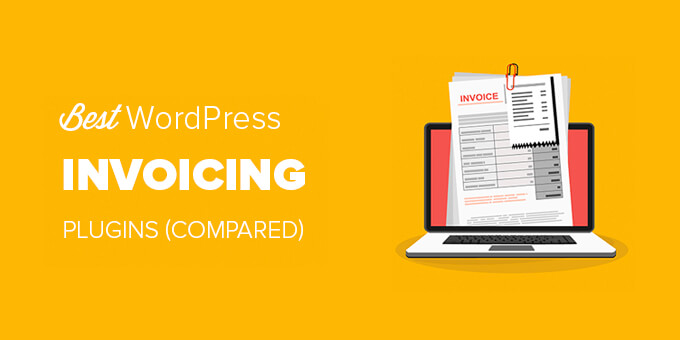 Choosing the Best Invoicing Plugins for WordPress
There are several WordPress plugins that you can use to create online invoices and collect payments from your customers. All these WordPress invoice plugins offer different features which makes it difficult for beginners to choose the right invoice plugin for their business.
The key features that you should look for in a good WordPress invoicing plugin are:
One-time and recurring payment collection
Partial payment options
Automatic tax deduction and tax reporting
Single dashboard to manage all invoices and taxes
Credit card and other payment gateways
Payment scheduling and late fee option
It would be a bit difficult to find a solution that caters to all your invoicing needs. You'll need to review the features and find a solution that suits your invoicing and payment requirements.
That being said, let's take a look at our top picks for the best invoicing plugins for WordPress.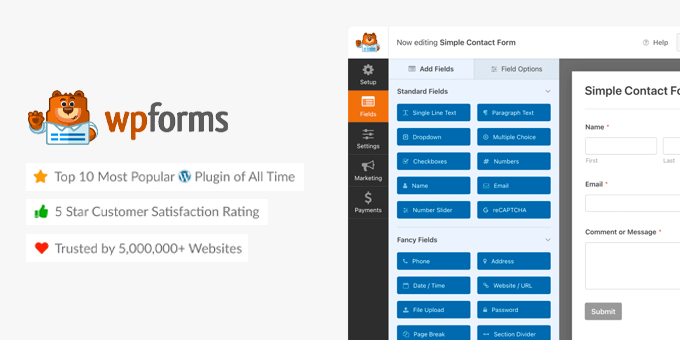 WPForms is the most beginner friendly WordPress form plugin. It comes with a drag and drop builder which allows you to easily create any type of form including user registration forms, newsletter signup form, request a quote form, donation form, payment collection form, etc.
With WPForms, you can easily generate an online order form which gives you the option to automatically send an invoice to the customer. You and your customers also get an instant email notification upon completion of the payment.
WPForms integrates with PayPal, Stripe, Square, and Authorize.net to collect payments. This allows you to easily accept credit card payments without using a shopping cart plugin or eCommerce software.
You can even use it to setup recurring payment invoices and collect client's digital signature at no additional fees.
While WPForms is not as robust as some other WordPress invoice plugins below, it has all the essentials features that you'll need. This will help save you money because it can serve multiple purposes such as help you build contact forms, request a quote lead forms, collect feedback via surveys, etc.
WPForms comes with over 300+ pre-built form templates, and tons of other powerful features like form landing pages, conversational forms, form abandonment tools, custom thank you pages, privacy compliance, and more.
This is why over 5 million websites are now using WPForms, and it's the fastest growing WordPress form builder in the market.
You can use our WPForms coupon to get an additional 50% off.
WP Simple Pay is one of the top WordPress invoicing and payments plugin among small business owners because it's both simple and powerful.
The best part is that it lets you start accepting one-time and recurring payments on your WordPress site without setting up a complex shopping cart (no coding needed).
It has a smart payment form builder that lets you accept credit card payments, Apple Pay, Google Pay, ACH bank debit, SEPA direct debit, Alipay, Giropay, iDEAL, and more.
Basically it supports 30+ languages and 135+ currencies, so you can accept payments worldwide.
The best part is that WP Simple Pay does not charge you any additional transaction fees.
You also have the option to setup custom coupon codes for customers, allow payments in installments, add free trial periods, charge custom one-time setup fees, and more.
There is a free version of WP Simple Pay available with some basic functionality, but it doesn't have all the Pro features.
FreshBooks is popular accounting software for small businesses. It allows you to create professional invoices in a few clicks. You can fully customize the invoice by adding your business logo and personalized note.
It has an automated system to send reminders to customers for the overdue payments. FreshBooks also charges your clients' credit card securely for recurring payments and sends notifications to you and your customers.
You can add your work hours and expenses in the invoices to display a proper breakdown of the payment. It also offers tax collection, preferred currency selection, discount codes, and pre-payment option.
Freshbooks is a SaaS invoicing platform that works with all best website builders including WordPress. It is the most robust invoice software in the list, but their pricing is a bit more expensive since they charge you based on the number of billable clients.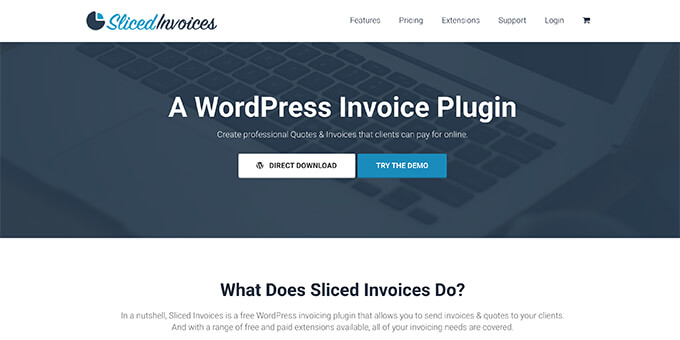 Sliced Invoices is a professional WordPress invoicing plugin. It has multiple pre-built templates and designs to generate invoices quickly. You can also create custom invoices with your logo and text, so you can send quotes directly to customers.
It comes with a reporting system to manage all your invoices and quotes in one place. Sliced Invoices is translation-ready which enables you to send invoices in your customers' language. It also includes extensions for PDF invoices, recurring payments, deposit invoices, and more.
Slide Invoices is a free plugin, but you will have to pay for individual extensions, or you can buy a bundle membership which is a much better deal.
EDD Invoices is an extension for the popular WordPress eCommerce plugin, Easy Digital Downloads. It provides a complete solution for generating invoices for all EDD customers.
When a customer purchases any digital download, an invoice will be generated either in an HTML or PDF format. You can customize the information that shows up on the invoice including your custom logo, business address, tax ID, and more.
You can even give customers the ability to generate custom invoices with their own VAT number for accounting purposes.
WooCommerce PDF Invoices is a WooCommerce extension to send a PDF invoice with every order confirmation email. It has a ready-made template for the PDF invoices, and you can also create your own custom invoice templates.
It manages a sequence number for the invoices so that you can keep track of all the payments. The customers can download invoices from their account page on your eCommerce website. You can also connect a printer with the plugin to print invoices as soon as the customers confirm the order. If you run an online store using WooCommerce, then this plugin can be the answer to your invoicing needs.
This plugin does not work with other WordPress eCommerce plugins, but most other solutions have their own invoice extensions.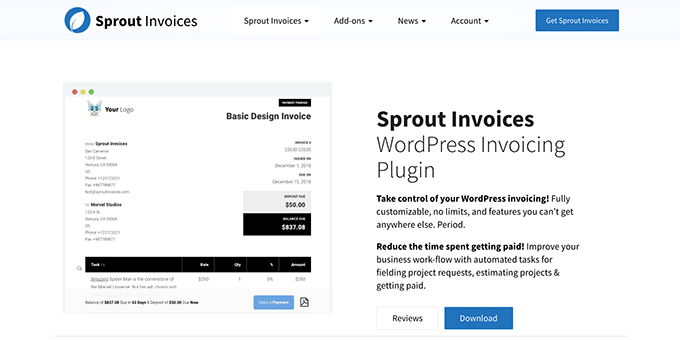 Sprout Invoices is a full-fledged invoicing plugin for WordPress sites. It can estimate the cost of your services and generate detailed invoices for customers automatically.
The plugin integrates with 300+ apps for payments, invoice designs, workflows, and more. It has a powerful payment scheduling system to set terms for customers like payment amount, due date, late fees, etc.
The free version is quite limited, and you'd have to upgrade to the Pro version to get all the features.
We hope this article helped you find the best invoicing plugins for WordPress. You may also want to check out our expert pick of the best WordPress plugins, best email marketing services, and best business phone services for small businesses.
If you liked this article, then please subscribe to our YouTube Channel for WordPress video tutorials. You can also find us on Twitter and Facebook.