Do you want to know what are the most expensive WordPress themes in the market? This was an odd but fun article requests we got from one of WPBeginner' readers. The premium WordPress theme market is flooded with great products across different prices (mostly at $50). In this article, we will list some of the most expensive premium WordPress themes and why they are totally worth it.
A note on Expensive Premium WordPress Themes
When we started researching, we didn't really know what to expect. Since the average price range for themes are around $50, we wanted to pick themes that were at least double that.
In our research, the most expensive WordPress theme that we found was $299. Now there were some that were higher, but they were just way too spammy and sold as part of an info-product package.
Just because these themes are expensive, doesn't mean you have to use them. See our guide on choosing the perfect theme for WordPress.
The main reason why we believe these themes are more expensive is because they target an industry and offer everything that's needed to make a perfect website. So in reality, you're buying a theme + bunch of what would be premium plugins.
Having said that, let's look at some of the more expensive premium WordPress themes in the market.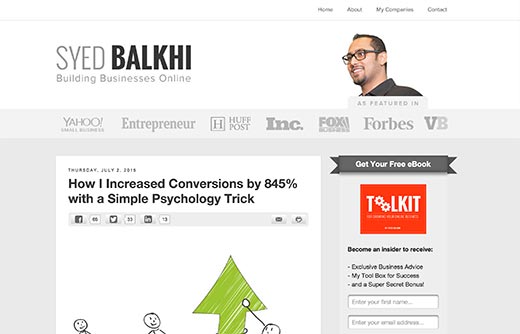 The Get Noticed Theme for WordPress came into existence by our friend Michael Hyatt's efforts to build his platform.
Just like many other WordPress users, Hyatt was disappointed by the complexity and limitations of the available WordPress themes. He set out to build one for his website.
Get Noticed gets out of your way so that you can focus on content creation. It does not confuse users with complicated settings. It is straightforward and takes very little time to setup.
Everything you need to succeed as a blogger is taken care of. Get Noticed provides functionality of several WordPress plugins packed right into your theme. This alone would save you from lots of plugin updates, compatibility issues, and security concerns.
Get Noticed has social sharing, events, subscription forms, analytics, custom landing pages, FTC disclosure, advertisement management, podcasts, books, and much more.
Most importantly, everything can be setup without you having to write any code or spend too much time with settings.
It is designed to establish your brand identity and makes it super easy to do so. You can easily upload your own logo and headshot.
WPBeginner's founder and CEO, Syed Balkhi, uses a customized version of Get Noticed on his personal website.
Price: Starting from $197 for a single site license.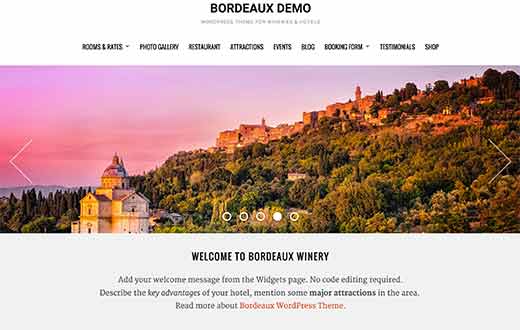 Bordeaux is a premium WordPress hotel theme. It comes with all the standard features you would expect from a premium theme.
Bordeaux is fully responsive and looks equally great on all devices and screen sizes. It is highly optimized for speed, performance, and SEO. All theme settings can be easily set up with an intuitive theme options panel.
Apart from the standard premium features, Bordeaux comes with features specific for hotel websites. It allows you to easily integrate popular hotel booking systems into your WordPress site.
You can easily add custom templates for rooms, rooms and rates, testimonials, attractions, photo gallery, blog, etc. This allows you to quickly fill your website with content.
Bordeaux is fully compatible with plugins like The Event Calendar, WooCommerce, WPForms, and WPML to create multilingual websites.
Price: $99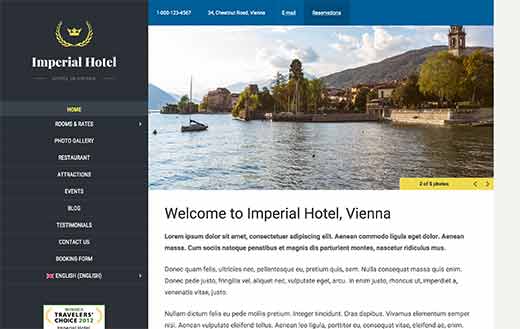 Imperial is another fully mobile responsive WordPress theme for hotels and travel websites. It comes with all the usual features of a premium theme packed in an easy to setup theme.
Imperial comes with full support for WPML, WooCommerce, WPForms, and all other popular WordPress plugins. Most importantly it works with popular hotel reservation systems. You can also use a WordPress plugin for bookings too.
It also has ready to use templates for pages like attractions, testimonials, image galleries, rooms and rates, accommodation, etc. It has a separate page for blog section, a homepage, and a robust theme's options panel.
Price: $99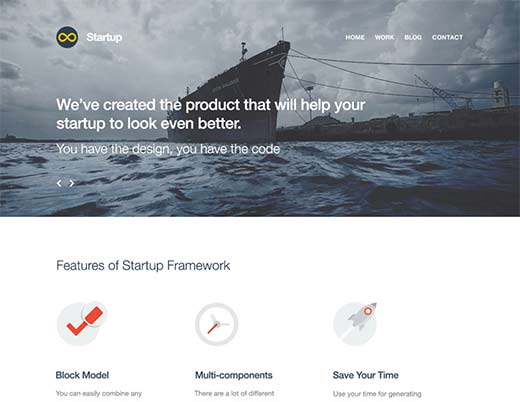 Startup Framework is a theme framework for WordPress design agencies, startups, and businesses to rapidly build beautiful and functional websites.
It comes with 25 ready to use samples. Samples are like starting points with different design schemes and colors. You can build your pages by adding or removing content blocks or components.
Startup Framework comes with 100 components that you can simply drag and drop. There are components for content areas, header areas, feature boxes, pricing tables, contact forms, call to action, sliders, videos, and almost any element that you can think of.
You can also add components to create beautiful pages for different sections of your website. Startup Framework comes with blocks for blog, testimonials, full width pages, and a variety of content blocks.
Using content blocks makes it super easy to design any kind of layout you need and easily modify it on as-needed basis.
Price: $249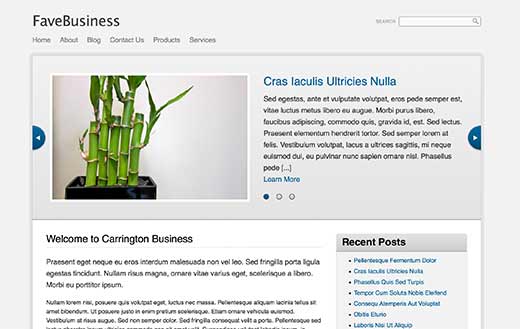 Built on top of the Carrington Core theme framework, Carrington Build allows users to create layouts using a modular templating system.
Carrington Core framework was designed for developers to build WordPress themes. However, it is not very easy to use for businesses and beginners who want to build websites on their own.
Carrington Build allows users to build their websites using an elegant, drag and drop system. Users can now easily create beautiful landing pages using modules.
It comes packed with a wide range of modules that you can just drag and drop on any page. There are modules for the most common web design elements like adding sliders, shortcodes, text areas, columns, call to action and many more.
Carrington acts as the parent theme. It comes with a sample child theme called Favebusiness. It also comes with child theme samples using Twenty Ten, and FaveText themes.
Price: $299
Zealot is an excellent premium WordPress theme built to work with Aesop Story Engine plugin.
Aesop Story Engine is a collection of components that allow you create engaging content in a storytelling format. It empowers journalists, site owners, bloggers, and even businesses to craft beautiful emotionally charged pages.
The Aesop engine works with any WordPress theme, but there are themes designed specifically to be used with the plugin.
Zealot is designed by the folks behind Aesop story engine. It uses all the components of the plugin and also supports existing addon plugins. It is designed specifically for news and membership websites.
The theme supports both full-width pages and pages with sidebar. It comes with easy customization tools to choose theme colors and add custom logo. It also has multiple widget-ready areas.
Price: $120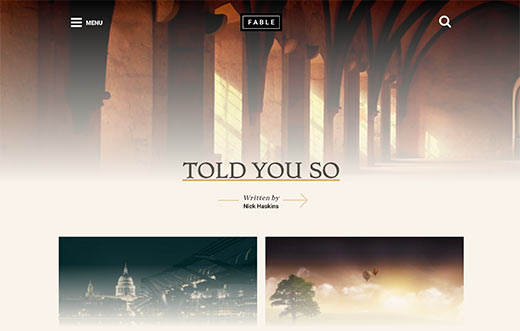 Fable is another storytelling theme for WordPress built for Aesop Story Engine. It has a magazine style layout with fullscreen cover images. The design is fully mobile responsive and supports all options of Aesop Story Engine and addon plugins.
The most prominent feature of Fable is how it generates a homepage layout. It uses the featured image for the last post as the cover image for the page. The display for other posts is in a beautiful grid layout.
If you want to override the cover image for posts, then you can do so by making a sticky post which will then become the cover image.
The single story pages feature large images, with beautiful blockquotes, pullquotes, large background images, and parallax support.
Price: $120
We hope this article helped you find some of the most expensive premium WordPress themes. You may also want to see our checklist of 15 things you must do before changing WordPress themes.
If you liked this article, then please subscribe to our YouTube Channel for WordPress video tutorials. You can also find us on Twitter and Facebook.