Update: After a few years of trying out various different plugins, we realized that most solutions were buggy and didn't solve all the problems. That's why we created a much better solution for our own sites. It has A/B testing, built-in reporting, tons of great designs, various different optin types, exit-intent and much more. You can get it at Check out OptinMonster.
Recently Grant Griffiths of Headway Themes informed us about their newest product called Pippity, a WordPress based popup solution. Normally, we are strictly against using popups because it ruins the user experience, but Pippity may have changed our mind. You are probably wondering why? Because just like they say it, it is a people pleasing popup that increases conversion. Now before you start thinking we are just praising this plugin to create hype, let us explain to you why we hate popups, and how Pippity is different.
Note: Few of our users asked in the comment which one is better between Pippity and Popup Domination: Popup Domination vs. Pippity Review
An average popup is usually opened on a separate window (normally when you visit a website or when you click on the screen). Those are freaking annoying as heck. Then there are the other lightbox popups that you probably see a lot of bloggers using. Now those are not so annoying, but the reason why it ruins the user experience is because they are always generic. Usually those sites always promote the same offer on all pages no matter where the user comes from, what page they are viewing, etc. Now only if you could make the popup even more friendly that it doesn't even seem like a popup (i.e offer useful information that is targeted and relevant). Well that is where Pippity comes in play. It allows you to show post specific popups, category specific popups, page specific popups, referrer specific popups, and much more. You can totally streamline the process and do split A/B testing to make sure that your users are not getting pissed of.
Now that is cleared and out of the way, let us continue with showing you why we were so impressed with Pippity. For those who don't want to read the long tutorial, you are more than welcomed to watch the video below:
How to Create a Popup in Pippity?
After you have installed and activated the plugin, you will see a new tab added in the menus called Pippity. You can find the Create Popup link there to begin. First you have to select a base theme (from the available choices).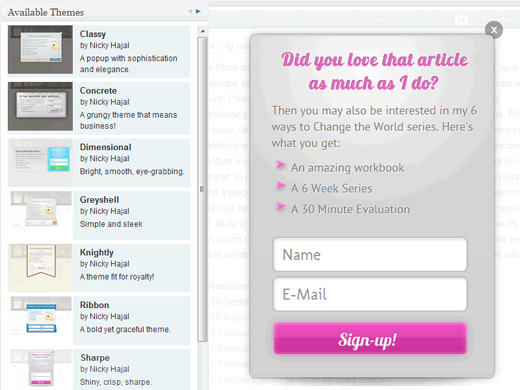 Once you click on that, you have the option to stylize. Each theme comes with a selection of color schemes for you to chose from. There are quick styles where you can simply change the color scheme, and then there is the option for you to customize fonts, font sizes, overlay and/or add advanced CSS. For the sake of our example, we will simply go with quick styles.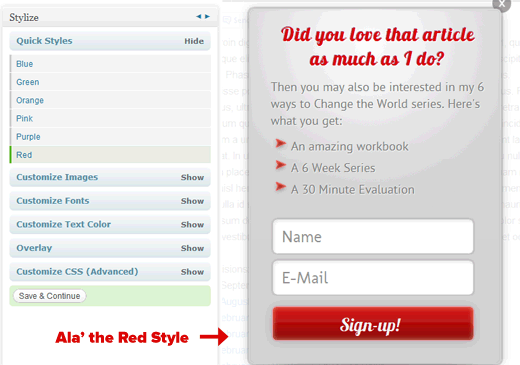 Notice, how I changed the purple scheme to the red one. You can also change other options as you can see from the options panel. Once you hit Save & Continue, you will be taken to the screen to edit popup copy.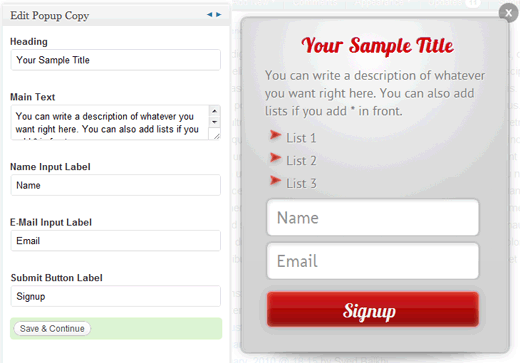 Now if you notice in the screenshot, the edit copy is mainly built for email conversions. This is something we didn't like because that is confined with the old school marketing mindset. What if we want to utilize a lightbox to promote a plugin of ours? What if we want to point a user on a specific post to another post that they might like? An option like that does not exist YET. We reached out to Grant Griffiths and expressed our remarks. He assured us that this feature is in the works and will be released in the future updates.
Once you are done editing your copy that is when the interesting things come up. Setting the Popup Behavior.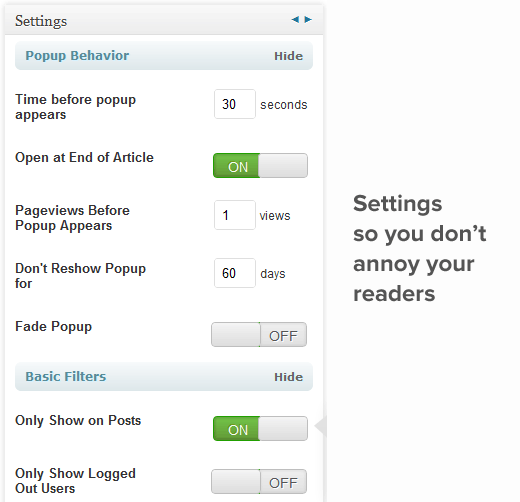 As you can see in the screen above, there are quite a few neat options there for you to control your popup behavior. This is only part one of this page. The part two will follow after this. Any ways lets cover part one. First option allows you select the time before popup appears. We set it to 30 seconds. Default value is 60 seconds. This keeps the user from getting pissed of by showing the lightbox right away (which is annoying). We also checked the option to open at end of article. So basically, if the user scrolls down all the way and they are done reading, that is when the popup will show.
Showing popups to new users is not a good idea because it may turn them away (unless ofcourse it is a welcome popup). But for this one, we said the user must have viewed one page on the site before a popup appears. The other option is to not display the popup for 60 days if the user clicked the 'X' button to close the popup. We also turned on Basic filter for this poppup to only show on posts pages. So it will not show popups on your category archive pages, etc. Note: We expect behavior settings to vary depending on how you are using the popup.
Now the next part is more interesting. It is called "Power Filters". We are truly in love with this specific section because it lets you specify tons of parameters. See the image below: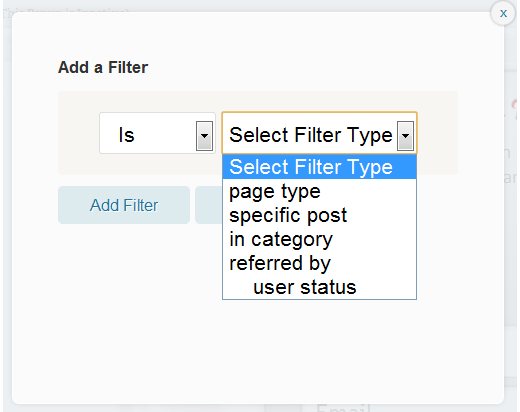 So the options available are if the user is on a specific page type (Posts only, or custom post type). You can specify if the user is on a specific post (this can be helpful). If the user is in a specific category which will allow you to show targeted advertisement. If the user is referred by a specific source (which we think is the best option ever). Because now you can partner up with companies who send you regular traffic and show welcome notes or special offers to their users. You can also show popups by user status for example if the user is not login, you can ask them to register for your site (if it requires registration). The possibilities are infinite.
You can also add multiple filters to target even more. Once you are done setting up your Popup behavior, you will be taken to the screen where you can simply paste your Email Newsletter snippet. You don't have to customize anything there. Just go to Aweber or MailChimp and copy the webform HTML code they provide you. Then paste it in the box and Pippity will take care of the rest.
Again, this screen should not be mandatory for popups if you are running a custom designed popup that doesn't require email signups. As Grant Griffiths pointed out that they are working on adding more themes that will allow users to make the popup (non-email capture) then hopefully there will be a setting so only email newsletter specific themes will show this option whereas others don't see it at all.
Once you paste the email code, then you have created your first popup. But it is not Active yet. You have to activate it. Which was a bit tricky for us while doing the review. We are waiting on the page to load the popup only to realize nothing is happening. Then we went and took a closer look and there is a very tiny button called Activate which can you find on the main Pippity screen next to each popup.

Now we are hoping that they make an upgrade and fix this to improve user experience. Because if we can miss the activate button, then a lot of users can miss it. There should be a better transition or maybe another screen that says Activate this popup now or Skip for now.
Pippity does provide analytics for each popup such as impressions, converstions, etc. We haven't had to extensively try it on a live site, so we don't know how good the analytics system is. But from what it seems, they provide details of Impressions, Conversions, Conversion rate, Time on Popup, and Time on Page. Would be cool if we can embed heat mapping software like CrazyEgg to see what the user is looking at most at our popup.
Now if you can't tell already, Pippity is made for conversions. Their is another exciting feature that lets you A/B split test between popups. All you have to do is click Clone on a popup from the Pippity panel. Then edit what you want to edit then activate both popups. Obviously keep the different name, so you can tell which one is which.

Pippity team also releases theme packs which if we are correct is delivered to you for FREE as long as your 1 year support package is active. Uploading a theme is pretty simple. Click on the Upload Themes menu option under Pippity. Then select a file and click on Upload Theme Pack.

While Pippity has a lot of pre-made designs to offer, it may not satisfy the needs of designers and developers working on a custom project. Well you have nothing to worry because they have a developers option available which lets you customize your theme the way you want. At the bottom of every page, there is a link called Dev Tool and Make $ With Pippity. Again, this is a bad choice to put important links like those at a place where it cannot be seen. These links deserve to be under the main menu where it can be seen by more users.
Well aside from our ranting about the menu placement, this custom theme tool is pretty nifty. You can select a pre-existing theme and duplicate it, so you have a base to start with. Or you can just go on ahead with creating your own custom theme. We probably will be using this section a lot once we start running these on WPBeginner.
Now you are probably wondering about how much does this plugin cost because it certainly has tons of cool options. The pricing structure goes something like this:
$49 for Single Site License with 1 year of support and updates
$87 for 5 sites License with 1 year of support and updates
$164 for Unlimited sites license with 1 year of support and updates. You also get early access to beta releases.
Grant and the Pippity team were kind enough to provide all WPBeginner users with a 25% coupon "wpbeginner25". Not sure when this coupon will expire, so get this amazing deal while it lasts.
Have you used Pippity? If so, then what are your thoughts about this plugin? What are your thoughts in general about popup plugins like these? Do you think with the Power filtering options, does Pippity make popups more user friendly? Let us know in the comments below.