WPBeginner's exclusive Network Solutions coupon code gives you 25% off on all their domains, including .com and .net domain extensions. All you have to do is follow our instructions below to properly redeem the Network Solutions promo code, so you can get the best discount on Network Solutions. Click to Read More »
Bonus: You can get a free domain name with Network Solutions WordPress hosting plans. This is a great deal if you're looking to build a website.
If you're looking to get a domain name only, then simply use our Network Solutions coupon code and instructions below to get 25% off on new domain registrations.
First, visit the NetworkSolutions.com website using our exclusive link. You'll see the welcome message for WPBeginner visitors with discount information.
Here, you can enter the domain name that you want to purchase into the search box.
Once you click on the 'Search' button, it'll check for the availability of the domain name.
If the domain name is available, then it will be automatically added to the shopping cart, and you will be redirected to the search page.
On this page, you'll also see other domain extensions as a suggestion. This allows you to register .net, .org, and other domain extensions with your .com domain.
If you don't want to add other extensions, then simply click on the 'Continue' button.
Next, you need to set up your domain name. The website will display multiple web hosting packages, including domain only, domain with professional hosting, and domain with professional hosting plus.
If you're looking to build a website, then you can choose the domain with a professional web hosting package. If you just need a domain, then choose the 'Domain Only' package.
Once you have selected a package, click on the 'Continue' button.
Now, you will be redirected to the order summary page. You should carefully review your complete order to make sure it contains everything you want.
Sometimes they'll automatically select additional addons that are free for the first month. Remember, you can remove any addon from the list.
Note: You don't need to add a Network Solutions coupon code. Since you followed our exclusive NetworkSolutions.com link, the 25% Network Solutions discount code is applied to your cart automatically.
Next, click on the 'Secure Checkout' button.
This will take you to the SSL page. If you want to add an SSL certificate to your order, click on the 'Buy Now' button.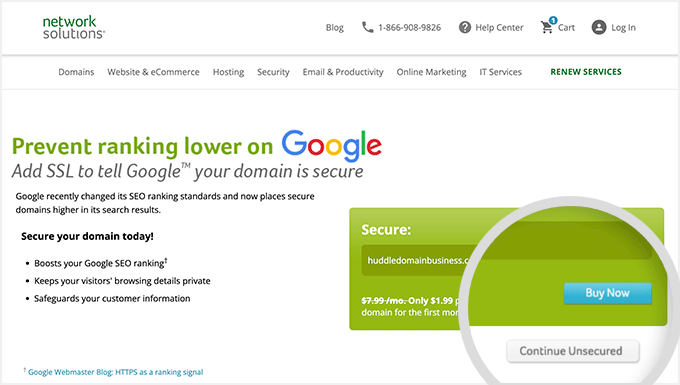 In case you don't want to add an SSL certificate to your domain name, click on the 'Continue Unsecured' button.
Note: If you're not using Network Solutions for hosting, then you don't need their SSL. Most hosting companies are now offering a free SSL certificate.
Now, it'll ask you to add domain expiration protection. Again, it's your choice.
If you want to add the expiration protection, click on the 'Add to Cart' button.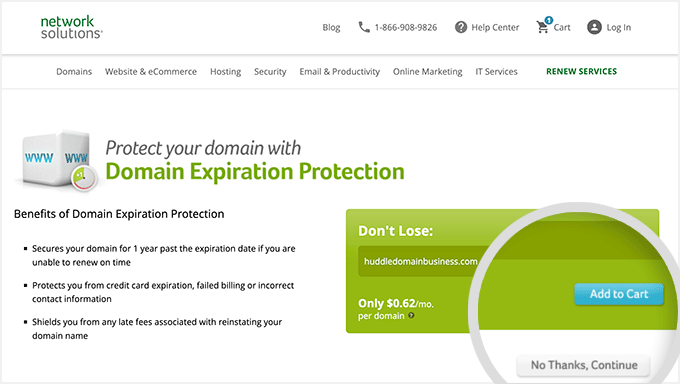 To skip this step, click on the 'No Thanks, Continue' button.
Now, you need to enter the account information, payment information, and billing address on the left side of your screen.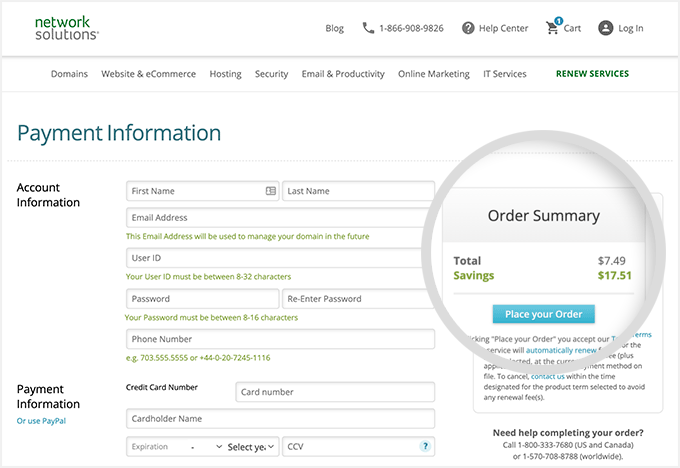 After adding all information, click on the 'Place Your Order' button to complete the purchase.
With WPBeginner's Network Solutions coupon code, you save 25% on the total cost when you register a domain name.
FAQs About Domain Names and Network Solutions
If you still have questions about the Network Solutions coupon code, then you're not alone. Here are some of the frequently asked questions (FAQs) from our users.
1. What is a domain name?
A domain name is a business name that your user will type in their browser to visit your website. For example, Google's domain name is google.com.
You can search for a domain name using our free business name generator tool. It helps find the best domain name for your business.
Network Solutions allows you to search and buy domain names with different extensions (.com, .net, .tv, .info, and so on). It also offers domain protection and SSL certificates to secure your business name.
2. Can I make a website without a domain name?
No, you need a domain name and web hosting to launch your website on the internet. It's easy to buy a domain name from Network Solutions, and you can also use our best coupon code to get a 25% discount.
For web hosting, we recommend using Bluehost. They're one of the most popular hosting companies and also an official WordPress hosting partner.
For WPBeginner users, Bluehost offers up to 73% discount on web hosting and much more.
3. Does the discount apply to all products?
No. Our Network Solutions discount code only allows you to get 25% off the cost of the domain name.
When you use our link to visit their website, you'll likely see other sitewide Network Solutions offers for their products, including their website builder, professional email, website security, website design services, search engine optimization (SEO) and online marketing services.
They also have limited time offers on hosting including their cloud hosting packages which include free domain name and other powerful small business features.
If you're looking to buy advanced SSL DV certificates, then you can unlock additional savings on your new orders by purchasing 2-year or longer subscriptions.
4. What to do after I buy a new domain name?
After purchasing the domain name, you'll need web hosting. You can purchase this from any of the best WordPress hosting companies to get your business online.
When everything is ready, go ahead and visit our complete guide on how to make a website. This will help you set up your website step by step.
You may also want to setup an email marketing service for your business and get a pro email address.
We hope you found our Network Solutions coupon code to be helpful!
At WPBeginner, we work hard to negotiate exclusive discounts for our users, and we're constantly adding new coupons to help you get more cashback. Please check out our other WordPress coupons and deals.