So we all know that everything is going mobile. Tech pundits are encouraging users to at least have a mobile version of their site. Most popular sites like NYTimes, CNN, etc. have their own mobile apps along with mobile versions. We recently saw bunch of other WordPress related blogs releasing their own iPhone apps. Yes, you are probably wondering what the heck are we doing? Why haven't we launched our own mobile version or an app yet. Well, we used to have a mobile version before but our design and the service we used totally failed our users. So we temporarily decided to turn it off. But we are unveiling some very exciting stuff in November. In the past we have shown you how to create a mobile version of your WordPress blog. But what could be more exciting is if you have your own iPhone app for your WordPress blog. You are probably wondering, doesn't that require a lot of programming knowledge, apple developer account etc. The answer is YES it does, but we are going to show you another way of creating a WordPress iPhone app for your blog without knowing a single line of code.
So you are wondering how does this work? First thing you need to do is install and activate the WiziApp plugin. The plugin is free to install. Once you download the plugin, you will be able to see a live simulation of your app with your own blog content. From there it is just plug'n play. Upon activation of the plugin, a new section will be added called WiziApp. Click on that.
First step is to enter your app name.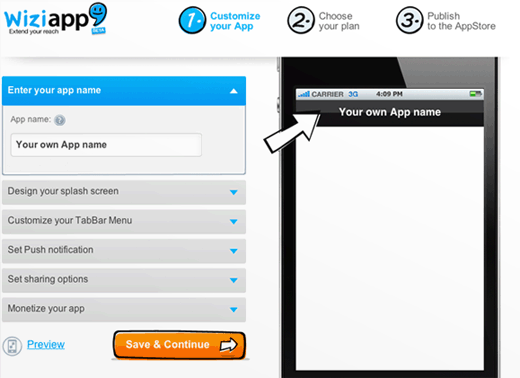 After you set that up, you have the option to design your splash screen. This is the screen that your users will first see. While there are pre-made designs, you also have the option to upload your own splash screen.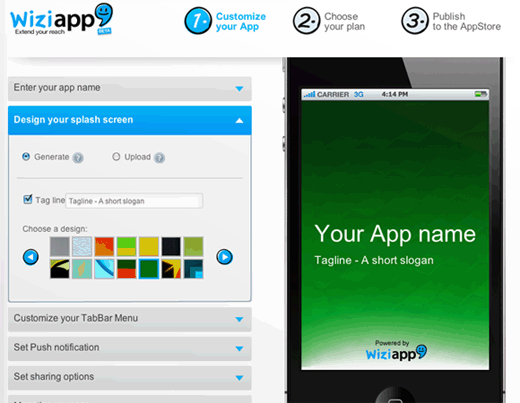 From there, you have the ability to customize your TabBar Menu:
You have other options as well such as set Push Notifications, Sharing options, monetizing options etc. The short fact is that it is as simple as plug'n play. Take a look at an example app screenshot: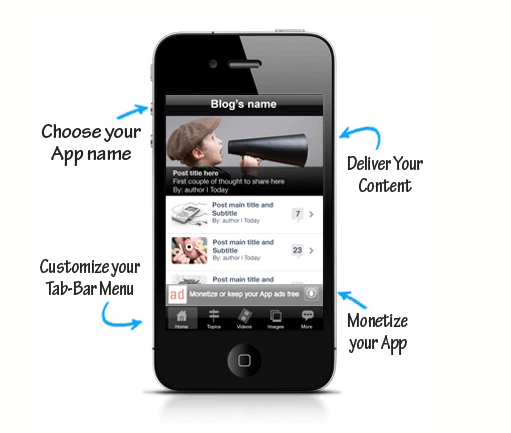 The idea behind this plugin is to seamlessly integrate with WordPress and deliver your content to your iPhone App in real time without having you do any work. This allows you to get your blog extra exposure by being in an iOS app store. For those of us who has iPhones, we know how crazily we get apps. Roughly there have been 200 billion app downloads so far, it is pretty crazy. An iOS user spends 74 minutes of their day using native apps. [These stats were taken from WiziApp website]
You are probably thinking what is the catch? This sounds way too good to be true. Well, WiziApp team gives you the free plugin, so you can try it out. If you like it, you will most likely want to publish your app to the app store. So on step 2 of the plugin, you will be asked to create an account with WiziApp. They have 3 plans for the setup. There is a personal blog plan that costs $19.90, Pro plan that is $29.90, and Enterprise plan which is $49.90 per month. Now if you think about it, big companies pay an upward of $15,000 to have their apps created. Most of us cannot afford to pay that high. This is done at a fraction of a price and you get a 30 day money back guarantee. The only main difference we see between personal plan and pro plan is that you can't monetize your app. Which is OK if you were doing this for exposure anyways.
We recommend getting a personal plan for a month. See how many downloads you get, how your users interact with it etc. You have access to WiziApp stats area, so you can see all the analytics. After a month, you can decide what you want to do. If your users are interacting, then upgrade to the pro version and start monetizing. This can easily pay for itself. The cool thing is that you can work out cool push notification campaigns and drive more traffic to your site. If for some reason, you don't get the results you were expecting, then remember there is a 30 day money-back guarantee.
Not sure whether you are ready for investing into this? Simply do an audience poll. See if they would be interested in having an iPhone app for your blog. Depending on the results from your poll, you should have an answer.
Get the Free WiziApp plugin to setup a live preview of your native iPhone app for your WordPress blog.