Sometimes when working on a staging site, you may want a quicker way to activate and deactivate plugins in WordPress. Each time you have to deactivate or activate a plugin, you have to go to the Plugins screen. In this article, we will show you how to quickly activate or deactivate a WordPress plugin from anywhere on your site using the admin bar.
Video Tutorial
If you don't like the video or need more instructions, then continue reading.
First thing you need to do is install and activate the Plugin Toggle plugin. This plugin works out of the box, and there are not settings for you to configure. Upon installation the plugin adds a new menu item in WodPress admin bar on top, labeled Plugins. Taking your mouse over to the plugins menu will display a drop-down menu listing all currently installed plugins on your WordPress site.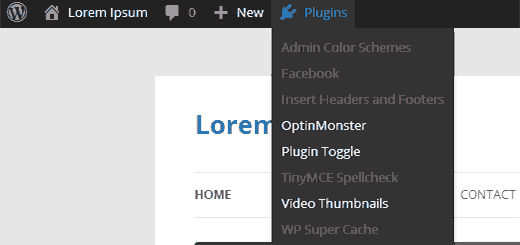 As you can see in the screenshot above, the active plugins are displayed in White color and all deactivated plugins are displayed in gray color. To activate or deactivate a plugin, just click on the plugin name. Quick and smooth, isn't it?
The purpose of WordPress admin bar is to provide you with easy shortcuts to administration screens no matter which page you are viewing on your site. Plugin toggle is a great example of using the admin bar. You can add your own shortcuts to WordPress admin bar and even disable it for all users except administrators on your site.
We hope this article helped you find a shortcut to quickly activate/deactivate WordPress plugins. For feedback and questions, please leave us a comment below or join us on Twitter.