Do you want to share your email address on your website without getting caught by spam bots? When you add an email link or plain text email address, it will most likely be copied by an spam email harvesting bot. In this article, we will show you how to easily protect emails from spammers with email encoder.
Why is Email Encoding Important?
Most website owners don't realize that pasting their email address into their posts, pages, or on a contact page can put you at risk for a lot of email spam.
Spammers use email harvesting bots that automatically browse the web to collect email addresses. These email addresses are then sold to spammers all over the world.
This is why we almost always recommend creating a contact form instead of sharing an email address.
Now the problem is that sometimes you may really need to add an email address that users can copy or click to email.
Thankfully there is a way to do that and protect your email address from spammers. It's called email encoding and it's quite easy.
Let's take a look at how to do that.
Protecting Email Addresses from Spammers
First thing you need to do is instal and activate the Email Address Encoder plugin. For more details, see our step by step guide on how to install a WordPress plugin.
The plugin works out of the box, and there are no settings for you to configure.
Once you activate the plugin, Email Address Encoder simply starts encoding email addresses in WordPress posts and pages, custom post types, widgets, etc.
What that means is that it converts the plain text email addresses into decimal and hexadecimal entities.
If you see the page source of your page, then you will see the email addresses encoded looks like this:

This way when an email harvesting bot visit your page source, they will not be able to see the email addresses.
However, real human users will see the plain text email addresses in their browser window.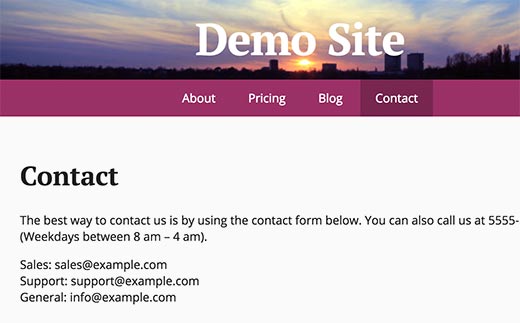 That's all. We hope this article helped you protect email addresses in WordPress from spammers. You may also want to see our guide on 24 must have WordPress plugins for business websites.
If you liked this article, then please subscribe to our YouTube Channel for WordPress video tutorials. You can also find us on Twitter and Facebook.