WPBeginner's Liquid Web coupon code lets you get managed WordPress hosting for just $9.50/month for your first 3 months. That's a 50% discount. All you have to do is follow the instructions below to properly redeem the Liquid Web coupon code. That way, you can get the best discount on Liquid Web. Click to Read More »
First, click on our link to visit the Liquid Web website. Then, click on the 'See Our Plans and Pricing' button.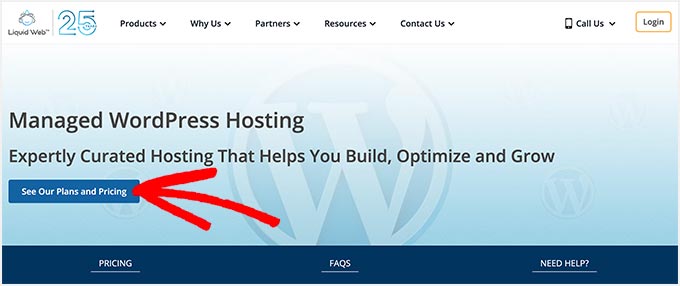 This will take you to Liquid Web's plans and pricing page. There are four plans: Spark, Maker, Designer, and Builder.
You need to choose a plan and click the 'Get Started' button to continue.
This will take you to the checkout page. In the Coupon Code field, you need to enter our Liquid Web promo code: WPBEGINNER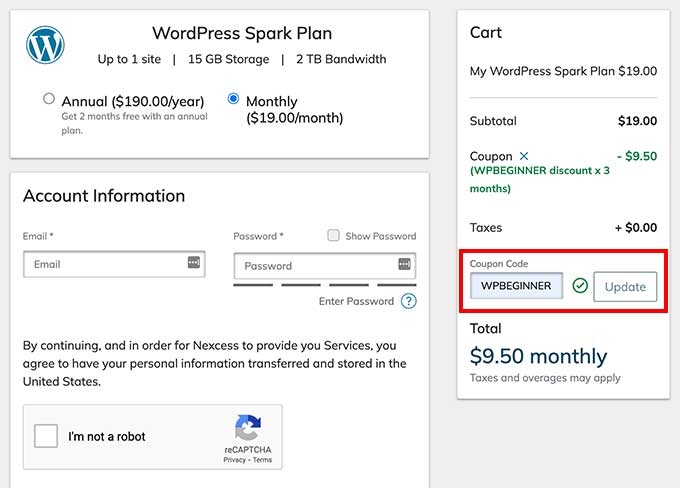 Click on the 'Update' button to apply the 50% discount for three months.
Next, you need to enter account information, billing information, and payment details on the left side of the screen.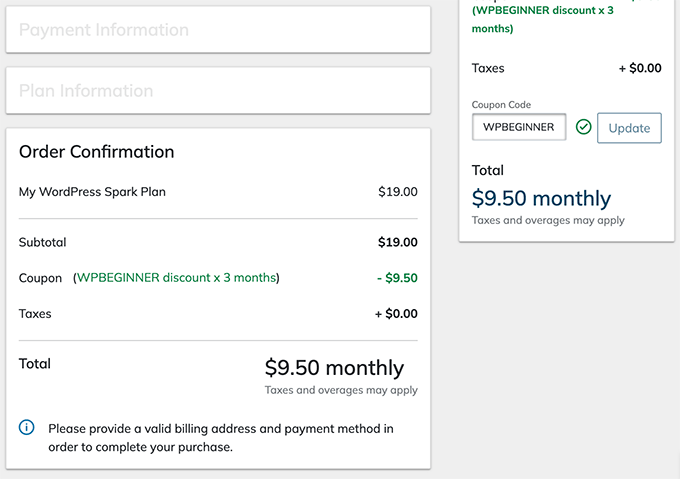 It'll display the order confirmation details at the bottom of the page.
That's all. You get a 50% discount on Liquid Web WordPress managed hosting.
FAQs About Liquid Web, Nexcess, and the Liquid Web Coupon Code
Keep reading if you have questions about Liquid Web before purchasing.
1. What is Liquid Web's WordPress managed hosting?
Liquid Web offers "WordPress Managed Hosting" through their Managed Applications Cloud, Nexcess.
There's 24/7 support available from their 'Heroic Support' team. WordPress and all your plugins will be kept up to date for you.
The Liquid Web support team are expert in WordPress, and their managed WordPress platform is specifically designed to be optimized for WordPress sites.
You'll even get a free SSL certificate automatically, so your site will be fully secure.
This is really important as Google is starting to prioritize sites that have a valid SSL certificate.
2. Is Liquid Web suitable for beginners?
Absolutely! Liquid Web has a brilliant support team, and you can easily access all the help you need.
When you have a WordPress Managed Hosting plan, Liquid Web takes care of things like WordPress updates and backups for you.
We know these can often be worrying for new website owners. Liquid Web is a great web host if you're feeling nervous or if you often struggle a bit with techy things.
Liquid Web's pricing is beginner-friendly, too. The Spark plan for their WordPress Managed Hosting is just $19/month as standard. Our coupon code will take that down to just $9.50/month for your first 3 months.
Just make sure you click on our link to Liquid Web and then also enter our coupon code: WPBEGINNER
3. How do I get help from Liquid Web if I'm having problems?
The Liquid Web support team is available 24/7, every day of the year.
You can contact them by phone and live chat for an instant response or through the help desk if you don't need help straight away.
Unusual for a web host, Liquid Web has guaranteed response times. You should get an initial response within a speedy 59 seconds by phone or live chat. If you submit a ticket to the helpdesk, you'll get a response within 59 minutes.
4. What else does Liquid Web offer?
Maybe you want to go beyond managed WordPress hosting into dedicated server hosting.
Liquid Web also offers VPS hosting plans (cloud VPS), dedicated servers, cloud dedicated servers, cloud sites, managed cloud hosting, and more. LiquidWeb.com has all the details.
Liquid Web offers both Linux hosting and Windows dedicated servers with their web hosting plans.
Don't worry if you're not sure what that means! If you're a beginner, you should buy one of their regular WordPress hosting plans.
You can also use Liquid Web for hosting that complies with HIPAA guidelines.
5. Does Liquid Web offer any guarantees about uptime?
No website owner wants their site to experience downtime. Liquid Web guarantees 100% uptime.
In the unlikely case that your site experiences any downtime, Liquid Web will fix it within 30 minutes.
If that's not possible, they will compensate you for the downtime. This compensation can't be more than what you pay Liquid Web per month.
6. Is this the best discount available for Liquid Web?
Maybe you've searched for the best Liquid Web promo codes, and you're not sure if ours is the best Liquid Web discount.
Rest assured that we always get the best possible deal for our readers.
You may sometimes see a better deal for a limited time, such as on Black Friday. However, our verified and working coupon code offers the best generally available discount on Liquid Web's WordPress hosting services.
We hope you found our Liquid Web coupon code to be helpful. At WPBeginner, we work hard to negotiate exclusive discounts for our users.
Please take a look at our other WordPress coupons, promo codes, and deals.