One of the biggest complaints that we've heard from WordPress beginners about the post editor is that it lacks the ability to spellcheck. This is why many users prefer to use Windows Live Writer and other document processing tools. For those who like the WordPress writing interface, we have the solution just for you. In this article, we will show you how to check grammar and spelling mistakes in WordPress.
Video Tutorial
If you don't like the video or need more instructions, then continue reading.
Adding a Spell Check Button in WordPress Post Editor
First thing you need to do is install and activate the TinyMCE Spellcheck plugin. Upon activation, you need to go to Users » Your Profile to configure the plugin settings.
Start by looking under the proofreading section. There you can enable the plugin to automatically check post/page content when it is published or updated. You can also set checks for grammar and style rules. We recommend checking complex phrases, double negatives, phrases to avoid, and passive voice. Once you are done, simply click on Update Profile button to save your changes.
Now when writing a post, you will notice a new spell-check or proofread button in the post editor. When you click on this button, it will run a proofreading check on the content using the rules you set earlier.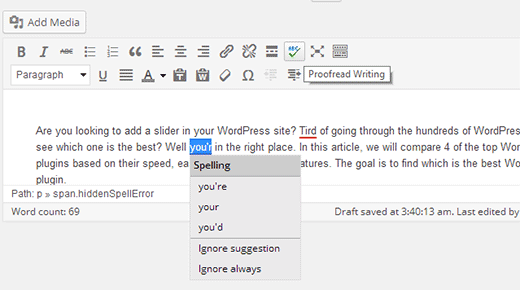 Adding After The Deadline as Browser Extension
TinyMCE Spell check is actually a fork of After The Deadline which is no longer updated as a standalone WordPress plugin. Instead it is part of the JetPack plugin which requires users to sign in with a WordPress.com account. If you do not want to install TinyMCE Spellcheck, then you can use After The Deadline browser extension for Google Chrome or Firefox.
To configure the proofreading options, you need to go to addon settings. In Google Chrome, you will be able to see After the deadline icon in the address bar. Clicking on it will open ATD actions menu where you need to click on View Options to configure proofreading rules.

In Firefox, you need to open addons manager from the main menu or by pressing CTRL+SHIFT+A keys together. You will see After The Deadline along with other addons installed on your browser. Simply click on Options button to configure proofreading settings.

After The Deadline browser extension automatically adds a tiny icon in your text forms on all websites including WordPress. You can check spelling of your WordPress posts by clicking on the spell check icon that appears in the post editor.
We hope this article helped you check your WordPress posts for spelling and grammar mistakes. Regularly checking your site for these errors will allow you to write better posts.
Let us know how you proofread your WordPress posts by leaving a comment below.