Hello Everyone,
Syed Balkhi here. Today I'm proud to announce the launch of WPBeginner Glossary, a central place that lists and explain the most commonly used terminology in WordPress tutorials and WordCamp sessions.
If you were ever puzzled by strange WordPress terms or abbreviations, then this is the place to start. We did our best to explain WordPress lingo in plain english for WordPress beginners.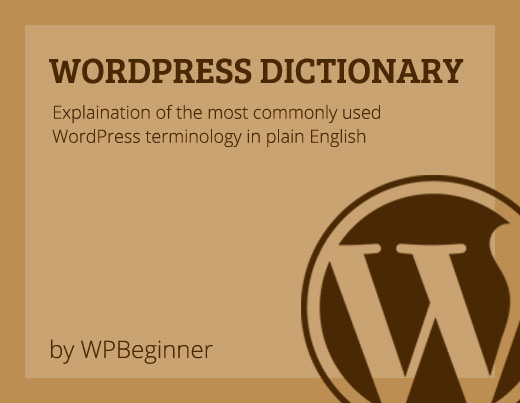 Where did the idea come from?
While speaking at the beginner workshop in WordCamp Columbus 2012, one of the attendees raised their hand and asked me this question:
"What is this widget thing that you're talking about? It would be really nice if there was a dictionary that I can look up these WordPress lingo"
After my session, I sat down with her and answered a lot of her questions. Once I came back from the event, I completely forgot about the idea until earlier this year.
While organizing WordCamp Miami, several users came up to me and asked questions like what is a shortcode, what is a post type, etc.
That night I sat down and created an action plan for a WordPress glossary that explains WordPress terms in plain English.
After 6 busy months in which we built a school, launched floating social bar, redesigned List25, launched SteadyStrength, launched OptinMonster, I'm excited to announce that the WPBeginner Glossary is finally ready.
Currently the Glossary has a little over 100 terms, and we're working on adding more.
Please check out our WordPress Glossary and let us know which terms you would like for us to add.
You can send us your term suggestions through the make a suggestion page.
We're looking for volunteers to help contribute and improve the glossary. If you're interested, then please send me a message or leave a comment below.
Last but not least, please help us spread the word by sharing this news with your friends on Twitter, Facebook, and Google+.
My goal is to continue to improve WPBeginner, and I hope a lot of you will find the glossary to be a helpful resource. If you have other suggestions on how I can improve WPBeginner, then you can reach out to me personally via my twitter @syedbalkhi
Yours Truly,
Syed Balkhi
Founder of WPBeginner