WPBeginner's exclusive Easy Digital Downloads coupon code lets you get up to 50% off their WordPress digital downloads plugin. All you have to do is follow our instructions below to properly redeem the Easy Digital Downloads promo code, so you can get the best discount on Easy Digital Downloads. Click to Read More »
First, you need to visit the EasyDigitalDownloads.com website and click on the 'Get Started' button at the top of the page.
Now you will see the Easy Digital Downloads pricing and plans page.
It has multiple options, so you can choose the best pricing plan for your needs.
We recommend choosing the Professional plan. It comes with premium extensions, email support, custom deliverables, and more features.
Click on the 'Get Started' button below the plan you like to continue.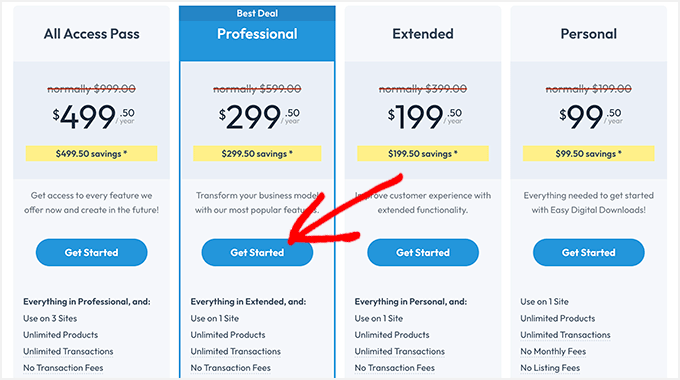 Next, you will go to the checkout page.
Note: Since you followed our link to the EasyDigitalDownloads.com website, the Easy Digital Downloads discount code for 50% off will automatically apply to your total bill.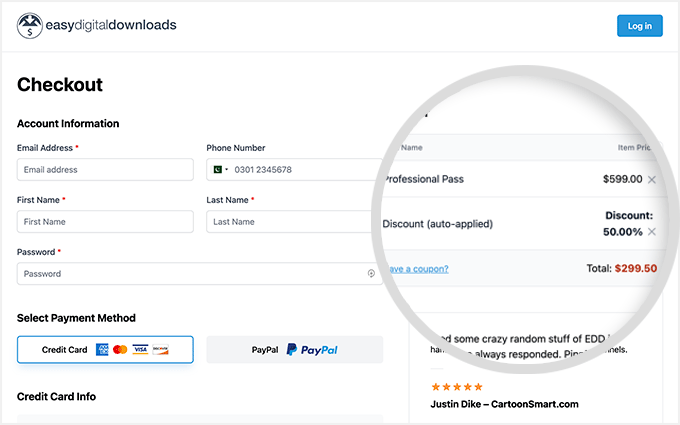 The order summary will show you the total offer and the price you'll pay.
You will also need to add your account details and payment information on the left side of the screen.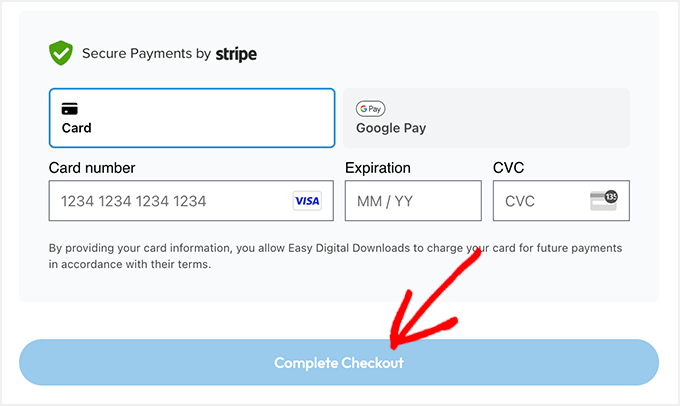 When you're ready, click on the 'Complete Checkout' button to successfully purchase the Easy Digital Downloads plugin.
FAQs – Easy Digital Downloads (EDD)
If you're not quite ready to buy, you might have some questions about Easy Digital Downloads. Here are some of the commonly asked questions.
1. What is Easy Digital Downloads?
Easy Digital Downloads (EDD) is an excellent WordPress digital downloads plugin. It lets you easily sell your digital products like ebooks, plugins, addons, and more.
You can use their drag and drop builder to set up an eCommerce store from the frontend, similar to Amazon or eBay. The plugin also offers all the functionality you need to sell digital downloads from a simple WordPress website.
Easy Digital Downloads comes with premium quality extensions to extend the sitewide functionality and level up your eCommerce store.
2. Does the EasyDigitalDownloads.com promo code give a discount on their extensions?
If you buy a Professional Pass or All Access Pass, then the EasyDigitalDownloads.com promo code will apply to your entire purchase.
For the Personal Pass and Extended Pass, you'll need to pay separately for extensions.
3. Are there specific WordPress themes and templates for Easy Digital Downloads?
Easy Digital Downloads is designed to work with all popular WordPress themes and templates. However, they recommend a few templates on their site with quick integrations.
4. Can I create coupon codes for retailers and customers?
Yes. You can offer discount codes to retailers and customers. Easy Digital Downloads also allow you to select items from your product list to create promotional codes.
5. Do I get notifications on purchases made at my eCommerce store?
Yes. EasyDigitalDownloads.com creates a complete record of all payments, receipts, and customer details. It also sends email notifications for every purchase made in your store.
6. What is the best Easy Digital Downloads coupon code?
WPBeginner's exclusive EasyDigitalDownloads.com coupon code is the special offer you get on the most popular WordPress digital downloads plugin. They also offer limited-time Black Friday and Cyber Monday deals around the holiday season.
We hope you found our Easy Digital Downloads promotional code to be helpful. At WPBeginner, we work hard to negotiate exclusive discounts for our users.
Please check out other WordPress coupons and online deals.