WPBeginner's exclusive RingCentral coupon code helps you get the best price on their VoIP and business phone service. You can get as much as 34% off, meaning you can get RingCentral as low as $19.99/month. All you have to do is follow our instructions below to properly redeem your RingCentral coupon code. That way, you can get the best discount on RingCentral's office phone system. Click to Read More »
First, go to the RingCentral.com website using our link on WPBeginner. Then, scroll down to the plans and pricing section at the bottom of the page.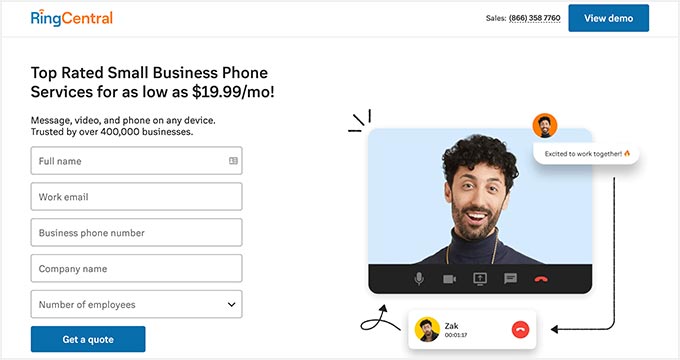 RingCentral offers four packages: Essentials, Standard, Premium, and Ultimate. You need to select a package and click on the Buy Now button.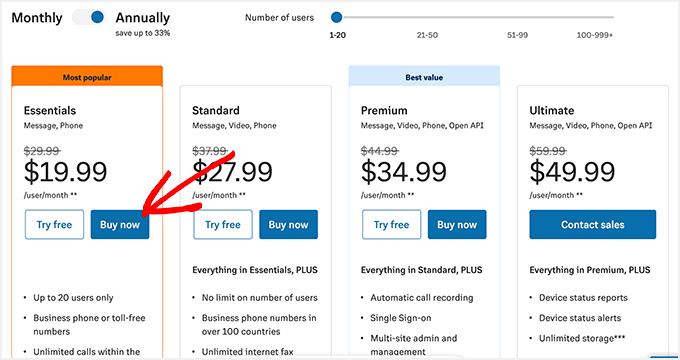 This will take you to the setup page. First, it will show you a new number for your business. You can change the number or get a toll-free number.
You can also choose to use an existing phone number that you have.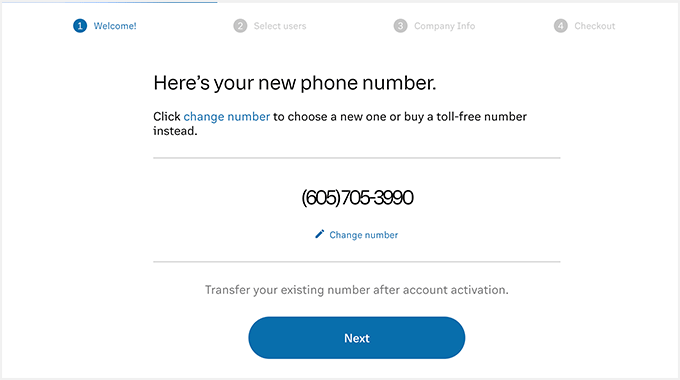 Next, you'll need to state how many users you need. This might be just you or you and some team members within your small business.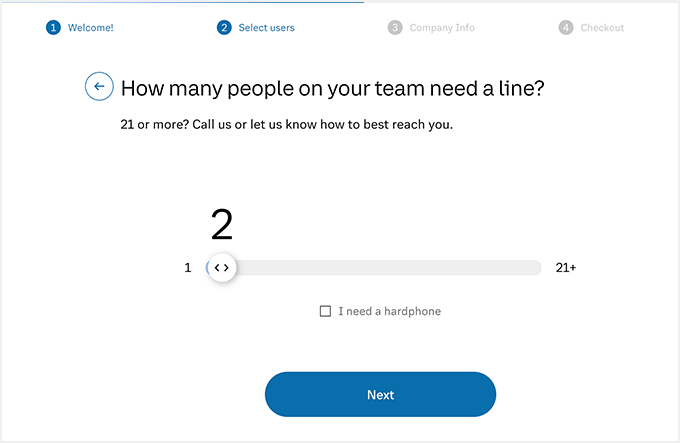 And then, you'll see the information page where you can enter your account details. This should also show your shopping cart on the right side of the screen.
There's no need to enter a RingCentral discount code if you've followed our link to the RingCentral website. The best pricing will be applied automatically for you.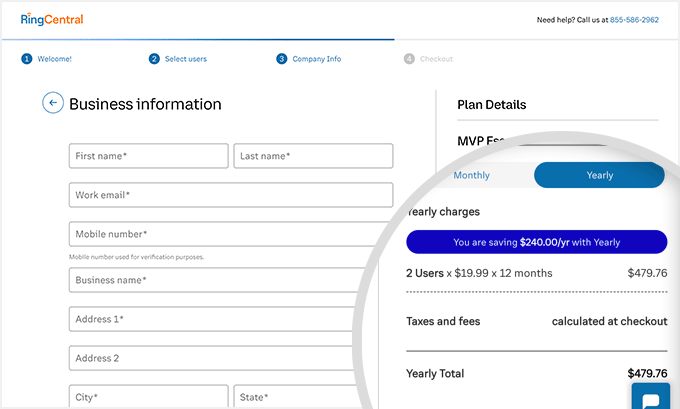 Fill in the information and click the 'Next' button below to go to the checkout page. Here you can make a payment and successfully purchase a RingCentral account.
FAQs About the RingCentral Coupon and Discounts
Here are some common questions our readers have asked about the RingCentral deal and their business phone systems:
1. What is RingCentral used for?
RingCentral is a popular business phone service. It offers VoIP (Voice over Internet Protocol) calling. That means calls go through your internet connection instead of your phone line. This will save you a huge amount on phone bills!
They have RingCentral Office® plans to suit companies of all sizes. Their platform gives you all the features you'd expect, such as:
Call forwarding
Caller ID
Call waiting and transfer
Sharing one line across multiple mobiles
And lots more

Companies use RingCentral for all sorts of reasons. It can be used for customer support, a cloud phone system, online meetings, video conferencing, and more.
2. How much does RingCentral cost, and what is the discounted price?
The standard RingCentral price for their Essentials plan is $29.99/month. However, when you go through our link, you'll see an automatic coupon has been applied. This makes it just $19.99/month. Note that this is with the annual plan. If you want to pay month by month, it's more expensive.
Plans with more features, such as audio conferencing, cost more. The automatic coupon code will still give you a discount on these. For instance, you can choose the Standard plan for $24.99/month. This gives you RingCentral fax features, audio conferencing, plus integration with popular online tools like Slack, Office 365, and Google's G Suite.
The Premium plan gives you automatic call recording, hot desking, real-time analytics, CRM integrations with Salesforce and Zendesk, and more.
Note: RingCentral previously offered RingCentral Professional and RingCentral Office plans. The current Essentials plan offers similar features to RingCentral Professional.
3. How do I save money on RingCentral?
You can save money on RingCentral using our special RingCentral coupon link.
Simply click any of the RingCentral links on this page, and you'll save money! You'll pay just $19.99 per month instead of $29.99 per month. That's a discount of 34%. You don't need to enter a discount code or click a 'show coupon' button. The link itself applies the best pricing for you.
4. Is there a free trial available?
Yes, you can take a free 15-day trial of RingCentral. This gives you a maximum of 5 users and 50 minutes of talk time per user.
You'll need to enter your payment details to take the trial. If you decide not to stick with RingCentral, cancel your plan before the 15 days.
5. What other features can I get with RingCentral?
RingCentral's Essentials plan also offers business SMS, voicemail to text, team messaging, and document sharing.
Their total offers across all plans include an internet fax service, hot desking, automatic call recording, and much more. To get everything, you'll need the ultimate plan.
6. Is this the best discount off RingCentral?
This is the best coupon generally available on the market for RingCentral. You may sometimes see better discounts for a limited time. Like big companies like Amazon, RingCentral may run special offers for events like Black Friday.
7. How can my staff access RingCentral?
Your team members can use the RingCentral mobile or desktop app or log in through a web browser such as Chrome.
We hope you found our RingCentral coupon code to be helpful! At WPBeginner, we work hard to negotiate exclusive discounts for our users.
Please take a look at our other WordPress coupons and deals.