If you've been following WPBeginner for a while, then you know that we use and love Gravity forms, and we highly recommend it as the most beginner friendly WordPress form. By default Gravity Forms integrates with numerous services, but recently they increased that list by over 200+ by simply integrating with a web-app automation tool called Zapier. You can now integrate your WordPress forms with services like Salesforce, Google Spreadsheet, Highrise, Basecamp, Google Calendar, and so much more.
You remember when we showed you IFTTT, the tool to automate WordPress and social media. Well, Zapier allows you to do the same thing but with a lot more web apps. For example purposes, we will show how to integrate Gravity forms with a Google Spreadsheet using the Zapier add-on. We will use a typical contact form and save those form entries to a Google Spreadsheet.
Here's what you'll need to follow along with this tutorial: a Gravity Forms developer license (coupon), the Zapier Gravity Forms add-on, a Zapier account, and a Google Spreadsheet.
Installing the Zapier Add-on With Gravity Forms
For the sake of this tutorial, we'll assume you already have Gravity Forms installed on your WordPress site. If you don't have Gravity Forms installed, then you can get it here.
With that out of the way, let's jump into setting up the Zapier add-on. In your WordPress admin area, go to Forms » Add-Ons.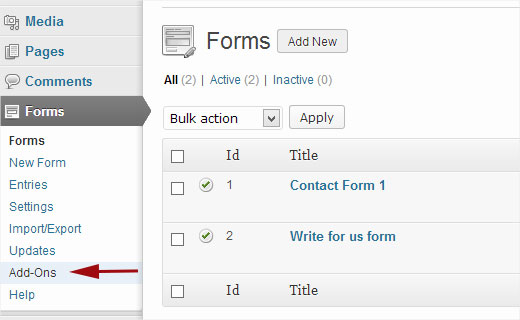 Scroll to the bottom of the page, and you'll find the Zapier add-on. Go ahead and download the add-on plugin. After downloading the plugin you need to install and activate it (see how to install a WordPress plugin).
Now that you have the Zapier add-on activated, you can leave it alone. The rest of the configuration will happen at Zapier.com or within the Gravity Forms plugin.
Setting Up Our Contact Form
The first thing to do is create the form you want to use. You can use an already existing form if you'd like. It's always best to have the form already created before setting up your Zap in Zapier.
We'll use a basic contact form that asks for first and last name, email address, phone number, and what can we help with field.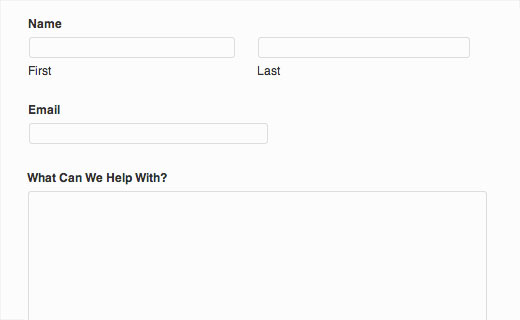 Now that we have our form setup, we can move on to setting up our spreadsheet.
Setting Up Our Google Spreadsheet
Zapier expects our Google Spreadsheet to work a certain way. The first row of data needs to have labels for each Gravity Forms field we want to insert into the spreadsheet. And the second row needs to have an example of what that row looks like. We created a spreadsheet that looks something like this:

Now that we have our spreadsheet up and running, we'll just use Zapier to connect the form to the spreadsheet.
Creating a Zap to Connect the Form to the Spreadsheet
Go to Zapier and create your account. After signing up, you will land on your Zapier Dashboard. Click on "Create a Zap" button to get started. On Step 1, you'll want to select Gravity Forms and "New Form Submission" as your Trigger and Google Docs "Create Spreadsheet Row" as your Action.
On Step 2, you'll need to copy the webhook URL provided by Zapier and paste it into Gravity Forms. You can find the Gravity Forms field to paste the Webhook URL into by navigating to the settings under for your specific form and selecting the Zapier tab as scene below.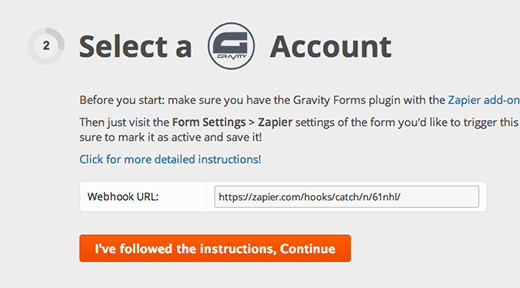 Paste the webhook URl in form settings for your contact form in Gravity Forms.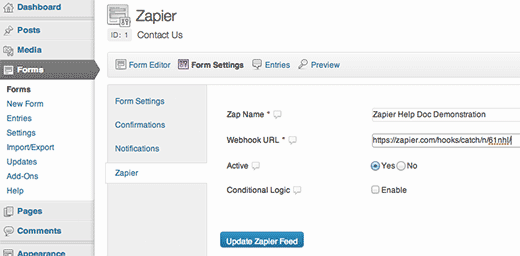 Click to the next step.
On Step 3, You'll need to connect your Google Docs account. Click "Accept" when Zapier prompts to connect to Google Docs.

On Step 4, Zapier lets you add custom filters. We'll skip this for now.
On Step 5, we'll select the spreadsheet and worksheet we just created above.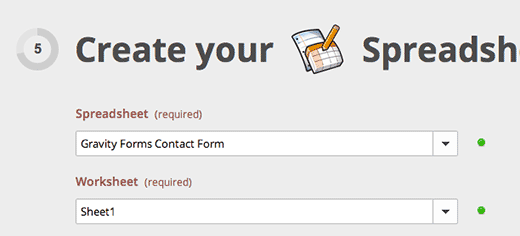 Next we'll click the small Gravity Forms icon on the right of each field to insert the Gravity Forms placeholders into our Google Spreadsheet, like this: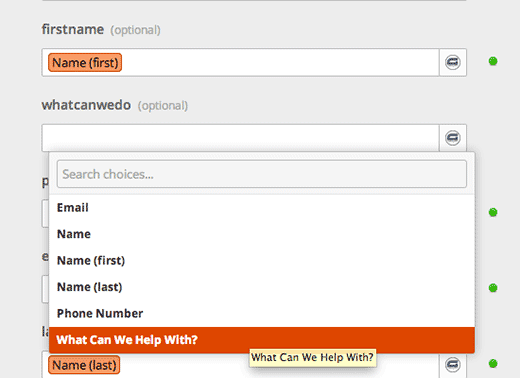 If Zapier doesn't pull up any of the Gravity Forms fields, then go submit an entry to your Gravity Form real quick and come back to Zapier.
Once we have all the fields mapped, click to go to Step 6.
On Step 6, we can test our Zap. If you don't have any test data, go submit an entry to your Gravity Form and come back and refresh the sample data.
We have a sample form enter that we'll test sending to our Spreadsheet.
And you can see that it worked.

On Step 7, we'll give our Zap a name: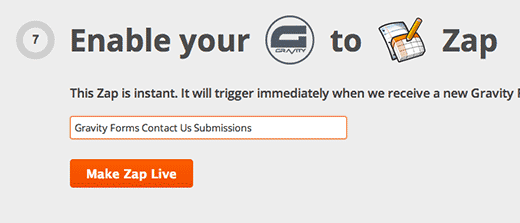 And that's it! We can click "Make Zap Live" and all of our Gravity Forms submissions will automatically go to our Google Spreadsheet.
So let's go ahead and test it live!
Zapping from Gravity Forms to Google Spreadsheet Live!

Now that our Zap is live, let's go test it. Go to your website and fill out the contact form.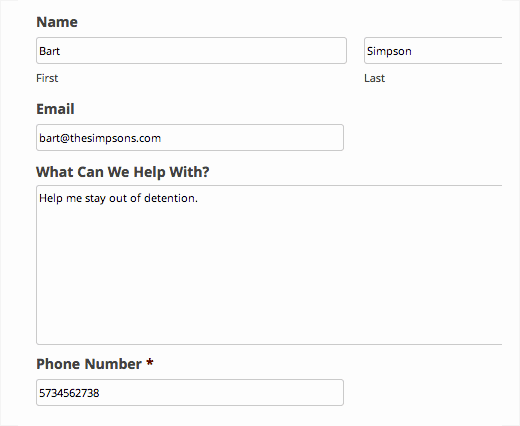 And once we click submit, we'll go check out our spreadsheet and we should see Bart Simpson in the next row down. It might take just a few seconds to show up.

And there you have it. For examples purposes, we showed you how to connect Gravity Forms to Google Spreadsheet. However you can integrate many other web applications to Gravity Forms using Zapier. The basic method is the same for most web services.
Web app integrations can be a pain specially when you have to start from scratch. Using this solution, you can save countless hours of development time. We hope that you found this article helpful. Have you ever used Zapier before? Have any questions or feedbac? Let us know by leaving a comment below.