Have you ever wished that you can have rounded quotes, show elipses, your hyphens don't get mixed up, well this is your lucky day because we are featuring a plugin called WP-Typography. This plugin is not required for everyone, it is just for those who care about minor details.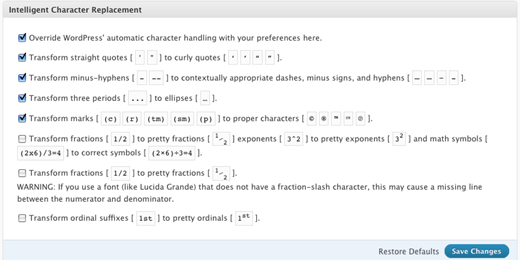 Features of this plugins are:
Hyphenation
Spacing control, including: gluing values to units, widow protection, and forced internal wrapping of long URLs & email addresses.
Intelligent character replacement, including smart handling of: quote marks ( "foo" ), dashes ( foo - bar ), ellipses ( … ), trademarks ( ™ ), math symbols ( 1024×768 ), fractions ( 12/23 ), and ordinal suffixes ( 3rd )
CSS hooks for styling: ampersands (class "amp"), acronyms (class "caps"), numbers (class "numbers"), initial single quotes (class "quo"), and initial double quotes & guillemets (class "dquo").
While these are great features, this plugin has some specific requirements that you must have before you use this otherwise it might break your site.
the host server must run PHP 5 or later
text must be encoded UTF-​​8
all markup must be valid xHTML, specifically:
every ele­ment must be closed,
every attribute must have a value enclosed in quotes, and
tag names and attrib­utes must be lowercase.