Ever wanted to automatically perform certain actions on your WordPress posts after they have been published? Like closing comments, setting sticky post, or deleting post at a specific time? By default you can only schedule your WordPress posts, but what if we told you that you can schedule many more actions? In this article, we will show you how to schedule actions on your WordPress posts.
Video Tutorial
If you don't like the video or need more instructions, then continue reading.
First thing you need to do is install and activate the Scheduled Content Actions plugin. Upon activation, simply create a new post or edit an existing one. On the post edit screen, you will find the 'Scheduled Post Actions' meta box at the bottom of the page.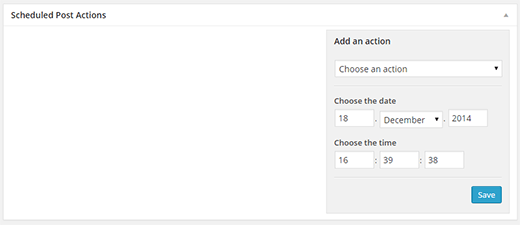 All you need to do is choose an action you want to perform from the drop down menu and set the date and time.
Lastly, click on the save button to add the action. You can add as many actions as you want, and you can also remove an action at any time you want.
The plugin works with posts, pages, and any custom post types you may have. Here is the list the actions you can schedule:
Stick Post
Unstick Post
Private Post
Draft Post
Trash Post
Delete Post
Open Comments
Close Comments
Change Title
Add Term
Delete Term
Add Meta
Update Meta
Delete Meta
We hope this article helped you learn how to schedule actions on your WordPress posts. You may also want to take a look at this tutorial on how to automate WordPress and social media with IFTTT.
If you liked this article, then please subscribe to our YouTube Channel for WordPress video tutorials. You can also find us on Twitter and Google+.