Everyone understands the value of social sharing buttons. Some sites go above and beyond to include all sorts of sharing buttons. Today, we were notified of a rather interesting revenue model that involves social sharing buttons in WordPress. Po.st is a social sharing platform with an innovative approach to sharing that takes the sharing area of your site and turns it into a revenue stream. In this article, we will show you how to make money from social sharing buttons in WordPress.
How does Po.st work?
Po.st is free to use, and it is the only (at least to our knowledge) social sharing platform that will pay you for the social activity on your site. Their revenue model is pretty simple and creative. Once a user shares your content, a sharing confirmation box appears on your site which also contains a 300×250 ad from digital campaigns running with Po.st's parent company, RadiumOne. These ads pay premium eCPMs and won't clutter your site's layout. These ads are from reputable Fortune 500 companies and can pay eCPM rates as high as $25.
For those who don't know, eCPM stands for cost per mille (in Latin mille means thousand). eCPM is a rate that you get per 1000 estimated views of the ad. Yes, you get paid even if the user don't click.
In addition to a new source of revenue, Po.st offers:
Access to over 50 social channels including Facebook, Twitter, Pinterest, Tumblr, Reddit, email etc.
It offers various different button styles for you to choose from. You can have small, medium, or large buttons, placed vertically or horizontally, with or without share counters.
It also offers unified social analytics that can help you improve your social strategy.
Po.st is taking the market by storms. Some of the web's largest sites have integrated Po.st to start generating revenue from this unique social sharing platform. Some of these sites include: Dictionary.com, ESPN, ImageShack, TheChive, and more. With the recent launch of Po.st WordPress plugin, you too can start making money from the sharing buttons on your site.
First thing you need to do is install and activate Po.st WordPress plugin.
After activation, you would need to create a free account at Po.st website (click Join Now button at the top). This is the only way for you to generate a unique Publisher key for your site.
Enter your publisher key, and you would be able to monetize your social sharing buttons.
You have the option to select the design settings. You can have it display in a horizontal format above or below the post.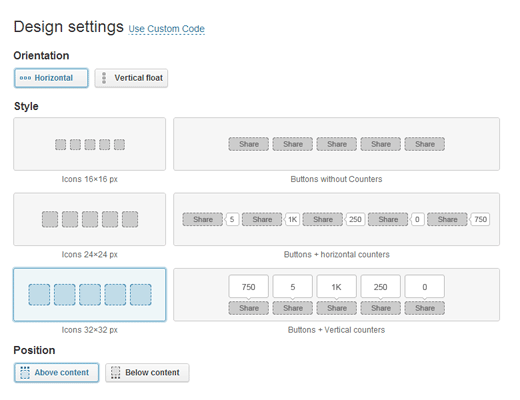 Alternatively, you can display it as a vertical floating share bar.
You even have the option to customize the display with their custom code option. Why use ShareThis or Addthis type buttons when you can use Po.st and make some extra cash with it. Start making money from your sharing buttons using Po.st.